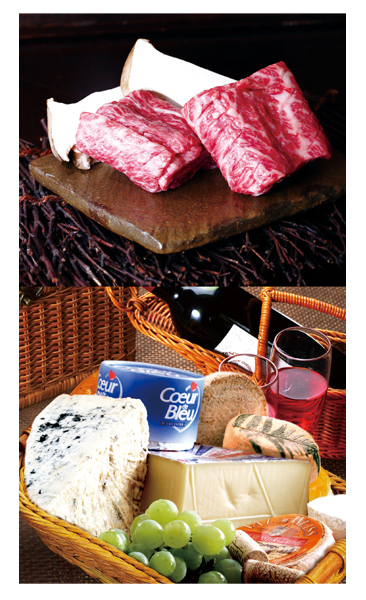 In anticipation of the Lunar New Year gift giving season, Millennium Seoul Hilton is offering several luxury gift sets for sale. Ideal gifts for work colleagues, clients and treasured family members, these gift sets are a wonderful way to wish others a very happy new year. There are a variety of gift sets being offered. They include: Top-grade Galbi and Wagyu Galbi Gift Sets (KW374,000-KW1,200,000)
These gift sets offer prime-grade (1++) Hanwoo beef and Australian Wagyu beef with a marbling score of 8 or higher. The gift sets come with Millennium Seoul Hilton's own marinade. Yellow Croaker with Roe Gift Sets (KW360,000-KW680,000) These yellow croaker are filled with roe, and are similar to the ones served at the Emperor's own dinner table. Available in various sizes, these premium gift sets make a marvelous gift. Premium Food Gift Sets (KW187,000-KW450,000) Premium sets include Preserved Abalone from Wando, Soy Sauce Marinated Crabs, and LA Gabli. Korean crabs have been preserved and marinated in a soy sauce mixture. These sets are succulent to eat and will be appreciated by the gourmet diner. Grand Cru Wine Gift Sets (KW1,298,000-KW1,980,000)
Choose from a variety of Grand Cru wines from France, including 2007 Chateau Mouton Rothschild, 1998 Grand Vin de Chateau Latour, 2004 Chateau Margaux, and more.
Wine Gift Sets (KW165,000-KW308,000) A variety of sommelier sets have been prepared that will delight any wine lover. Some of the wine sets include an assortment of cheeses. Champagne Gift Sets (KW209,000/KW539,000)
A choice of Moet & Chandon Brut Imperial Rose, Dom Perignon and Veuve Clicquot are available to help make someone's new year that much more of a celebration.
Nationwide delivery is available and included in the cost of the gift sets. Orders made by February 4th, 2013 will be guaranteed delivery anywhere on the peninsula (excluding Jejudo). Orders made from February 5th through February 8th , 2013 can only be guaranteed delivery in the Seoul area. All prices are inclusive of 10% VAT.
For Lunar New Year Hamper enquiries, please call (02) 317-3066.