A little more than a decade has passed since Chungbuk Technopark was established with the goal of exploring new growth engines and nurturing "global hidden champions" in the Chungcheongbuk-do area. Chungbuk Technopark has grown into a reliable corporate partner and network hub of the regional economy. It has been devoting itself into creating infrastructure, promoting technology and manpower development, and implementing other support projects to nurture the province's representative industries, which include bio, photovoltaic power and semiconductors, as well as next-generation growth engines.
Chungbuk Technopark's efforts have begun to pay off, particularly in the photovoltaic power industry. The technopark provides support to help Noanix, YMtech, and four other firms hailing from the province participate in the Intersolar North America 2014, which took place in San Francisco last July, so that they can make inroads into the U.S. market. It also offered a helping hand to Eo Technology and five other companies in participating PV EXPO 2015, held in Tokyo this past February. The participating firms were engaged in 48 negotiations worth $2.1 million.
Iljin Global, Challenge Motors and three other automotive and transportation parts makers jointly set up the Jecheon Automotive Parts Cluster Pavilion at the Global Transportech 2015 that took place in Songdo Conventia in Incheon from June 4 to June 5. The move is part of Chungcheongbuk-do's efforts to foster an automotive parts and transportation machinery cluster, one of the provincial government's four second-phase specialized industry development projects.
"Jecheon's automotive parts and transportation machinery makers' participation in the Global Transportech 2015, emerging as a dark horse in the automobile/transportation machinery field, is an effective way of exploring global markets," said Chungbuk Technopark President Nam Chang-hyun at the fair. "This will serve as a great opportunity for Jecheon to establish a center of automobile/transportation machinery parts in the central and inland region and expand outsourcing from automakers and large-sized vendors."
Chungbuk Technopark also organized the PCS International Conference on June 12 to boost the power energy parts industry, another of the province's four specialized industries.
Looking back, Chungbuk Technopark has made its mark by successfully establishing infrastructure to provide support tailored to meet corporate needs so that industry, academia and research circles can collaborate as the first phase since its inception. The Chungbuk area has turned out to have a competitive edge in such sectors as bio, semiconductor, secondary battery, electronics and electric convergence parts. In order to nurture companies in those fields, Chungbuk Technopark has established support infrastructure for Ochang CMC, Osong Biovalley and Jecheon Biovalley while creating a one-stop corporate support system related to technology, management and capital.
Chungbuk Technopark's technology infrastructure has paved the way for companies' entry into markets without them having to initially make huge investments in such arenas as technology certification, test evaluation and the production of prototypes. The technopark has also laid a foundation for helping companies expand business through the creation of clusters with Korean and foreign marking fields.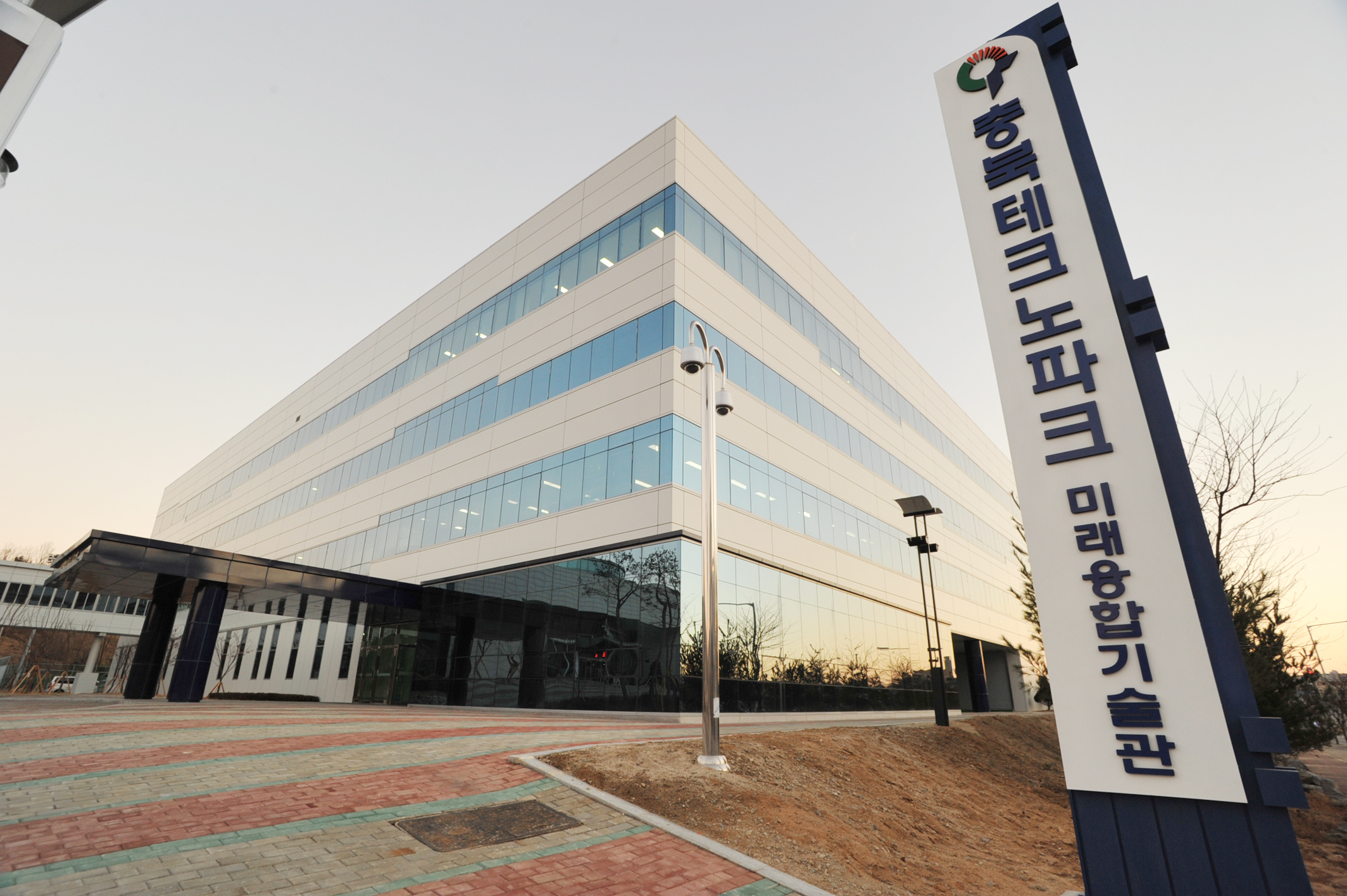 A view of Chungbuk Technopark's Future Convergence Technology Hall.(Photo:Chungbuk Technopark)