First Korean telecom service to adopt a data-based selected charging system guaranteeing unlimited free voice calls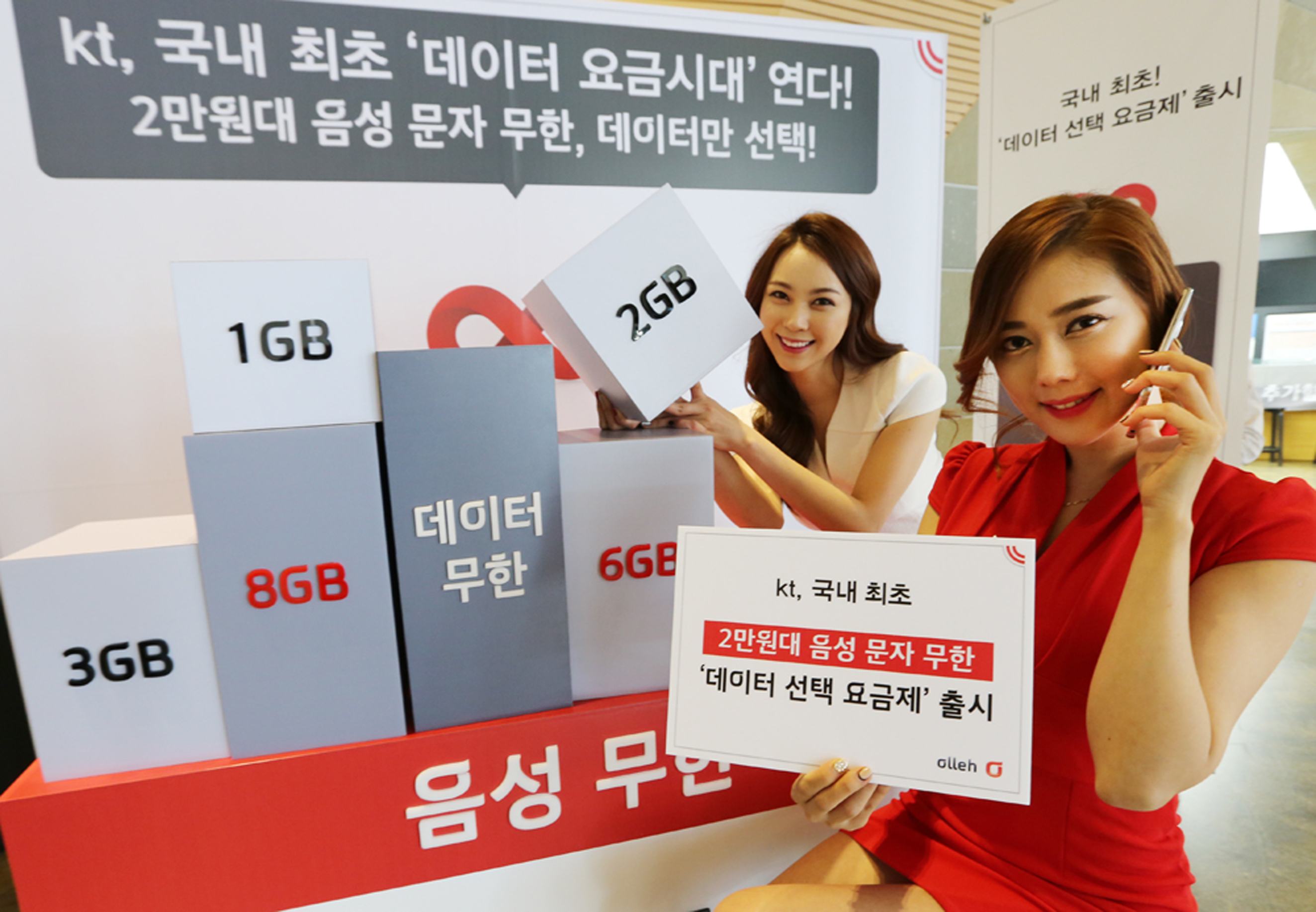 Models promote products whose charges are based on only data use, which was introduced by KT for the first time in Korea.(Photo:KT)
KT has become the first Korean telecom service provider to introduce a data-based selective charging system in which subscribers are allowed not only to choose monthly fees based on data amounts they use each month, but also freely make unlimited voice calls and send messages.
KT fired the first salvo in the race to charge customers for only the data they use. It's seen as a move to strengthen the company's foothold in the Korean telecom service that is growing more competitive.
KT is now sandwiched between front-runner SK Telecom and third-place LG U+.
KT's latest move seems to reflect KT Chairman Hwang Chang-gyu's determination to become No. 1. In May 2014, Chairman Hwang declared the so-called GiGatopia, in which he stressed GiGa Internet, a gigabit-class internet connection on fixed-line networks and data services suiting future 5G wireless networks.
Entering an era of 4G long-term evolution (LTE) wireless communication, the nation's second largest telecom service provider is seeing little room to maneuver due to fierce completion in the domestic market. SK Telecom is reinforcing efforts to maintain an over 50 percent market share, while LG U+, which launched its LTE services for the first time in Korea, has been expanding its client base.
KT's new charging system is designed to gain an upper hand in the domestic telecom market, as T-Mobile has been on a roll in the U.S. telecom market after introducing a similar billing system.
Monthly fixed fees vary according to the amount of data consumers use. Prices range from 29,900 won for 300MB of data and unlimited wireless calls to 49,900 won for 6GB of data plus wireless calling. A package costing 54,900 won for 8GB of data and unlimited fixed and wireless calls will be available in July. Other products guaranteeing unlimited data as well as free fixed and wireless calls range from 59,900 won to 99,900 won. Customers subscribing to monthly fixed fees guaranteeing unlimited data will find data transmission speed slow after surpassing given amounts.