Colorful and Unique Seoul Lantern Festival Runs Nov. 7-23
The world-renowned event is divided into four areas in Seoul around Cheongyecheon Stream, showcasing lanterns from five foreign countries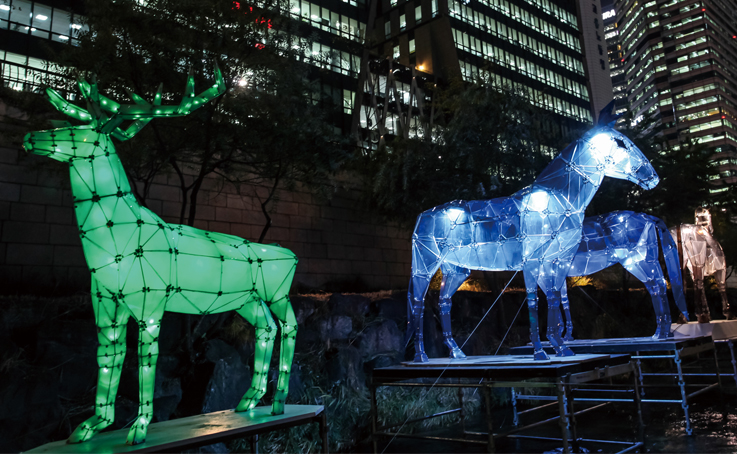 Seoul Lantern Festival 2014 -- organized by Seoul Metropolitan City -- will take place Nov. 7 to Nov. 23. Some 2.5 million people are expected to take in the festival, Seoul City said.
The festival takes place along Cheongyecheon Stream Plaza all the way to Supyokyo, downtown Seoul, covering a distance of 1.2 km. It will put the spotlight on cultural assets that have been preserved for over 2,000 years in the ancient city of Seoul.
The four-part exhibition will have four distinct themes. The first theme area will extend from Gwangkyo to the Cheongyecheon Stream Plaza, with colorful lanterns highlighting cultural assets preserved from the Joseon Dynasty (1395-1910). UNESCO List-designations will be highlights, such as Changduk Palace, Injeong Pavilion, the royal protocols of the Joseon Dynasty, the traditional funeral music played at Chongmyo, the royal graves, and the culture of kimchi, a Korean delicacy made with cabbages.
The second section extends from Gwangkyo to Jangtongkyo. It will contain lanterns from local autonomous organizations andforeign countries, such as the U.S., Japan, Taiwan, the Philippines and China (Chengdu and Nanjing). Six cities from five foreign countries are takings part to make this festival truly international in nature.
The third area will extend from Samilkyo to Supyokyo. It will also have lanterns, but these will be provided by businesses. Some will be made to look like famous cartoon characters like Robocarpoli, Laba, Ttobot, amongst others.
The fourth area starts from Samilkyo and goes to Supyokyop. It will highlight 24 lanterns provided by famous artists in Korea, including some with LED lights. The area will be a very good spot to take a look at LED lanterns made by light artists in the country.
Amongst the highlights other than the four sectors are a Wishtree some eight meters tall. It will be set up in the vicinity of Gwangkyo with lanterns shaped like fish in clouds. The wish window (www.fb.com/seoullanternfestival) set up in front of the Wishtree will introduce the wishes and hopes expressed through the event's Facebook page.