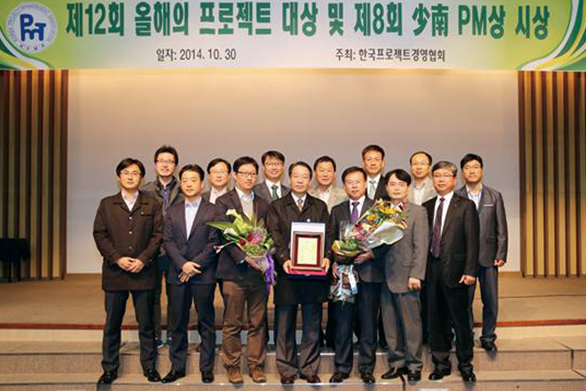 A commemorative photo is being taken after winning the Grand Project Award.
Korea Western Power Co.(President Cho In-kook) won the Grand Award in the Energy Sector of the Grand Project Award presented for this year by the Korea Project Management Association on Oct. 30 at the Korea Science Technology Hall.
The Grand Project Award is presented every year after searching out the examples of excellent project management activities in Korea and present the award to the excellent project management company so that it will be spread over the entire industry. Korea Western Power won the honorable award for its effective implementation of the construction of the Pyeongtaek 2 Combined Cycle Power Unit in Pyeongtaek, Gyeonggi Province.
The Pyeongtaek 2 Combined Cycle Power Unit Project construction was launched due to the urgent request by the government following the sudden power failure on Sept. 15, 2010 with the new power plant completed in September, this year after the installation of gas turbine in July, 2013. The project was launched in August, 2012.
In particular, the new power plant's power generation effect has been the top level in the country with the exposure of pollutants at the minimum level as a power plant environmentally friendly and highly effective at the same time, setting a record as the complex power plant that was completed in the shortest time possible with no damages and accidents. The new power plant has made a great contribution to the stable supply of power to the Seoul area during the summer and the winter.
Officials of Korea Western Power said the new power plant is the valuable result of all of those working at the power company doing their best to stick together to follow the systematic work and the project management rules. They will also apply the project management rules in undertaking other similar projects that will follow in the future to make the construction project management highly effective.