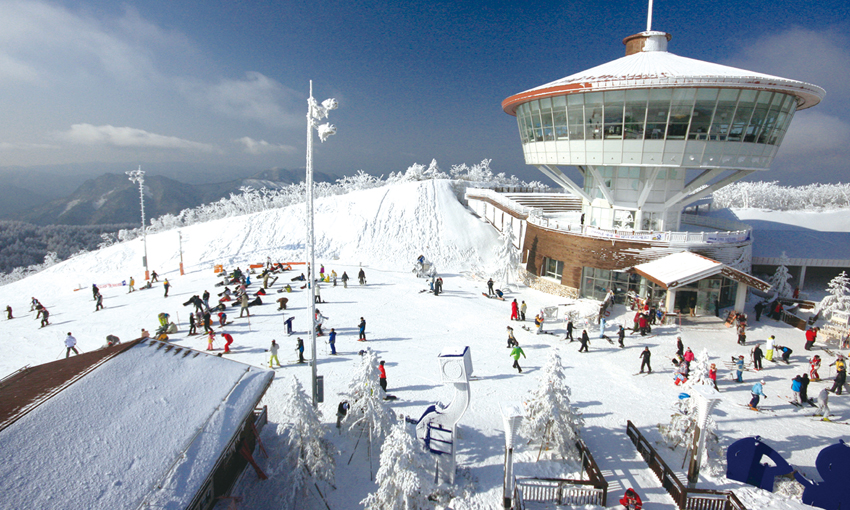 High1 Resort is a globally recognized ski resort in Korea.
Kangwon Land has declared its new management tenets focusing on the public interest and sustainable development. Kangwon Land President Ham Seung-huie took the helm of Kangwon Land and unveiled the new management vision on Dec. 3.
New Kangwon Land President Ham teamed up with Senior Executive Vice President Kim Kyung-jung. President Ham declared the new management vision, saying, "Kangwon Land is faced with a task of pursing public interests and corporate profitability as public entity in accordance with the purpose of the establishment of Kangwon Land." The first management tenet of the new vision is about public-oriented management. It aims at establishing Kangwon Land as a leisure company that is loved by the general public, which is committed to doing its utmost in performing public functions as a public entity by shedding the past's bad image. It signifies that Kangwon Land should devote itself in ensuring fairness, public interests and openness in decision-making related to such things as businesses and personnel management.The second management tent: creative management calls for making Kangwon Land a sustainable company by eliminating long-standing malpractices and creating new values to brace for the future. It is designed to cope with external and internal management uncertainties, including a special law concerning the development of mining areas in the Jeongseon area, scheduled to expire in 2025, as well as to brace for future environment changes to explore new growth engines by getting rid of malpractices and ill-natured restrictions with a sense of crisis.
The last and third management tenet is about happiness management for all stakeholders. It calls for Kangwon Land executives and staff members to do business activities based on freedom and creativity to make Kangwon Land a company that satisfies shareholders and the people, utilizing output in accordance with public interests, thus turning around the regional economy, stabilizing residents' livelihood, and to develop Kangwon Land into an integrated resort leader that satisfies all stakeholders. Kangwon Land President Hahm said, "Kangwon Land's rising to Korea's premier integrated leisure industry leader is owed to all executives and staff members' hard work and passion." He also urged his staff to do their best with a unified mindset of making a new milestone in the history of Kangwon Land.
HIGH1, A GLOBALLY-SCALED
SKI AREA
Kangwon Land runs not only casino businesses but also total leisure businesses in High1 Resort. Aiming to become a global family leisure town, Kangwon Land is leading a new chapter in the tourism/leisure industry. Developed in Sabuk-eup and Gohan-eup, Jeongseon-gun, and opened in December 2006, High1 Resort features over 21 km of ski slopes within an area of 4.98 square kilometers. The ski grounds include a 403-room resort hotel, two ski houses, two rest areas, and an observatory at the top of the mountain. There are 18 slopes at High1 Resort. All of the slopes are at least 1.5 km in length, while the longest slope stretches for 4.2 km.