Samsung Electronics Vice Chmn. Lee gives a briefing to Xi on the exhibits on display and the Korean electronics maker's business activities in Korea and China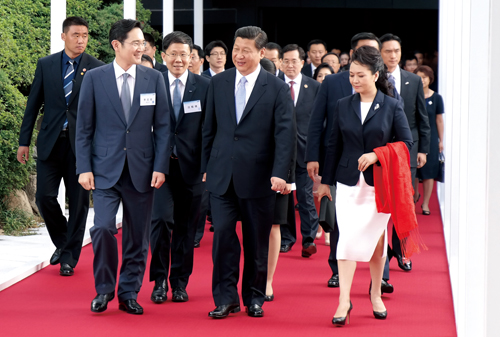 Samsung Electronics Vice Chairman Lee Jae-yong talks with Chinese President Xi Jinping as the latter toured
Samsung Electronics' pavilion at the Seoul Shilla Hotel on July 4. (photo: Samsung Electronics)
C hinese President Xi Jinping toured Samsung Electronics' pavilion at the Seoul Shilla Hotel on the afternoon of July 4.
President Xi stayed for some 20 minutes at the exhibition, which showcased Samsung Electronics' latest technologies, including the world's largest 105-inch curved ultra high-definition TV, premium smartphones, wearable devices, and V-Nand.
Samsung Electronics Vice Chairman Lee Jae-yong gave a briefing on the exhibits on display and the Korean electronics maker's business activities in Korea and China to President Xi.
Vice Chairman Lee said the exhibition was arranged under the catchphrases of Samsung's 'Chinese Dream' for China's growth based on Samsung's core capabilities. The term Chinese Dream is Xi's vision toward a society in which all of the people are happy.
Chinese President Xi extended his thanks for Samsung's diverse activities contributing to Chinese society.
Samsung Electronics' Business Activities in China
Samsung Electronics, which set foot in the Chinese market in 1992, has major manufacturing operations in Tianjin, Suzhou, and Huizhou, as well marketing operations in Beijing and Shanghai. The company also operates 10 research institutes across China. It employs a combined 120,000 people there.
More than 20 years after its entry into the Chinese market, Samsung Electronics is striving to change its business portfolios with a focus on high technology, value-added industries, and the capital-intensive installation industry.
Among Samsung Business Group's representative investments into China are the Korean electronics giant's semiconductor plant in Xian, which began to mass-produce semiconductor products this past May, an LCD plant in Suzhou, which was dedicated in 2013, and Samsung SDI's EV battery plant in Xian.
Samsung is also carrying out diverse and proactive corporate social responsibility (CSR) programs designed to smooth its business activities in China.
China Samsung, which designated the year 2013 as the first year of CSR management, has pledged to upgrade its CSR programs to higher levels. The company strives to firm up educational, social welfare, environmental, and rural village support programs and make them the subject of benchmarking for CSR activities.
In particular, China Samsung is conducting a campaign to refresh its image in China under the catchphrase, "The Company Beloved by Chinese People, Contributing to Chinese Society." The company produced four advertisements on educational and public medical activities targeting Chinese youth under the theme of hopes and dreams. An advertisement dramatizing the story of a boy standing on his hands and a girl with a cataract who have survived their hardships has become an emotional sensation in China.
China Samsung, designating Shanxi Province as a CSR pilot province, is making massive investments and staging social contribution activities there.
China Samsung ranked 21st overall and 1st among foreign investment companies last year in an annual report of CSR indexes by the Chinese Academy of Social Sciences.
The company is aggressively staging a marketing blitz to woo big-ticket clients with a focus on its 95-inch curved UHD TV and premium smartphones, including the Galaxy S5.