The 2014 Technology Commercialization Convention kicked off for a three-day run at the K Seoul Hotel on July 2 to spur technology commercialization and share industrial technology.
Among some 300 participants at the event were Vice Minister for Trade and Energy Han Jin-hyun, representatives of SMEs and venture companies, experts from research institutes, and universities, and technology transfer officials.
Vice Minister Han said in a speech at a ceremony to open the convention, "Technology commercialization is a key policy of the creative economy." He called for related organizations to make concerted efforts to build an ecosystem in which people's creative ideas and technologies can be commercialized.
On the first day, "Technology Commercialization Day" on July 2, three research institutes, the Electronics Telecommunications Research Institute (ETRI), the Korea Institute of Industrial Technology (KITECH), and the Korea Electrotechnology Research Institute (KERI); three universities; and three financial institutions were presented with prizes in recognition of their excellence in technology finance and commercialization.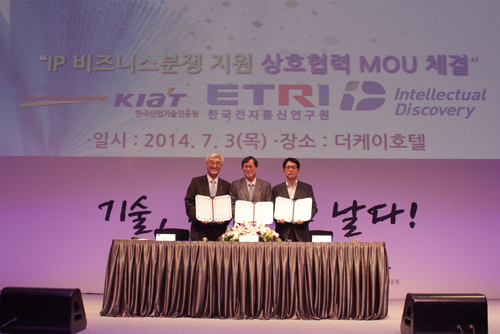 President Kim Heung-nam of the Electronics and Telecommunications Research Institute (ETRI),
President Chung Jae-hoon of the Korea Institute for Advancement of Technology (KIAT),
and President Kang Soon-gon of Intellectual Discovery hold a certificate of an MOU on mutual
cooperation on intellectual property disputes they signed at the-K Hotel in Seoul on July 3. (photos: KIAT)
Chung Yun-jung, representative director of Core Optix, presented a success story of technology commercialization.
A discussion on technology commercialization focused on the government's evaluation of R&D outcomes, interministry cooperation, and ways of invigorating the technology market to offer the technologies demanded by the industry.
Participants of the discussion touched on the need for the establishment of a chain of command for technology commercialization, each ministry's roles in spurring technology start-ups, and expediting technology transactions between large- and small-sized companies.
State-run research institutes, specialized research institutes, and technology trade organizations offered an explanation session for job-seeking university students.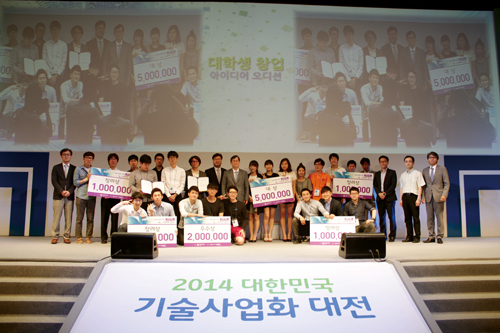 University students participate in the 2013 From Idea to Start-up Contest.
Some 300 people, including President Chung Jae-hoon of the Korea Institute for the Advancement of Technology (KIAT) and officials from state-run research institutes, techno parks (TPs), technology licensing organizations (TLOs), regional technology transfer centers (RTTC), SMEs, and venture companies, participated in events on the second day, themed "Technology Start-up."
A successful practice of Ulsan Tech Park's transfer of Russia's excellent technologies to Korean SMEs was presented. Participants shared success stories of global technology transfers and commercialization at a seminar designed to provide a helping hand to SMEs wanting to explore foreign markets.
An intellectual property forum that took place between 11 a.m. and noon on July 3 was designed to explain the current status of the Korean and foreign IP businesses, and to take stock of pending issues and to discuss ways of promoting IP commercialization through invention capital.
KIAT, ETRI, and Intellectual Discovery, the nation's first invention capital company, signed an MOU to facilitate global IP business and provide support for Korean SMEs' IP disputes.
President Yoon Jong-young of the Bay Area K Group, Korea's largest network in Silicon Valley of the United States, spoke on investment strategies and related issues as well as successful initial public offerings (IPOs) on the third day, themed "Technology Finance Day."
Companies wanting to attract investments and technology finance providers held a standing luncheon to establish a network between them. SMEs with their own excellent technology were given an opportunity to introduce their technology.
Director Yoo Beop-min of the Industry Technology Market at the Ministry of Trade, Industry and Energy, representatives of Korean and foreign venture capital companies, and technology commercialization experts presented the technology investment practices of Silicon Valley and discussed the current situation and future direction of the Korean technology finance industry.
A technology evaluation seminar touched on major issues related to the facilitation and expansion of technology as well as the establishment of a sharing and cooperative network among tech evaluation bodies.