Samsung Electronics IM Division Head Honored with Order of Industrial Service, Gold Tower
Pres. Shin receives the coveted award at 48th Invention Day anniversary event
President Shin Jong-kyun of Samsung Electronics IT & mobile communications division is awarded the
Order of Industrial Service, Gold Tower a the 48th Invention Day anniversary event in Seoul on May 15.
Shin Jong-kyun, president of Samsung Electronics IT & mobile communications division, was awarded the Order of Industrial Service, Gold Tower, in recognition of his leading roles in developing the world's top-rated smartphones and helping Samsung Electronics secure the No. 1 position in the global smartphone market at the 48th Invention Day anniversary event at 63 City in Yeouido, Seoul, on May 15.
President Shin has been credited with establishing quality management based on companywide strong leadership and initiative. Externally, he has also been praised for constantly releasing a wide range of products employing state-of-the-art technologies and leading Samsung Electronics to achieving the feat of gaining the largest share of the global smartphone market. Samsung Electronics saw the numbeular phones sold globally soar to 470 million and worldwide smartphones sales reach 213 million last year to maintain the No. 1 position in the global cellular phone market and the global smartphone segment with a 23.7 percent share and 30.4 percent share, respectively.
Samsung Electronics' Galaxy Note 2 was presented with the 2012 Korea Technology Grand Prize from the Ministry of Trade, Industry and Energy in recognition of its encouraging researchers to gain patents related to the release of new products and the patents related to mobile communications equipment and handsets. The Korean electronics giant also received the 2003 Science Technology Medal.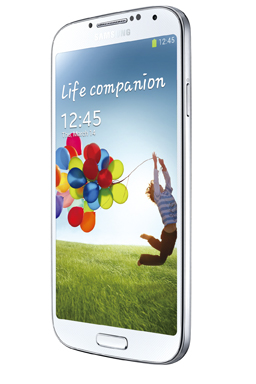 The Galaxy S4, Samsung Electronics' latest smartphone
that is on a roll in Korea and abroad.
Samsung Electronics President Shin has been honored with the coveted
order for his leading roles in innovative development of smartphones.
"Recognizing that innovative technology development and securing intellectual property rights are core components of technology product competitiveness, we've spearheaded effective patents covering the commercialization of core technologies and standards to maintain leadership in the mobile communications equipment and handset technology fields, and we'll strive to take steps to address patent and IPR issues to raise our corporate image as a world-class player and secure a national competitive edge," President Shin said.