Daewoo Shipbuilding and Marine Engineering Co. (DSME) is about to sign a shipbuilding order worth some $4.5 billion to build 15 ice-breaking LNG carriers with Russia's Yamal LNG Co., a joint venture involving a number of international investors including Total of France (20 percent), CNPC of China (20 percent) and Novatek of Russia (60 percent), the shipyard said on April 8. The official signing of the contract is scheduled to be held on April 15 and Yamal LNG will announce the signing.
The shipyard will start building the ice-breaking LNG carriers at its Okpo shipyard on Goeje Island off the coast of South Gyeongsang Province and deliver them to the owner from June 2016. The Russian LNG company is slated to announce the signing on April 15, the shipbuilder said. Each ice-breaking LNG carrier is 170,000 cubic meters in size and is equipped with ice breakers strong enough to smash 2-meter thick ice.
The price of each LNG tanker will be set at $300 million to bring total orders to $4.5 billion, $1.5 billion more than what Samsung Heavy got for its LNG FPSO order last June, which so far stood as the biggest single shipbuilding order captured by a Korean shipyard until now. Daewoo Shipbuilding already signed to build a similar ice-breaking LNG carrier from Yamal LNG on March 17 to bring the total ship order from Yamal to 16 ships worth $4.8 billion.
The Yamal LNG Megaproject is engaged in the exploration of LNG in the Yamal Peninsula in West Siberia of Russia with the joint-venture partners plunking down $20 billion each in the huge project.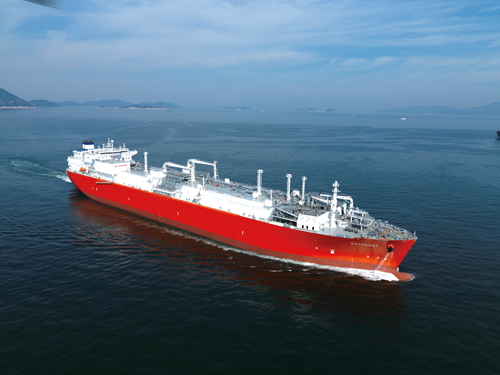 An LNG carrier built by DSME.
Daewoo Shipbuilding had to go through a highly intensive competition with rival shipbuilders to capture the mega shipbuilding order.
The large order for DSME has the shipbuilding industry wondering how soon the company might be able to achieve its 2014 ship order target of $14.5 billion with its new ship orders totaling $6.24 billion, nearly half the target.
Industry sources expect DSME will not only achieve its target, but its total ship orders would come close to the $21.5 billion in orders they reached in 2007, the peak year for the shipbuilding industry all over the world.
DSME's vessels are highly appreciated for their fine quality in the world shipbuilding market where established major players in the world economy from Europe and America compete.
Satisfied with superior technology, on-time delivery and dedicated people who spare no effort to meet customers' needs, major oil producers come back with follow-up orders once having ordered large-scale offshore platforms from DSME.
Started in 1973 at Okpo Bay, Geoje Island, located on the southeastern tip of the Korean Peninsula, the shipyard of DSME was completed in 1981. DSME has since grown into the world's premium shipbuilding and offshore contractor that is specializes in building various vessels, offshore platforms, drilling rigs, FPSO/FPUs, submarines, and destroyers.
The shipyard, which spans an area of 4.3 million square meters, encompasses the world's largest dock with a million-ton capacity and is optimized for building high-tech motor vessels using cutting-edge equipment, including a 900-ton goliath crane.
DSME manufactures high-quality products based on its vast IT expertise, well-managed shipbuilding technologies, superb fixed-platform construction capacities, large-scale project management know-how, and submarine/destroyer construction technologies.
Since it was reborn as an independent company in October 2000, DSME has been creating a corporate culture on the core values of trust and passion.
DSME defines "trust" as building partnerships and confidence with colleagues and within the organization through mutual respect and consideration, winning customer loyalty by honesty and promise-keeping, and strengthening trust between the employees and the company through transparent management.
DSME defines "passion" as completing each task with determination and persistence, being responsible for one's actions with a sense of ownership, seeking continuous improvement for higher values instead of being complacent, and spreading the wings of self-actualization.