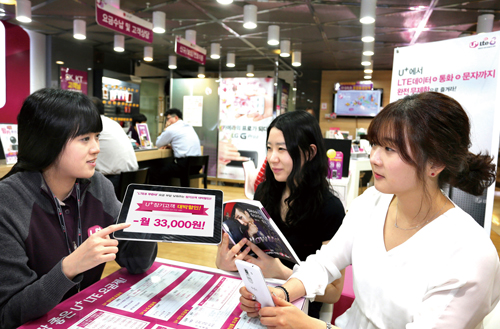 An employee at an LG U+ outlet explains clients about the
"LTE8 (Long-term Evolution) Unlimited 80" package and others
the telecom provider has introduced recently. (photo: courtesy of LG U+)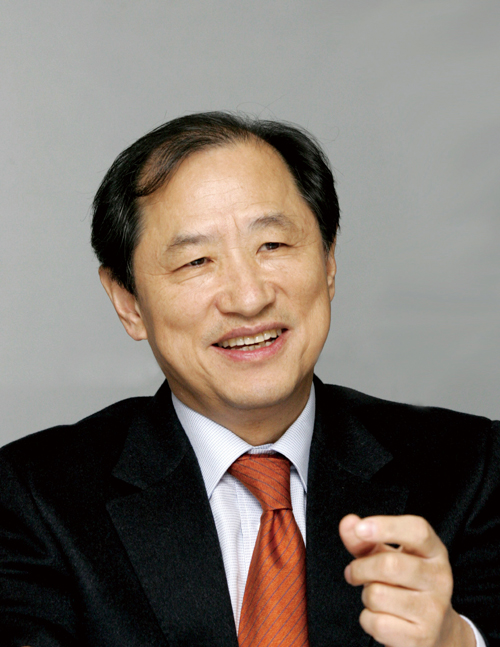 LG U+ Vice Chairman Lee Sang-chul
LG U+ has become the first Korean telecom provider to offer the "LTE8 (Long-term Evolution) Unlimited 80" package, allowing mobile phone users to get unlimited access to voice, message, data and additional services in return for a monthly rate of 80,000 won. The telecom provider has fired the first salvoes to pare down mobile phone rates following the suspension of the three telecom providers' recruiting new subscribers in penalties against offering excessive subsidies.
LG U+ has also come up with the "LTE8 Unlimited 85" package, allowing clients to have unlimited access to eight additional services, including mobile TV and cloud service, plus voice and message, in return for a monthly rate of 85,000 won. In particular, clients who sign up for a two-year contract on the LTE Unlimited 80 and LTE Unlimited 85 packages will have their monthly rates lowered to 62,000 won and 67,000 won, respectively, a discount of 18,000 won. LG U+ has also introduced the "Bonanza Handset Replacement" rate to give an additional cut of 15,000 won monthly to the exiting LTE8 Unlimited rate subscribers who buy a new cellular phone.
LG U+ Vice Chairman Lee Sang-chul said in a meeting with reporters at the Westin Chosun Hotel in Seoul on April 3, "We're taking the lead in the market of paring mobile phone rates with the LTE8 packages."
"LG U+ declares a paradigm shift by introducing rate cut packages as a Korean LTE leader, and the LTE8 packages will be the ultimate edition in which everyone can communicate without restraint," Lee added.
SK Telecom and KT also followed suit immediately to cut rates on the heels of LG U+'s move.
Regarding LG U+'s lowering the data speed to 3Mbps in excess of 2GB in daily data usage amounts and setting a limit on daily tethering to 2GB, Vice Chairman Lee said setting limitations to LTE8 package subscribers was designed to prevent commercial abuse, and other telecom providers set speed caps to 400Kbps, which makes it hard to see videos.
Responding to a question about possible tethering traffic snarls, Lee said LG U+ has 80MHz frequency band, the widest LTE bandwidth among Korean telecom providers, and simulations have proved to have no problems with countermeasures in place to cope with a rise in subscribers, which costs it more than 100 billion won.
He noted that the introduction of the LTE8 packages will have a bad impact on its sales and average revenue per user (ARPU). Lee added that the new rate packages are forecast to bring about a 150 billion won loss in operating profit, but more new clients and no subsidies will likely raise ARPU, and its overall performance will improve. The key point of introducing the LTE8 rate packages is to shift the paradigm from subsidy completion to one that brings benefits to the people, Lee said.
Entry into low-priced cellular phone business
Vice Chairman Lee hinted at LG U+'s making an inroad into the domestic low-priced handset business market. "So far, we have paid no attention to the low-priced handset market. There is a need for drawing people's demand, and we're pondering an entry into the market," he said.
Lee said there were no roadblocks in entering the market, but it is kind of a matter of how to enter it: via subsidiary or other type of entry, hinting about a possible presentation of a detailed action plan.
With CJ Hello Vision and SK Telink in the forefront, SMEs are major players in the market. But LG U+'s official decision to make inroads into the market will likely have implications.
Asked about the possibility that LG U+'s entry into the low-priced handset business market runs counter to the government's policy of protecting SMEs, Vice Chairman Lee said conglomerates have already been doing business in the market via their subsidiaries.