KT Aims to Become No. 1 Company through 'Single KT' Management Strategies
Chmn. Hwang convenes his first meeting of CEOs of KT subsidiaries since his inauguration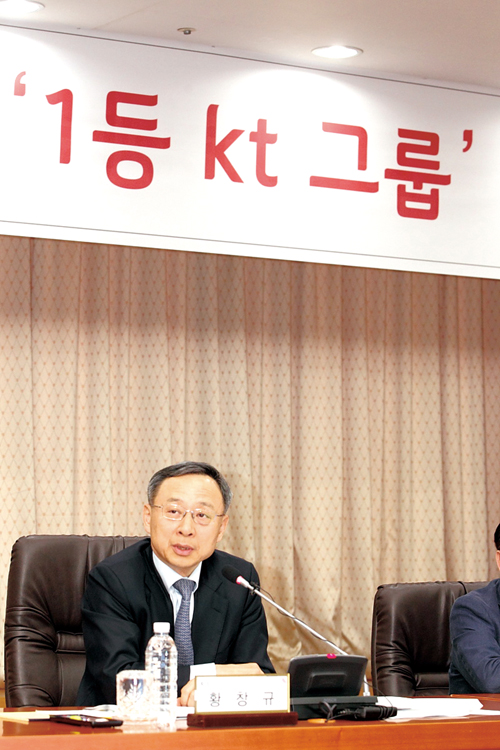 KT Chairman Hwang Chang-gyu (photo: courtesy of KT)
KT Chairman Hwang Chang-gyu convened a meeting with the CEOs of KT subsidiaries, the first such gathering since his inauguration, at the KT headquarters in Bundang, south of Seoul, on April 17 in which he stressed what he calls "Single KT" management strategies designed to promote group-wide solidarity and collaboration.
Some 30 people participated in the meeting, including the CEOs and executives of some 20 KT subsidiaries, including BC Card, KT Kumho Rent-a-Car, KT SkyLife, KT Telecop, and KT Powertel.
Chairman Hwang appealed for the participants to make KT the No.1 company through the Single KT management strategies designed to have synergetic effects between KT headquarters and subsidiaries as well as among subsidiaries. Hwang has stressed these management strategies since he took the helm at KT.
The meeting was designed to establish a growth foundation by sharing KT's strategies and vision among its 56 subsidiaries in the financing, distribution, security and broadcasting business arenas. It is also meant to push ahead with common strategies among the staff of the KT headquarters. The move may be construed as Chairman Hwang's determination to keep KT, distraught by honorary retirees, taut.
Following the first meeting of the CEOs of KT subsidiaries, Chairman Hwang is seen as strengthening his management grip over KT, industrial analysts say.
KT is forecast to explore new growth engine businesses that could have synergetic effects among KT subsidiaries and dispose of money-losing businesses.
Of late, KT has upgraded an ethics management officer to the Management Diagnosis Center to diagnose the existing and new businesses and examine their feasibility.
During the meeting, Chairman Hwang disclosed new ethics management tenets. Hwang's move is designed to cope with the recent revelations of security loopholes and former KT executives' irregularities.
Chairman Hwang asked how to provide support to the families of the victims of the Sewol Ferry disaster while making a call to Park Hyung-chul, head of Jeollanam-do Customers Headquarters, during the meeting.
Hwang credited with creative, darring and tenacious management style
KT Chairman Hwang, former president of Samsung Electronics in charge of semiconductor chip production and professor at Sungkyunkwan University, is well known for his marketing achievements at Samsung Electronics while working in the area of semiconductor chip development.
Hwang called his management style of the semiconductor sector at Samsung Electronics "Hwang's Law" and proved its effectiveness in terms of engineering aspects and led chip development with precisely framed strategies to show off his management ability.
In 2001, he turned down Toshiba's offer to form a joint venture on the production of memory chips and instead led Samsung to overtake the Japanese chipmaker in the memory chip sector. Chairman Lee Kun-hee was inclined to consider the offer, but Hwang said he just needed a year to beat the Japanese rival and he did.
Hwang is also well known for persuading the late Steve Jobs of Apple to use Sam-sung's NAND flash chips on Apple's I-pods which went on to dominate the global market for MP3 players. He has been known to project correctly what's ahead in his company's future. He was responsible for changing Samsung's main chip from D-RAM to flash memory chips in the early 2000s to lay the groundwork for Samsung's mobile phone base. He is not afraid of failure, and faces problems squarely. Hwang is a graduate of Seoul National University with a major in electronics and earned a doctorate in electrical engineering at the University of Massachusetts in Boston in 1985 and joined the Stanford Institute as a research staff member that same year. In 1992 he became head of Samsung Electronics Semi-conductor Research. In 2001, he was named president of Samsung Electronics Semiconductor division followed by a stint as head of the State R&D Team in 2010. Hwang became the chair professor at Sungkyunkwan University in 2010.
In this respect, Hwang is considered to have the right stuff to take care of the problems KT is faced with including mobile phone operations and the need to break out of the domestic market, which has reached the saturation point, while the inter-city call business and high-speed internet and other wired communication services are stalling in their growth, slowing KT's annual sales and profit growth.