Korea's Hosting ITU PP-14 Busan, an Opportunity to Elevate Nation's Standing as Global ICT Power
Asia's second ITU Plenipotentiary Conference, attracting some 3,000 govt. delegates and 300,000 Korean and foreign spectators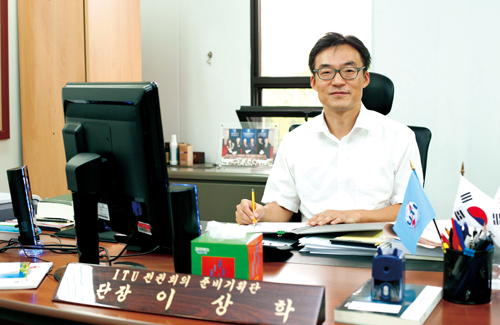 Lee Sang-hak, head of the 2014 ITU Plenipotentiary Conference (PP-14 Busan)
Preparatory Secretariat. (photos: courtesy of the ITU PP-14 Busan Preparatory Secretariat)
As many as about 3,000 government delegates including 150 ministers and vice ministers from 193 countries will descend on the exhibition center Bexco in Busan to participate in the 2014 ITU Plenipotentiary Conference (PP-14 Busan), which will take place from Oct. 20 to Nov. 7.

Question: Will you tell to our readers about the background and significance of Korea's hosting of the PP-14 Busan?
Answer: Korea, who joined the ITU (International Telecommunication Union) in 1952, is aggressively engaged in ITU activities. The nation has been elected as a member country of the ITU Council, the UN agency's governing body, six times since 1989, and sits on ITU research teams and committee chairs.
Korea's hosting of the ITU PP-14 may be construed as the international community's high recognition of Korea's ITU activities and its confidence in the nation's ICT infrastructure.
We expect PP-14 Busan to be an opportunity to upgrade Korea's ICT diplomacy a step higher and to shift the nation's global policy initiative paradigm from a fast follower to a first mover. Korea, the chair country of the upcoming PP, will play a leading role in setting ICT future visions and discussing the pending policy issues, serving as a go-between in conflicts between advanced and developing countries and between regions.
The Global ICT Conference, which will bring together Korean and foreign acclaimed scholars, CEOs, and representatives of academic associations, could be a venue for Korea's spreading its own models of the creative economy.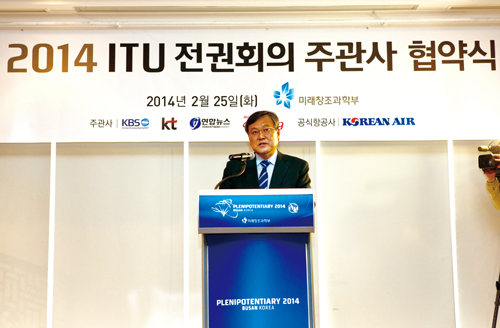 Minister of Science, ICT and Future Planning Choi Mun-kee speaks at a ceremony to sign an
agreement with media and airline companies on Feb. 25 to support ITU PP-14 Busan.
Q: Will you introduce us to PP-14 Busan?
A: We live on the Earth, cyberspace, created by ICT, which can be communicable from any place, around the clock.
The ITU seeks to promote cooperation in the planet of cyberspace, created by ICT, for a better future for the world. Top ITU decision-makers hold an ITU Plenipotentiary Conference, dubbed the "ICT Olympics" every four yours.
Some 3,000 delegates, including 150 minister-level representatives from 193 countries are expected to participate in the upcoming PP-14 Busan, and roughly 300,000 people, including Korean and foreign representatives from industry, academia, and media as well as public general spectators are likely to attend the ICT Exhibition and other side events of PP-14 Busan.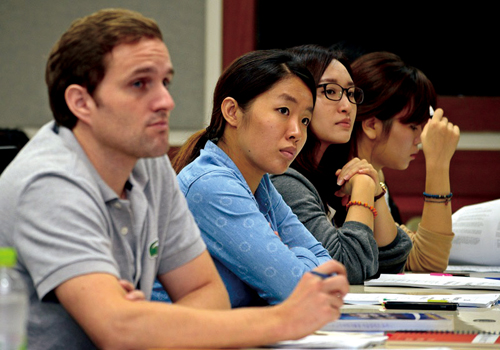 Foreign and Korean members of the ITU PP-14 Busan
public relations supporters group undergo training.
Q: Will you elaborate on the agenda of PP-14 Busan?
A: PP-14 is a top-level decision-making conference designed to discuss the pending issues and the direction of future policies in the global ICT sector.
Participants of the upcoming PP-14 Busan are expected to take up a wide range of global ICT policies and technology issues ranging from the pending issues related to radio waves and telecommunications standards fields to cyberspace security corresponding to the development of new technologies and services, on-line protection of children, the expansion of women's rights via ICT, mid- and long-term ICT strategies, and co-prosperity via ICT.
Q: Will you speak about the special events that will coincide with PP-14 Busan?
A: There will be the ICT Exhibition, during which spectators will experience the latest Korean and foreign ICT technologies, the Global ICT Conference, which will touch on global trends and future directions, and the Smart Hallyu (Korean Wave) Cultural Festival, a cultural event combining ICT and hallyu.
The ICT Exhibition will be a world-class fair in which Korean products with technological prowess will be displayed to make inroads in markets in Korea and abroad.
Korean and foreign globally-acclaimed ICT experts will speak at the Global ICT Conference, which is expected to attract representatives from diverse walks of life, including those from the ICT industry. The conference will be a channel of global ICT discussions the host country is seeking to seize as an opportunity to spread and share the outcomes and models of the creative economy.
The Smart Hallyu Cultural Festival will feature diverse events combining ICT and hallyu, designed not only to bring about cultural and economic effects, but also to enhance Korea's national standing and image.
Q: What effects will Korea's hosting of PP-14 Busan bring about?
A: According to a report from the Korea Information Society Development Institute, the nation's hosting of PP-14 Busan will likely have economic effects worth an estimated 710 billion won, including direct production induction effects and boosting tourism and exporting, stemming from some 3,000 delegates' participation in the conference.
The economic effects the international event will yield will be greater than expected if Korean SMEs and venture companies' products and technologies, to be displayed at the ICT Exhibition, are given an opportunity to explore foreign markets.
Korea's hosting of the three-week international event, which will coincide with side events such as the ICT Exhibition, the Global ICT Conference, and the Smart Hallyu Cultural Festival, is expected to elevate Korean people's awareness toward ICT a step higher.
Q: Will you give details about the holding of the World IT Show (WIS)?
A: WIS, which will coincide with PP-14 Busan, will be one of Korea's largest ICT exhibitions in which Korean and foreign ICT companies will showcase their latest products and technologies. Diverse conferences and exporting negotiation meetings will be held simultaneously during PP-14 Busan.
WIS exhibitors will offer technologies and products in a wide range of ICT arenas, including mobile communications, network, Big Data, and software. Major Korean and foreign exhibitors will hold sessions to introduce new products and negotiation meetings with foreign buyers.
Korean ICT technologies and products will be showcased to government and corporate representatives from 193 countries and Korean and foreign spectators, while new product explanation sessions and business meetings with foreign buyers will serve as opportunities for Korean companies to explore foreign markets and for the nation to elevate its national standing as a global ICT powerhouse.