SK Telecom, celebrating the 30th anniversary since its establishment, has designated 2014 as the first year of another 30-year period for leaping forward with the goal becoming one of the world-class ICT leaders.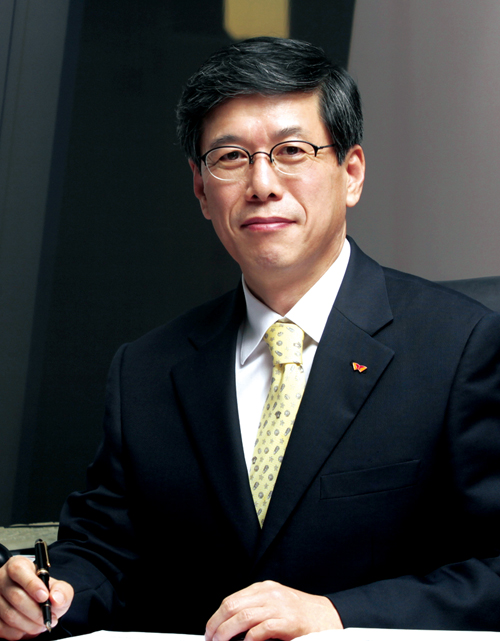 SK Telecom President Ha Sung-min
Korea's biggest telecom provider has enumerated its 2014 management tenets, including ramping up the competitiveness of core businesses as a mobile network operator, creating results from new businesses, exploring next-generation growth engines, and the 2.0 Growth Strategies to share happiness with clients and society.
SK Telecom is accelerating its efforts to strengthen the competitiveness of the non-telecommunication business arenas by making the most of its solid foundation in the mobile network field.
SK Telecom President Ha Sung-min said, "SK Telecom will have to devote itself to making Internet TV (IPTV), enterprise solution, and health care businesses into growth boosters." He stressed the significance of SK Telecom's enhancing synergetic effects with SK Hynix and SK Planet and upgrading collaboration to a level higher than ever. President Ha's call may be construed as the Korean telecom provider's bid to have synergetic effects through combining diverse industries and telecom technologies and exploring new opportunities.
A few days into the new year, SK Telecom has proved its technological prowess once again by announcing that the Korean telecom provider has successfully developed "LTE-Advanced 3 Band Carrier Aggregation (CA)" technology for the first time in the world.
The technology aggregates 3 bands — 20MHz+10MHz+10MHz — to support speeds of up to 300Mbps. With the successful development of this technology, customers will be able to experience the fastest LTE-Advanced speeds once the related chipset and devices are developed. Industry experts forecast LTE-Advanced 3 band CA to become commercialized by the end of 2014.
Global standardization process for LTE-Advanced 3 band CA is currently underway and the company, with this achievement, expects to play a pivotal role in this process.
"With the successful development of LTE-Advanced 3 Band CA, SK Telecom further strengthens its global leadership in telecommunications technologies," said Park Jin-hyo, senior vice president and head of the Network Technology R&D Center at SK Telecom. "SK Telecom will continue to make strenuous efforts to provide unmatched service quality and speeds, which will lead to the overall advancement of the global telecommunications industry."
Meanwhile, SK Telecom plans to showcase its LTE-Advanced 3 band CA at MWC 2014, to be held in Barcelona in February. At this global exhibition, the company will demonstrate 450Mbps LTE-Advanced by aggregating three component carriers (20MHz+20MHz+20MHz).
2013 Earnings Results
SK Telecom announced its earnings on a K-IFRS consolidated basis for the year 2013: revenue of 16.602 trillion won, operating income of 2.011 trillion won, and net income of 1.610 trillion won.
Despite expanded revenue-decreasing factors brought on by the company's year-round efforts to alleviate customers' cost burden, including the launch of 'T & T Sharing' Plans, which include unlimited in-net voice calls, revenue increased by 2.9 percent YoY backed by its strengthened leadership in LTE and the growth of its new businesses including the enterprise solution business.
Based on its unrivalled LTE leadership, as of the end of 2013 SK Telecom has attracted 13.5 million LTE subscribers, which accounts for around 50 percent of its total mobile subscriber base.? Sales of its enterprise solution business increased by 60 percent YoY to stand at 434 billion won, serving as strong medium-term growth momentum for the company.
Operating income grew 16.2 percent YoY as diverse programs that offer benefits to long-term subscribers, including the handset discount program and data refill service, successfully drove up profitability by reducing customer churn rate.