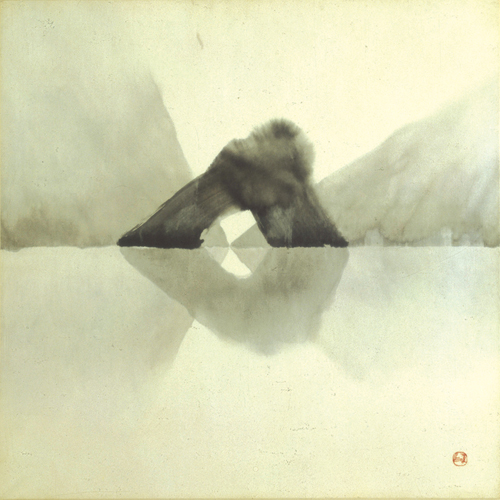 Dokdo; "Ki" or Spirit; 70 cm x 70cm; Ink; Floor Paper; 1982.
Known for his portraits of historical figures for the Korean 50,000 won and 5,000 won notes, considered the first Korean artist to focus on Dokdo and to paint the first pictures of it, the first live artist invited by the Louvre to make a huge mural painting on Han paper °™ world famous artist Illang Lee Jong-sang's achievements make him a living legend in Korean Contemporary Art.
Lee Jong Sang is an artist who has a deep awareness of Korea's own traditional culture, philosophy, and history. Devoting his life to establishing the autonomic cultural power of Korean art, Lee always says, "An artist should have awareness of history."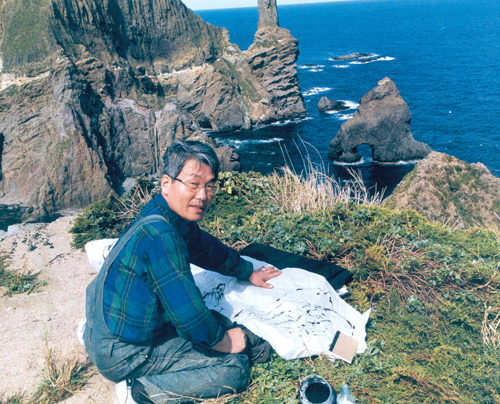 Painter Lee at work painting Dokdo, which he toured and painted for the first time in 2010.
Illang's Creation World Based on Historical Reality
He has drawn works based deeply on his awareness of history. It started with his experience in the students' movement of April 19, 1960. While other oriental art painters concentrated on describing traditional pastoral scenery at that time, he created his own art based on historic reality. is the result of a combination of Lee's use of the traditional painting technique of Gyeonjae Jeong Seon, a famous artist of the Choseon dynasty in the 17th and early 18th centuries, known as 'real landscape,' and Lee's own historic reality.
Visiting Ulleungdo and Dokdo 43 times since 1964, he has shown a penetrative insight and love for Dokdo. Urging people to have an interest in Korea's history and territory, he has been among the earliest to participate in activities to protect Dokdo.
"The fact that Japanese artists have not drawn Takeshima while so many of them do Mt. Fuji shows us that they fail to occupy it in cultural ways. Dokdo has been and is still our territory and protector of the Han people. We don't protect Dokdo, but Dokdo protects us. I would like to continue to draw Dokdo so that Koreans are able to get a deep awareness and love for our territory through cultural power," Lee said.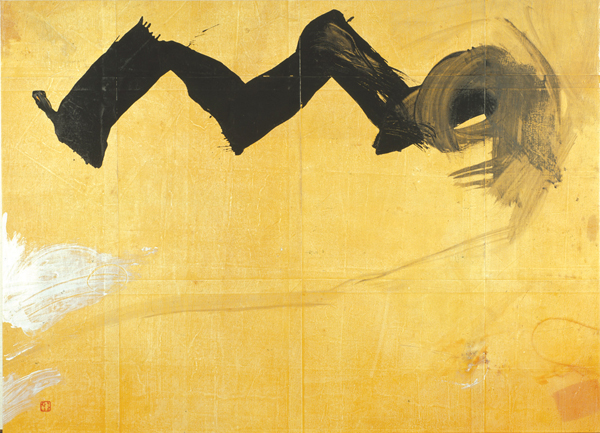 Urfigration-Great Land; 170 cm x 234 cm; Floor Paper; 1990; On display at New York Metropolitan Museum of Art.
Dokdo With a Thousand Faces
Artist Lee has drawn Dokdo every year from the same spot, and presented us a series of . Recently he said that Dokdo has a "thousand faces," meaning the various attractions of it. He added, "No one can enter Dokdo without a pure heart. Only after removing the greed of conquering the island, anyone can be allowed to enter by Dokdo." Through this awareness, Artist Lee learned a way of communicating with nature since he drew Dokdo.
At Dokdo Museum Seoul, managed by the Northeast Asian History Foundation, Lee's art works of Dokdo including are on display. "I want to show how deeply Dokdo has been rooted in our culture and lives," he said.
The only living Korean money artist and the first live artist ever invited by the Louvre
Illang Lee Jong-sang is the only one who is alive among the portrait artists who have created works for Korean paper money. He painted the portrait of Yulgok Lee Ee for the 5,000 won note at age 37, and 34 years later he painted the portrait of Shin Sa-im-dang for the 50,000 won note. Thus he added another 'first' to his record by being the first artist in the world to paint the bill portraits of a mother and son. "Money is a living organism that condenses the culture of its own nation and time, not just an object of worldly desires. So without a firm philosophy of money and the righteous life followed by that, no one can be the portrait artist of the current money," Lee said.
A famous example of this line of thinking happened when the Louvre Museum invited him for an exhibition. He became the first live artist ever invited by the Louvre. He made a huge mural painting on Han paper in the length of 72 meters. The huge picture's theme was "Byeongin Yang Yo," which was a historical event of the invasion of France into Korea in 1866. The Louvre offered a huge sum of money to Illang for his picture. But he declined their offer and made a counter offer: that the Louvre should return 'Jig Ji Sim Gyeong' and the books of 'Gyujang Gak,' which were stolen during the time of Byeongin Yang Yo by France. It was a historical triumphal refusal, payback for the invasion of France in 1866. "Our artistic soul is rooted not in 'resentment' but in humor and tolerance based on the arts. Therefore, it is urgent to redress right awareness of our culture and history," he said.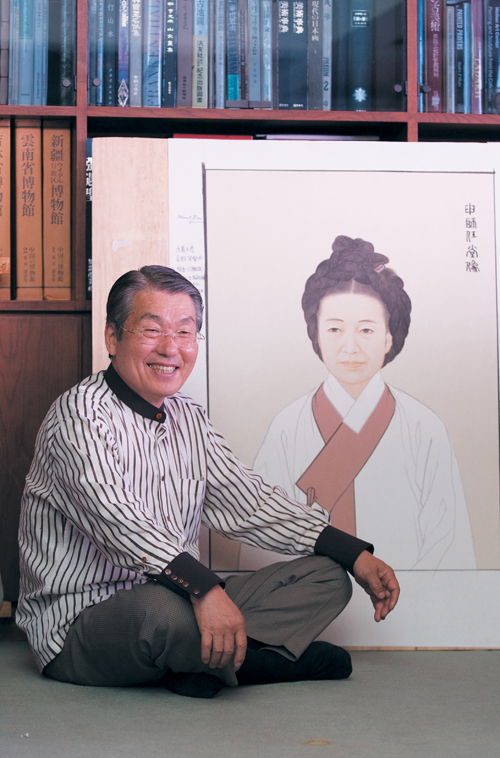 Painter Lee in front of the portrait of Shinsaimdang, a noted female scholar in the
late Jeoson Dynasty (1395-1910) which he painted and later put on the
50,000 won Korean currency in 2009. His portrait of Yulgok, son of Shinsaimdang,
the late Jeoson Dynasty scholar was also put on the 5,000 won currency.
It is Artist Lee Jong-sang's strong belief that arts is a projection of one's own culture and philosophy when it is grounded in an awareness of one's history. For monumentalizing his art works and his soul, the Illang Museum will be established in Incheon (the site of Byeongin Yang Yo) and a memorial center will be also built in Yeosan where he was born. The restoration of his birthplace home is also planned next to it. Through these memorial establishments, the message and soul of Illang will continue in posterity.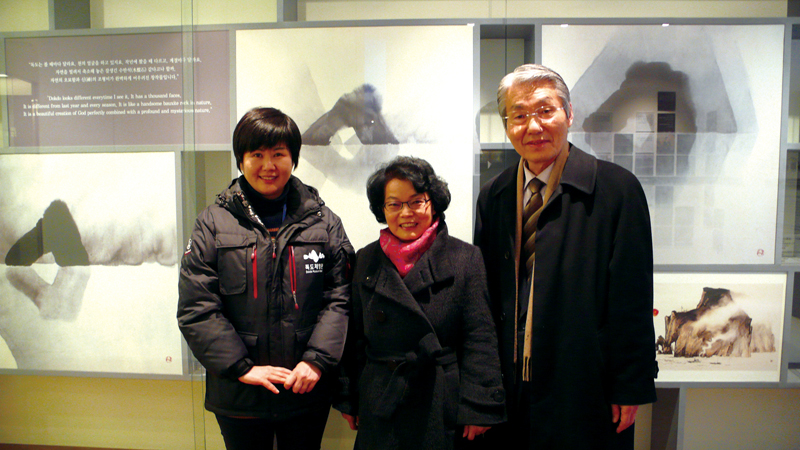 Painter Lee Jong Sang, flanked by Chung Young-mi, chief of Dokdo Museum Seoul, and NewsWorld Publisher & President Elizabeth M. Oh, stands before his paintings on Dokdo, which are on display at the museum in the Northeast Asian History Foundation.