New Chmn. Hwang Reorganizes KT
Stresses 'restoring of KT employees' pride and honor by rekindling the No. 1 DNA'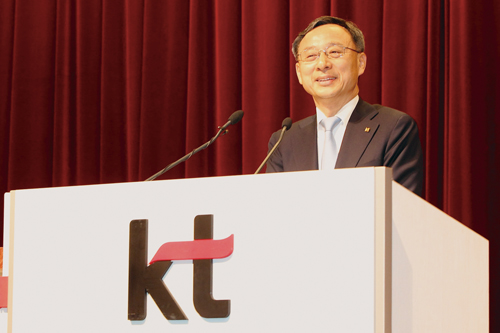 KT Chairman Hwang Chang-gyu (photo: courtesy of KT, article by S. Y. Kim)
Hwang Chang-gyu, former president of Samsung Electronics' semiconductor business, took office as KT chairman on Jan. 27.
KT held an extraordinary shareholders' meeting at its research and development center in Umyeon-dong, Seoul, and approved the appointment of Hwang as chairman. Hwang inspected the KT Innovation Center and gave words of encouragement to the employees there without holding an inauguration ceremony following the official approval of his appointment.
Newly installed Chairman Hwang, in a message he issued over KT's in-house public address system following the appointment, said, "We should restore the KT employees' pride and honor by rekindling the number one DNA." He revealed his determination to elevate KT to the top by grafting the success DNA owed to his role in transforming Samsung Electronics into a global top semiconductor leader.
"I feel a heavy responsibility because I've been appointed chairman at a time when the company is experiencing difficulties. I'll devote myself to elevating KT to the Republic of Korea's number one telecom provider by grafting the experiences and expertise I've accumulated while leading a global company and undertaking national R&D projects."
Chairman Hwang also emphasized the significance of the telecommunications sector, KT's mainstay business area, a sharp contrast from his predecessor, former chairman Lee Suk-chae, who aggressively expanded into non-telecommunications areas.
In order to make KT the nation's number one telecom provider, Hwang suggested three management tenets: challenge, convergence, and communication. He said, "KT will be the first company to provide top quality and differentiated services to the market by restoring its competitive edge in the telecommunication sector with an endlessly challenging spirit, and we will explore global markets by creating success stories of convergence based on our core businesses."
Making it slim
On the same day, Chairman Hwang announced a plan to reorganize KT, consolidating 22 divisions, offices, and headquarters into nine divisions and create the Future Convergence Strategy Office.
KT cut down on the number of executives by 27 percent. Out of some 130 managing directors or higher, 30 to 40 executives are to resign as of Jan. 31. Many of the so-called "Olleh KT" executives scouted from the outside during former chairman Lee's tenure are to tender their resignations.
Eight of the nine new division chiefs appointed in the latest reshuffle come from among KT's "old boys." The new appointees are Senior Executive Vice President Nam Kyu-taek of the Marketing Division; Senior Executive Vice President Oh Sung-mok of the Network Division; Senior Executive Vice President Chun In-sung of the CR Division; and Executive Vice President Han Dong-hoon of the Management Support Division. They've worked for KT for more than 20 years. Prof. Lim Heon-moon of Chungnam National University and President Han Hoon of the Spatial Information Industry Promotion Institute, who had quit KT one to three years ago, have returned home to serve as the chiefs of the Customer Division and Management Planning Division, respectively. Senior Executive Vice President Kim Ki-chul and Executive Vice President Lee Dong-myun, also coming from KT, have been appointed to be the head of the IT Division and president of KT Convergence Technology Research Institute, respectively.
The sole Olleh KT executive is Senior Executive Vice President Shin Kyu-shik, appointed to serve as the chief of the Global & Enterprise Division. Shin, former senior executive vice president of SK Broadband Company Business Division, moved to KT three years ago.
Meanwhile, Chairman Hwang has expanded his secretariat by appointing Executive Vice President Koo Hyun-mo to be his chief of staff who doubles as a secretary in charge of planning as well as assigning Executive Vice President Lee Dae-san and Executive Vice President Cha Jae-hyun in charge of financing. The Management Planning Division, headed by Senior Executive Vice President Han Hoon, have three offices — strategy planning, synergy management, and financing — y taking a hierarchy similar to the Secretariat. Former Samsung Electronics Executive Vice President Kim In-hoe has been appointed to head the Financing Office.
Chairman Hwang said he will delegate all powers to each division chief, but they will be held responsible for their performances.
Hwang received the highest evaluation for his abilities in vision setting and execution as well as his global mindset, which were essential in establishing KT's future strategy and management innovation. He was considered the best qualified candidate as an IT specialist with an ability to create new businesses. In addition to his corporate background, Hwang also served as the nation's CTO by heading the R&D Planning Office of the Ministry of Knowledge Economy. Hwang obtained a PhD degree from the University of Massachusetts and served as a chair professor at Sungkyunkwan University.