Investment association to create fund exclusively for SMEs and operate FreeBoard for venture firms and SMEs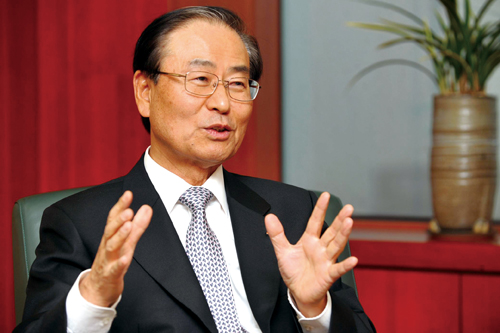 Chairman Park Jong-soo of the Korea Financial Investment Association.
Chairman Park Jong-soo of the Korea Financial Investment Association (KOFIA) said the company will create a fund to invest exclusively in SMEs, which would also be a great help to not only businesses, investors, and the capital market for their overall development.
KOFIA has decided to create an investment fund for SMEs, said the chairman at a media session on Feb. 3 at the association's head office in Yeouido, Seoul. He said the high-yield bond market overseas has been growing rapidly due to its high profit, but Korea is yet to have such a market.
He went on to remark that since Woongjin applied for court management in September last year, even large companies have found their bond issuances would not go well at the market. Park's idea is to set up a fund for investments in bonds issued by SMEs with the funds invested by the National Pension Service, institutional investors, large corporations, and policy fund investment firms. He believes individual investors would join, too, if tax breaks are given.
KSDA, KOFIA's predecessor, successfully launched the KOSDAQ index in 1996 and turned it into one of the most successful new markets in the world. KOSDAQ, the Korean version of NASDAQ, was successfully operated by the association until it merged with the Korea Exchange (KRX) in 2005.
Building on those successful experiences, KOFIA established FreeBoard and operates the OTC Bond Market.
FreeBoard is a systematized over-the-counter (OTC) market, established and managed by KOFIA. The market provides a place for companies unable to meet the listing requirements of the two national securities exchanges to trade their stocks, and acts as a financing channel, particularly for venture companies and SMEs.
Companies can finance their businesses through FreeBoard in two ways: either by becoming a FreeBoard-listed company and trading their shares in this secondary market, or by registering as a company in the preliminary listing stage and receiving various forms of financing assistance without trading shares.
Companies listed on FreeBoard can be divided into three categories: venture companies, ordinary companies, and Technopark-supported companies.
KOFIA was established on Feb. 4, 2009 with the implementation of the Financial Services and Capital Markets Act (FSCMA). Since then it has played a pivotal role in the development of the capital market and the financial investment industry in Korea, and it is now ushering in a new era.
KOFIA strives to contribute to the long-term development and enhanced competitiveness of the Korean financial investment industry, which is the fundamental purpose of the organization.
To this end, KOFIA pledges to listen to the voices of its members and serve as a supporter, helping members achieve further growth and development. The organization also advocates the views of market participants to financial policymakers, and works in cooperation with the industry to devise advanced policies that reflect their opinions.
Furthermore, with the awareness that the progress of the financial and investment market begins with investor growth, KOFIA will assist investors in making informed investment decisions, and provide balanced and principled investor protection.