KB Financial Group reports 1.77 tln won in profit for 2012 with 1.5 tln won from Kookmin Bank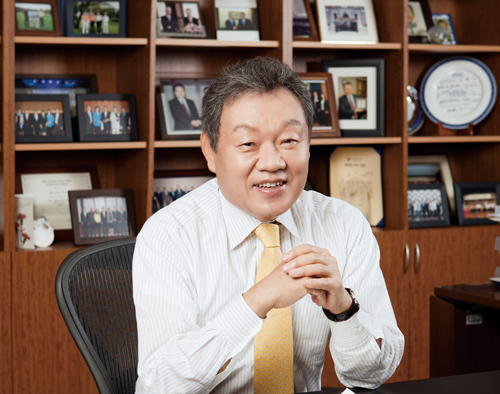 Chairman Euh Yoon-dae of KB Financial Group.
KB Financial Group netted 1.77 trillion won in profits in 2012 with 213.8 billion won in the fourth quarter last year. Annual profit fell 25.2 percent or 598.5 billion won on year, as 2011 annual profit included the sale of Hyundai Construction shares and fees from the management of housing funds. The group also incurred losses in securities transactions, which were recorded as a one-time loss.
The group's interest income amounted to 7.11 trillion won, up only 0.2 percent on year. Net interest margin narrowed substantially from the preceding year. In Q4, NIM fell by 1.6 percent from the previous quarter with interest income in the quarter coming to 1.75 trillion won.
Kookmin Bank, a major affiliate of the group, posted a net profit of 1.5 trillion won, down 27.3 percent on year, or 559.1 billion won, as its profit last year included a one-time profit from the sale of Hyundai Construction shares and fee income from the management of the housing fund. NIM fell 0.04 percentage points from the preceding quarter standing at 2.08 percent in Q4 last year. The bank's BIS ratio stood at 14.42 percent with the default ratio at 0.97 percent, up 0.10 percent on year. The bank's total loans outstanding amounted to 184.1 trillion won, up 0.1 percent on year.
The group's total assets amounted to 363.6 trillion won at the end of 2012 with Kookmin Bank's accounting for 280.6 trillion won, including its total outstanding loans of 184.1 trillion won, up 0.1 percent on year.
KB Card had total assets of 13.1 trillion won at the end of 2012, up 4.8 percent on year or 600 billion won.
Kookmin Bank had a default ratio of 0.97 percent, up 0.1 percent on year, with the default rate for corporate loans coming to 0.92 percent, up 0.08 percentage points on year. The non-performing asset ratio amounted to 1.34 percent down 0.09 percent on year.
KB Card's default rate was 1.29 percent, down 0.22 percent on year.
Officials of the group said they tried to tighten management to increase profits by saving and cutting expenses including marketing costs during 2012, and this year, too, the strategy will remain the same in order to boost customer confidence in the group.
KB Financial Group is Korea's leading financial institution with the largest customer base and the most extensive branch network in the country. With total assets exceeding US$312 billion, the group wields solid capital prowess and enjoys strong brand loyalty. As of February 2012, the group has 10 domestic subsidiaries in banking, credit cards, securities, life insurance, asset management, real estate trust, venture capital, credit information, data system, and savings bank, and three overseas subsidiaries in Hong Kong, England, and Cambodia.
KB Financial Group was established in September 2008 with extensive stock transfers from major subsidiary companies. The group's establishment was to better deal with such fundamental changes in the financial markets at home and abroad as the rapid globalization of financial services, a declining profitability of traditional banking operations, new industry regulations, and an increasing demand for comprehensive financial services.
The group's long-term strategy is to solidify its group infrastructure into a growth base, strengthen comprehensive financial service competencies, and cultivate future growth engines.
By expanding its non-banking operations and thus diversifying its financial products and services, KB Financial Group continues to improve customer satisfaction, maximize synergy creation, and increase corporate value.