British supermarket chain to push exports of Korean farm produce, foods thru its global network linking 12 nations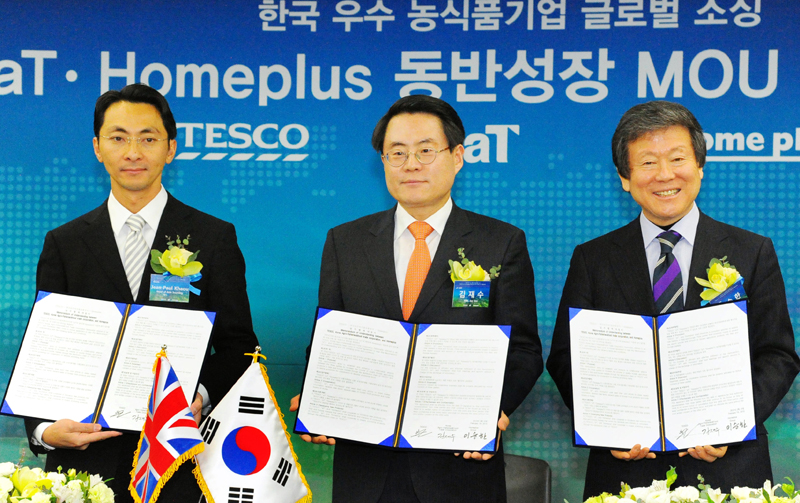 Homeplus Chairman Lee Seung-han, aT President Kim Jae-soo and Manager Jean Paul of Tesco's Asia Sourcing hold an an MOU certificate in which they agreed to cooperate to export Korean farm produce and livestock products through Tesco's expansive global sales network at aT Center in Seoul on Feb. 19
Homeplus, a supermarket chain run by Tesco of Britain, signed an MOU with the Korea Agro-Fisheries and Food Trade Corp. (aT) on Feb. 19 to help export Korean farm produce and livestock products at the aT Center in Seoul.
The three-way agreement signed by aT, Tesco, and Homeplus is designed to encourage cooperation to export Korean farm produce and livestock products through Tesco's expansive global sales network linking its 6,500 chain stores in 12 countries around the world including Great Britain, Hungary, Poland, the Czech Republic, China, and Thailand, among others.
Homeplus and aT will find Korean farm produce and livestock products sellable abroad through Tesco's global sales network and 3.4 billion customers who buy 122 trillion won worth of products at Tesco chain stores around the world every year.
They hope to find export outlets for Korean products having tough times due to the cheaper Japanese yen by tapping new markets in Asia and Europe and diversifying their markets.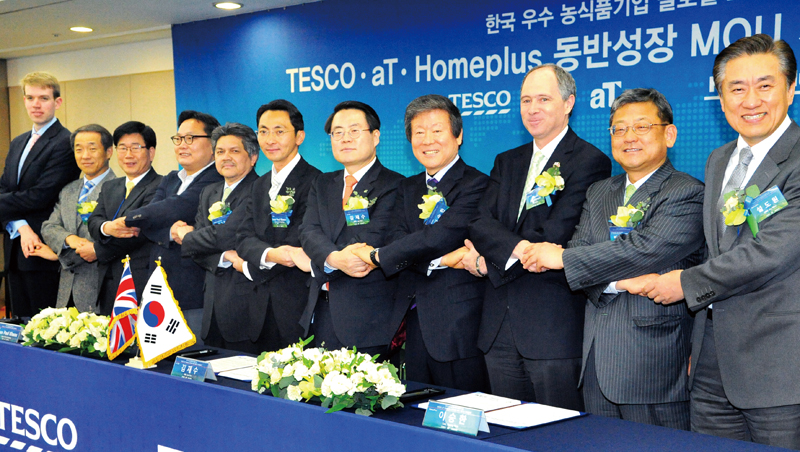 Homeplus Chairman Lee Seung-han, aT President Kim Jae-soo, Homeplus Vice President Sul Do-won, and other representatives from Homeplus, aT and Tesco join hands following the signing of a three-way MOU.
It is the first time that a big private company has joined hands with a large public company to export Korean farm produce through a global distribution network, a new model of cooperation between farm households and SMEs to search for ways to achieve mutual growth.
As a first step toward that goal, Homeplus and aT invited the manager of food sourcing for Tesco and nine buyers to Korea and let them hold talks with representatives of 60 domestic food makers. The invited buyers expressed interest in Korean persimmons, pears, strawberries, pig ribs, pork, mackerel, and mushrooms.
Manager Jean Paul of Tesco's Asia Sourcing, said about 2 million pounds (3.5 billion won) worth of Korean tangerines were sold in Britain in January and many Korean farm products have a great chance to be sold on the global market. Tesco will not only sell Korean farm produce, but also wonderful Korean traditional foods including "kimchi," broiled beef, and "bibimbap" among others, to introduce them to the world.
Chairman Lee Seung-han of Homeplus said the significance of the MOU is that it will ease the impact on Korean exports from the cheap Japanese yen and continued sluggishness and expand the mutual growth of both large and small businesses globally. Homeplus will not spare any of its efforts to support the growth of Korean farm households and food makers and K-Food to secure its market around the globe.
President Kim Jae-soo of aT said, "We hope to give real support to agro-fisheries and food makers, which are on their way to expanding their global market through the consultation meeting they had today. aT plans to step up its cooperation with Homeplus and Tesco to find markets in Europe for Korean agro-fisheries produce and products and foods."
In the meantime, Homeplus has been holding a number of exhibitions of Korean foods in cooperation with well-known British food makers in Great Britain to expand the sale of Korean foods in the island nation since 2011. As a result, Korean food makers such as CJ Cheiljedang (sauce for broiled beef), Daesang (Hongcho beverage), Lotte Confectionary (Pepero), and Chilsung Beverage (Cheoum Cheorum) °™ 49 kinds of manufactured foods altogether °™ are being put on the shelves of Tesco's stores in Great Britain.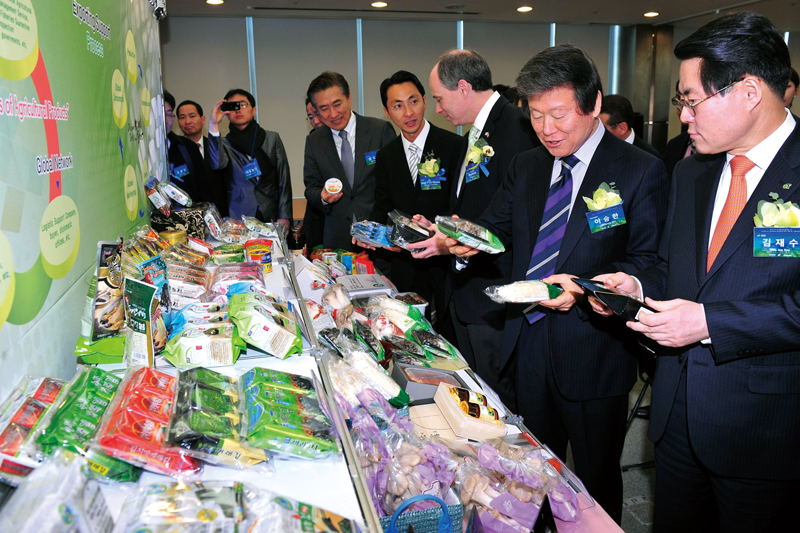 Homeplus Chairman Lee Seung-han, aT President
Kim Jae-soo and Manager Jean Paul of Tesco's
Asia Sourcing look at Korean farm produce and
livestock products on display at an export explanation
session at the aT Center.