Smartphones with Mom Car Home CCTV application can remotely control the new CCTV and all electronic home appliances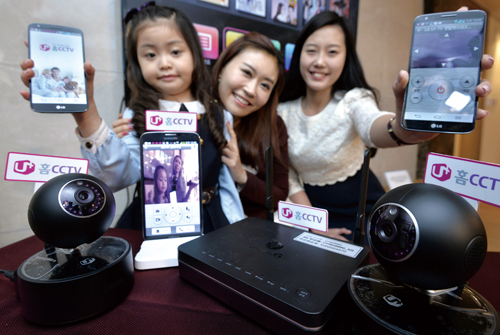 An ad for LG U+ Mom Car Home CCTV which can monitor every nook and
corner of a house including all electronic home appliances and can be remote controlled with smartphones.
LG U+ has introduced a camera that will put the customer's mind at ease, by monitoring every nook and corner of the house with the HD-class CCTV remote controlled by smartphones outside the home, the company said recently.
The 'Mom Car Home TV' that the company has put on the market can show all corners of a house while a similar CCTV can only monitor limited places. The new CCTV has a maximum field of view of 345 degrees from left to right, and 110 degrees up and down, leaving no dead corner in the house, the company said.
The brand new CCTV comes with a sensor attached inside so that it can identify the people caught by the camera and can send the pictures of the intruders to the owners' smartphones in real time.
The remote control function introduced for the first time in the industry can also remotely control TVs, air conditioners, lighting, and audio with smartphones at any time and anywhere. It also has the functions of walkie-talkie and emergency communication among its diverse functions.
For example, smartphones with the Mom Car Home CCTV app can shut off TV, air conditioners, and other home appliances at home while out. Working parents can always watch their babies at home from their offices through the cameras on the Mom Car Home CCTV and communicate through the built-in walkie-talkie on the Mom Car Home CCTV.
As such, the Mom Car Home CCTV doesn't only have security functions, as is the case with the existing ones, but has additional functions so that it will be known as the home convergence commodity combining all of the entire diverse functions into one.
The charge is 9,000 won per month without having to buy the entire set and the charge will be discounted to 6,000 won per month for customers who subscribe for the new security commodity by Jan. 31 next year.
The customers of LG U+ internet service can subscribe to the new Mom Car Home CCTV at the nearby Customer Centers (101) and they can download the Mom Car Home CCTV app from the Google Play Stores to their smartphones.
The provider of the Home CCTV and various other products is also seeking mutual prosperity with SMEs in diverse areas.
Ryu Chang-soo, in charge of the Home Solution Business of LG U+, said the Mom Car Home CCTV is not only for home security, but for the first time in the business has the remote control function for all electronic home appliances. He said the remote control function will be upgraded steadily in the days ahead and converged with home service products introduced by the company to lead the market.