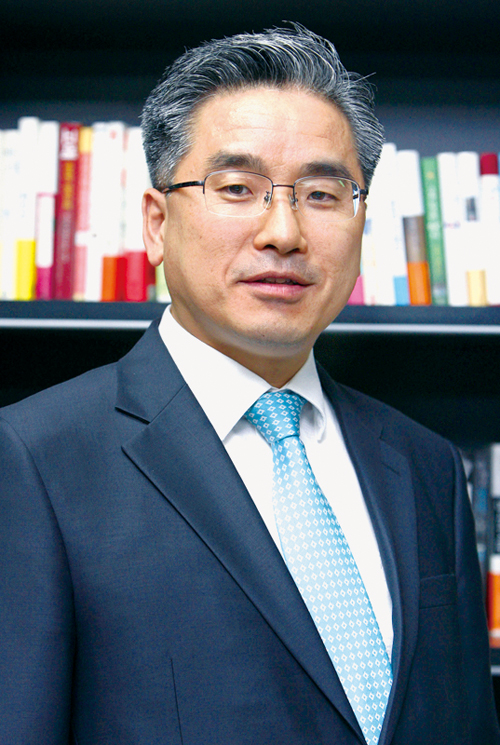 Dir.-Gen. Choi Tae-hyun in charge of materials and
component industries at the Ministry of Trade, Industry and Energy.
The Ministry of Trade, Industry and Energy (MOTIE) has been implementing comprehensive policies to raise materials and components exports to $650 billion and chalk up $250 billion in trade surplus by 2020, rising to a global top four materials and components powerhouse beyond Japan, says Choi Tae-hyun, director general for Materials and Components Industries at MOTIE.
The following are excerpts of an interview between NewsWorld and Dir.-Gen. Choi in which he spoke of policies related to the Korean materials & components, petrochemical, semiconductor, and textile & fashion industries.
Question: Will you tell our readers about the current status of the Korean materials and components industries?
Answer: The government has poured a combined 3.6 trillion won into nurturing the materials and components industries since the enactment of the Special Act on Materials and Components in 2001, catapulting Korea to a global top five materials and components powerhouse countries.
In particular, the Korean materials and components industries' dependence on Japanese imports improved from 28.3 percent in 2003 to 21 percent in 2012, with a declining trade deficit between the two countries since 2010 — dropping from $24.8 billion in 2010 to $22.8 billion in 2011 and $22.2 billion in 2012. The industries saw its exports surge from $62 billion in 2001 to $253.5 billion in 2012 and trade surplus soaring from $2.7 billion in 2001 to $91 billion in 2012, a 34-fold jump. Korea accounted for 5 percent of the global market, compared to China (12.2 percent), Germany (10.6 percent), the United States (10.4 percent) and Japan (8.3 percent).
The number of specialized materials and components makers with a competitive edge swelled from 483 in 2002 to 2,801 in 2012, a 5.8-fold jump during the period. The figure for mid-sized core companies capable of making strategic investments thanks to their core technology whose qualification requirements are posting 200 billion won in sales and exporting more than $100 million surged from 155 in 2004 to 304 in 2011.
The industries have insufficient competitiveness in advanced materials and components segments, which is seen as the reason for the trade imbalance in favor of Japan. The portion of the materials segment out of the trade deficit between Korea and Japan has widened from 43 percent in 2003 to 54 percent in 2012. On the other hand, despite market diversification efforts, Korea's materials and components exports to China surged from 16 percent in 2001 to 34 percent in 2012.
In a bid to make another leap forward, the government has established and implemented the Materials/Components Future Vision 2020 and the 3rd Master Plan for the Development of the Materials and Components Industries, calling for raising materials and components exports to $650 billion and chalking up $250 billion in trade surplus by 2020, rising to a global top four materials and components powerhouse beyond Japan.
Q: Will you elaborate on the gist of the Materials/Components Future Vision 2020 and the 3rd Master Plan for the Development of the Materials and Components Industries?
A: The Materials/Components Future Vision 2020 is a mid- and long-term plan between 2012 and 2020 to cope with future trends and nurture the materials and components industries' future growth engines based on quantitative growth maintained for the past decade. We are implementing four strategies of the vision — development of advanced materials that will own future markets, producing brand items through convergence and multidisciplinary combination, building materials and components ecosystems designed to lead growth, and spearheading the global supply network ? along with the top 12 tasks.
The 3rd Master Plan for the Development of the Materials and Components Industries is designed to put forward practical action plans for the successful implementation of the four strategies and top 12 tasks of the Materials/Components Future Vision 2020. According to the master plan, the ministry takes stock of the outcomes of the existing policies and suggests following action plans with a focus on making civilian-government collaboration yield fruit as early as possible by expediting the private sector's investments in the materials and components industries.
In this vein, we're stepping on the gas to implement such policies as the early commercialization of the top 10 world premium materials (WPMs), building value-added chemical materials clusters, introducing an intellectual property management system for creating SMEs' globally recognized IPs, and building a useful IR system for solving financial woes facing materials and component makers with technological prowess.
Q: Will you speak about the current status of the top 10 WPMs and plans for investment?
A: We're trying to develop and secure the global top 10 WPMs to be commercialized for the first time in the world, in hopes of controlling global markets. Among the top 10 WPMs, the new materials that will account for $1 billion in value or more than 30 percent of the global market are eco-friendly, smart surface-treatment steel sheet; ultra-light magnesium material for transportation planes; nano composite material for energy conservation/transformation; multi-functional high-polymer membrane material; substrate material for flexible displays; electrode material for high-energy secondary batteries; bio medical material; high-purity SiC material; super sapphire single crystal material for LEDs; and ketone premium textile for greenhouse gas reduction.
The government has funneled roughly 9 billion won in its R&D budget into the development of each of the WPMs annually for a combined 700 billion won during the period between 2010 and 2019.
The first phase of the program, conducted between Sept. 2010 and March 2013, yielded excellent semi-finished research outcomes despite the short period of time: 830 cases of patent application and registration, yielding some 2,500 jobs and attracting 760 billion won in investments by the participating companies. In particular, despite its development stage, the program brought about 72.5 billion won in sales, raising the chances for successful commercialization.
The program aims at developing and commercializing the WPMs by 2020 with the goal of becoming a global top four materials and components powerhouse. It is expected to attract a combined 10.5 trillion won in commercialization, expediting economic recovery and creating some 32,000 jobs, and contributing to fostering some 100 SMEs and mid-size firms participating in the program.
Q: Will you specify the current status and prospects of the Korean petroche-mical industry?
A: The petrochemical industry is projected to export $48.3 billion worth of petrochemical products in 2013, up 5.3 percent over last year despite a decline in exporting prices, caused by plunging raw material prices and dwindling margins. In the first half of the year, exports soared 7.3 percent to $24.4 billion, riding on a surge in intermediate materials/synthetic resins, but the increase leveled off to a 3.4 percent rise to $24 billion in the second half. By item, intermediate raw materials and synthetic resins fared well with a 31.4 percent rise and an 8.4 percent increase, respectively, but synthetic raw materials and synthetic rubber declined by 4.4 percent and 27.0 percent, respectively. By country, exports to China, the EU, and ASEAN nations each rose 6.5 percent, 25.5 percent, and 1.9 percent, respectively, but overseas shipments to the United States, the Middle East, and Japan dropped 14.7 percent, 7.2 percent and 1.6 percent, respectively.
The industry's exports are predicted to grow 4.1 percent this year to $50.3 billion in 2014 due to a rising demand resulting from the recovery of the global economy.
Q: Will you tell us about the development plan of the Korean semiconductor industry and its future vision?
A: Korea started as an assembling and subcontracting production base for advanced countries in the 1960s and has gone on to be a semiconductor powerhouse thanks to joint collaboration among industry, academia, research institutes, and government. Korea ranked 3rd with a 14.6 percent market share, followed by the United States (50.7 percent) and Japan (17.5 percent). But the Korean semiconductor industry's growth is feared to be coming up against a brick wall due to memory-oriented structure, a difficulty in securing technological differentiation, and excessive dependence on imported equipment and materials.
This past October, the government came up with strategic plans to resurge the semiconductor industry so that the nation can become a full-fledged semiconductor superpower, departing from a concentration on the memory segment. In the short-term perspective, Korea will focus on the development of value-added memory products while spearheading the development of next-generation memory to maintain its technological leadership in the long-term perspective. The nation will push for the localization of a selection of system-on-a-chip (SoC) products most likely to make a foray into foreign markets and establish a virtuous cycle for aggressive overseas entry. Korea is bracing for the development of semiconductor equipment with large diameter (450mm or more) and the localization of core equipment and materials. The nation plans to nurture a workforce of 8,000 software-SoC convergence experts and expand overseas market exploration.
Q: Will you give specifics on the upgrading and globalization of the textile and fashion industries?
A: Korea's textile exports had been on the decline after posting a high of $18.8 billion in exports in 2000, but they have turned for a rise since 2009. The Korean textile industry, which saw exports rising from $11.6 billion in 2009 to $13.9 billion in 2010 and $15.6 billion in 2012, is projected to export $16.3 billion in 2013. The industry is in better shape thanks to the 10-year restructuring and beefed R&D activities, but the domestic production base has been weakened due to a rise in overseas investments and a decline in personnel.
The government attaches priority to exploring new value-added markets such as high-end clothing and fabrics for industrial use and enhancing the domestic and overseas values of the textile and fashion industries through the creation of gifted manpower and brand and marketing innovation.
Q: Will you speak about steps to cope with the demand-supply imbalance and a flood of cheap Chinese products?
A: Korea, once a steel importer, has changed into a steel exporter due to recent facilities expansion and declining demand of front industries since 2011. The nation's steel product exports surged from 64.16 million tons in 2009 to 76.51 million tons in 2010 and 85.90 million tons in 2013.
The government is implementing steps to let Korean steelmakers churn out value-added products and provide support for exploring foreign markets to boost exports.