A photovoltaic power generation facility installed at HHI's Eumseong plant.
Hyundai Heavy Industries (HHI) has launched projects to build photovoltaic power generators at its domestic production sites across the nation in a bid to realize a "Green Factory" scheme.
The world's largest shipbuilder said it has built photovoltaic power generation facilities with a combined capacity of 2,065kW at four locations across the nation, including the one in the Ulsan headquarters and put them on line.
HHI built its first photovoltaic power generator with a capacity of 800kW capacity at its wind farm at Gunsan in October last year, a generator of 700 kW output at its plant in Eumseong and that of 500 kW on the roof of its plant in Seonam, Ulsan, last October. The company also installed a generator of 65 kW capacity at the front gate of its headquarters and the same one at its plant at the headquarters in Ulsan this January.
The scheme is designed to make worksites environmentally-friendly by enhancing the utilization of new and renewable energies at HHI's worksites and reducing greenhouse gas emissions, HHI said.
In particular, HHI said such major equipment and components, including modules and photovoltaic power modules and photovoltaic power converters, which are manufactured by HHI, are being employed, thus contributing to the improving of reliability of its own products and easing a shortage of electricity facing the nation.
A HHI official said the company plans to raise the percentage of new and renewable energy usage by expanding photovoltaic power facilities at its worksites as part of its determination to reduce greenhouse gas emissions through uses of new and renewable energies.
HHI has put into practice the "green purchase system" in which the procurement of systems and components are considered in the environmentally friendly context since 2006, and the company has spearheaded low-carbon green growth by building a greenhouse gas inventory at its worksites since 2010.
HHI is also accelerating its efforts to develop environmentally friendly technologies, including the construction of hybrid ships, EcoBallast and high-capacity eco-friendly gas engines with the goal of becoming an environmentally-friendly world-class leader.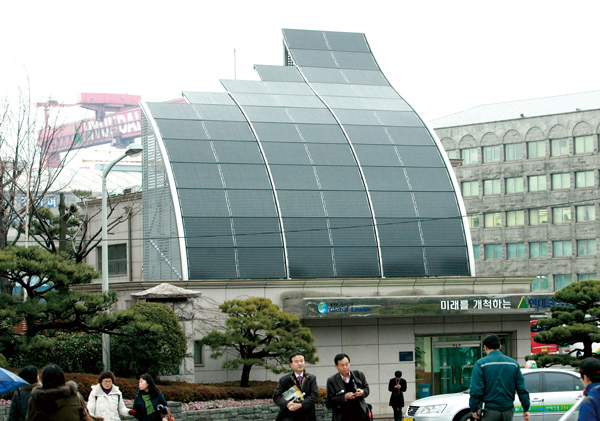 A photovoltaic power generator built at the front gate
of HHI headquarters in Ulsan.