Industry Technology Week is observed with 2013 Korea Technology Grand Prix and other events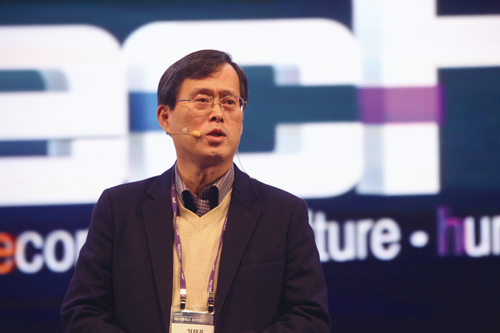 The Korea Institute for the Advancement of Technology President Chung Jae-hoon
speaks at tech+ 2013.(Photos:KIAT)
Roughly 600 people from the Korean industry technology circles including prize winners and their families, participated in a ceremony to present the 2013 Korea Technology Grand Prize, hosted by the Ministry of Trade, Industry and Energy (MOTIE) at KINTEX in Goyang, north of Seoul, on Nov. 12.
An opening ceremony to celebrate Industry Technology Week from Nov. 12-16 also took place under the theme "Creativity, the DNA of Korean Industry Technology." Industry Technology Week coincided with the Korea R&D Show, an R&D outcome exhibition; a technology exchange fair between large and small-sized companies; a Network for Tech-Biz (NTB) technology transfer explanation session for the IT convergence sector; and tech+ 2013.
The most prestigious 2013 Korea Technology Grand Prix has seen its standing go up further as it has integrated the Energy Green Award, the grand prize of the energy technology sector, this year.
The Presidential Award, the coveted prize of the 2013 Korea Technology Grand Prix, went to Samsung Electronics in recognition of their developing a 10nm-class 128Gb, 3D vertical NAND Flash chip.
Samsung's new V-NAND offers a 128 gigabit (Gb) density in a single chip, utilizing the company's proprietary vertical cell structure based on 3D Charge Trap Flash (CTF) technology and vertical interconnect process technology to link the 3D cell array. By applying both of these technologies, Samsung's 3D V-NAND is able to provide more than twice the scaling of 20nm-class planar NAND flash.
Kyung Dong Navien, LG Chem, and Korea Aerospace Industries each were honored with the Prime Minister's Award for developing a high energy efficiency, eco-friendly condensing hot-water heater NPE, a barrier adhesive film for sealing OLED TVs, and Korean Utility Helicopter (KUH), a homegrown copter, respectively.
Among the top 10 new technologies are a n-type high-power solar module, developed by LG Electronics; the mass production of a hydrogen fuel cell vehicle, developed by Hyundai Motor; and super-engineering plastics PCT resin, commercialized for the second time in the world, by SK Chemical.
The Order of Industrial Service, Gold Tower, the top prize in the meritorious persons category, went to Lee Soo-tae, president of Pan-Asia, for his contribution to the development of the Korean shipbuilding industry. CEO Lee, who has been in the shipbuilding field for 32 years, has been credited with localizing shipbuilding materials and components.
Park Joon-taek, executive vice president of Halla Visteon Climate Control Corp., was presented with the Order of Industrial Service, Silver Tower, while Cho Jung-jin, president of Advanced Wave, was honored with the Order of Industrial Service, Bronze Tower.
tech+ 2013, a look into advanced IT tech trends
tech+ 2013, which took place at the King Sejong University Convention Center on Nov. 14, served as an opportunity to peek into a range of the latest IT trends, including wearable tech and 3D printing.
tech+ is the nation's biggest knowledge-based expo designed to promote exchanges of ideas and experiences and covergence among people from diverse sectors. tech+ 2013, hosted by MOTIE and organized by the Korea Institute for the Advancement of Technology (KIAT), was the fifth one since its inception.
tech+ 2013, in which global notables of creative IT spoke, attracted an audience of some 1,500 people, including experts from industry, academia, and research circles. The speakers included Eric Prexter, technical adviser of Nanorex; Sridhar Iyengar, CTO of Misfit; and Maxwell Bogue, co-founder and CEO of WobbleWorks.