Steelmaker to focus on sale of high value-added steel products including those for automobile, shipbuilding, and energy industries this year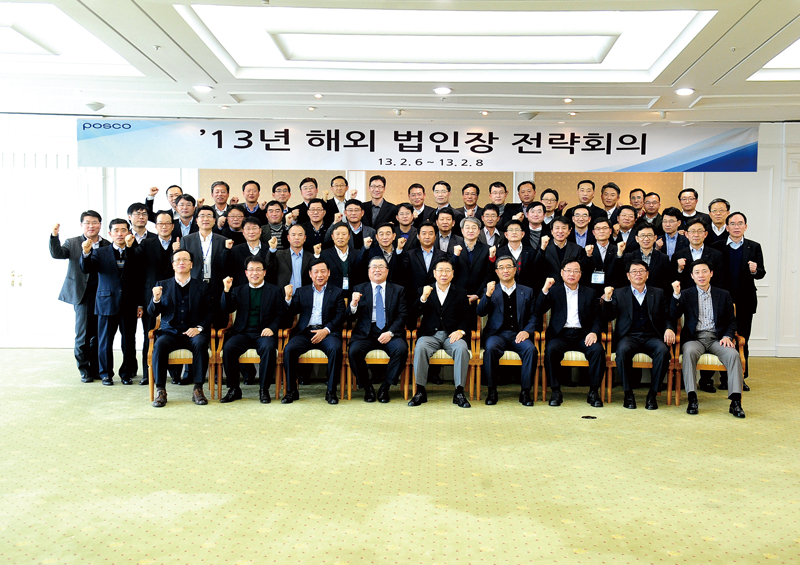 All members of heads of POSCO's overseas subsidiaries are gathered in this photo including Chairman Chung Joon-yang of POSCO, 5th R, in front row, at POSCO Center in Seoul Feb. 6-8.
POSCO will focus on the sale of steel sheets for cars, steel products for the energy industry, and those for ships and other high value-added products with high profit margins to boost its profit levels this year, Chairman Chung Joon-yang said during the steel giant's New Year's ceremony on Jan. 4 at the steelmaker's Pohang Steel Complex in Pohang, North Gyeongsang Province.
The chairman urged for the development of the steelmaker's own special brand of steel products that can boost customer values in the face of excesses in steel product supply and slow demand for steel products.
First, the steelmaker will set up a full line of steel products for Japanese auto makers that are made to meet the specifications of steel plates that are being used by them for export to Japan this year. The sale of thick steel plates will be diversified, especially those being used by the energy industry, to be higher value-added. They will be expanded to 45 specs from the current 20 to meet all kinds of market demands this year.
Thick steel plates for the energy industry have been leading POSCO's profits and demand for the product has been rising 6 percent annually on average. They are expected to lead the steelmaker's future growth with POSCO being one of the few companies turning out the product around the world.
With the situation being what it is, the steelmaker will beef up its thick steel plate production facilities to maintain its position as the leading maker of the thick steel plates for the energy industry, expanding its investments in R&D on technology and exploration of new markets for the products. POSCO plans to turn out 2.7 million tons of the thick steel plates this year and boost it to 8 million tons in 2020 to boost its global market share to 16 percent.
In order to improve its cash holdings, the steelmaker will tighten its management by reducing production costs and inventory periods for semi-finished products. The steelmaker aims to save 1 trillion won alone in such sectors as crude iron ore handling, production of steel, and energy recovery, using low-cost materials, and the increased effectiveness of facilities, among other means, at the steel plants.
The POSCO Group will also continuously reform its core business portfolio, as it has already cut 24 affiliates since last March out of 70 to both strengthen its core businesses while avoiding doubling of its business lines. The group will cut six more affiliates this year. The POSCO Group will also take up restructuring of its affiliates to boost their performance results and in consideration of their future growth potential.
In the meantime, the POSCO Group brought together the heads of its overseas subsidiaries for a meeting at POSCO Center in Seoul, and the Global R&D Center in Songdo, Incheon, from Feb. 6-8 to discuss their prospects and operational plans for 2013, along with a number of education sessions to strengthen their management. The gathering was titled "Strategy Meeting 2013 for Overseas Subsidiaries," with 81 heads of overseas subsidiaries in such wide-ranging places as the United States, China, Japan, and Southeast Asia to jointly discuss marketing strategies for overseas subsidiaries and, at the same time, strengthen POSCO's reform plans and value competitiveness around the world.
Subsidiary heads reported the steel market trends in each of their regions and their operational plans and major issues facing them this year. Director Hwang Eun-yeon of the Marketing Headquarters explained the marketing strategies for this year and the management system of steel trade both at home and overseas this year.