Samsung Display showcased the industry's latest leading-edge technologies at the International Meeting on Information Display 2013 (IMID 2013) that took place at KINTEX in Goyang, north of Seoul, from Oct. 7-10.
Samsung Display unveiled 98-inch and 85-inch ultra high-definition (UHD) LCD panels adopting the high-speed 240Hz technology for the first time in the world as well as 55-inch UHD OLED panels with the top color reproduction performance ever, and 31.5-inch UHD LCD panels for monitors that have a response speed twice that of conventional products.
The eye-catchers were the 98-inch and 85-inch UHD LCD panels that allow the 240Hz technology to realize constant, no-defect resolution.
The 55-inch UHD OLED panel enables users to feel at home a resolution similar to that of movie theaters due to its support of the digital cinema color standard, DCI-P3.
Samsung Display showed off a 5.7-inch full HD (1920x1080) OLED panel, a low-power, high-definition one for smartphones, as well as large-sized smart device solutions such as a 10.1-inch WQXGA (2560x1600) panel for IT products, a 13.3-inch QHD+(3200x1800) LCD panel, a 14-inch QHD+LCD panel, and an 18.4-inch full HD LCD panel for portable monitors.
The 5.7-inch full-HD OLED panel for smartphones, which saw its resolution improve by 17 percent compared to conventional ones, its power consumption and its thickness decline 8 percent and 20 percent, respectively, is optimal for use with mobile devices. A 10.1-inch high-definition WQXGA display for tablet PCs and a 13.3-inch QHD+ LCD display for notebook PCs have embraced Samsung's own green panel technology to bring about high resolution and low power consumption.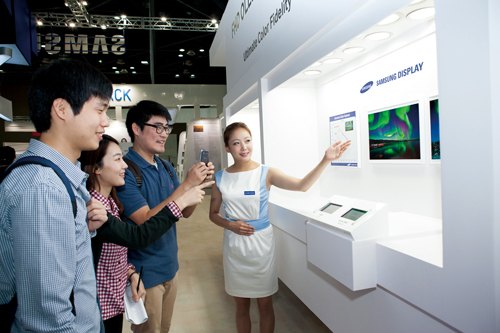 Spectators look at the exhibits on display at the IMID 2013.
Samsung Display also showed off an 18.4-inch, full-HD, slim LCD solution as monitors with the mobility of tablet PCs. The display, which is 4.3 mm thick and weighs 680g, is the thinnest and the lightest LCD monitor panel.
A Power Shift in Global Display Industry toward Small-, Mid-Sized Displays
The hegemony of the global display industry is undergoing dramatic changes with a focus on small- and mid-sized displays, including those smaller 9 inches.
The reason is that the expansion of the smartphone, tablet PC and other mobile gadget markets has brought on explosive growth in the small- and medium-sized display market. The global smartphone market has maintained a qualitative growth with an onrush of high-definition and large-sized screen displays, and the emerging tablet PC market has strengthened its presence by replacing the conventional notebook PC market.
Display Research, a major market survey agency, reported that the global small- and mid-sized display market surged at an annual average of 15 percent during the past four years between 2009 and 2012, some 2.5 times as high as the 6 percent growth of the large-sized display market.
In the small- and medium-sized display market, the AMOLED segment's growth is more overwhelming than the expansion of the LCD segment. The value of the small- and mid-size AMOLED market jumped from $535.15 million in 2009 to $6.835 billion in 2012 with an explosive annual average growth rate of 89 percent to spur the growth momentum in the whole of the global display market.
The large-sized display market of mainstay LCD products, monitors and notebook PCs is still sagging due to the endless decline of TV prices. The large-sized LCD display market grew at an annual average of 6 percent, lower than that of the overall display market.
According to Display Research, Samsung Display chalked up $7.99 billion in sales in 2012 to top the global small- and mid-sized display market with a market share of 23 percent. Riding on the growth momentum, the company posted $3.023 billion in the second quarter of the year with a market share of 30.7 percent to maintain the number one position for the 15th straight quarter.