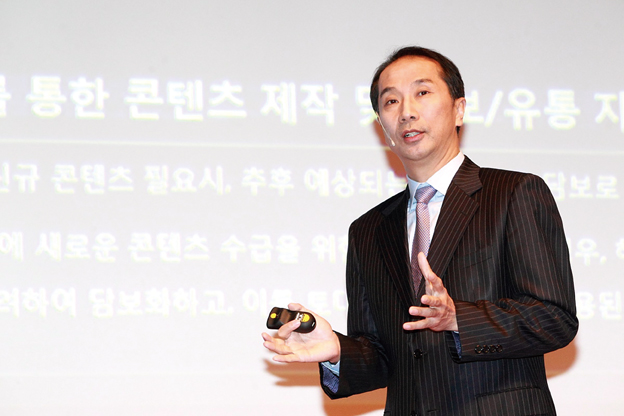 KT Media Hub CEO Kim Ju-seong announces a plan to launch two funds worth a
combined 100 billion won in order to foster the nation's content industry
at KT's Olleh Square in downtown Seoul, on Jan. 31.
KT announced on Jan. 30 that it will launch two funds worth a combined 100 billion won for small- and medium-sized firms.
KT will be in charge of managing the 60 billion won investment fund and a 40 billion won loan-type fund, which will be lent to cash-hungry companies. The investment funds will be used in areas such as motion pictures and dramas (30 billion won), music (15 billion won), and games and e-books (15 billion won).
KT will form the fund to support the whole range of processes from production to distribution and various areas such as motion picture, music, and new media to create high-quality contents.
KT will let small producers use the company's media studio in Mok-dong, helping them make content in more convenient circumstances. It will also offer them platform infrastructures of IPTV, SkyLife satellite broadcasting, Ustream, and Soompi among others. Of the 60 billion won investment fund, 30 billion won will be invested in movies and dramas
The 60 billion won to be used to promote business cooperation and coexistence among operators will be invested in high quality content businesses through the verification process of project investment at all times, and every six months, investment plans will be updated to reflect the latest trends by core investment themes.
Also, KT plans to invest in great content and make more profits by exposing the content across multi channels based on KT's distribution infrastructure. For instance, KT will promote video content by publishing it on Olleh TV's PPV and promote educational games by integrating them with Kibot and HomePad. Customized support based on KT's distribution infrastructure will become possible.
For the 40-billion won fund, KT and the Industrial Bank of Korea (IBK) will provide 20 billion won each. IBK will be in charge of credit screening and risk management, while KT will put up assets as collateral to help small firms receive loans at favorable rates.
KT will not only operate the fund, but also provide its infrastructure support.
KT will run small and medium sized channels on Olleh TV and also run a guide channel to promote channels of content producers and relevant content. Also, instead of the regular channels, it is planning to make an additional 14 open channels so that more content producers can use them.
KT also plans to strengthen the training program for the production companies so that it can accept more people °™ from 500 to 1,000 °™ utilizing its Olleh Media Studio in Mok-dong.
Associating with its distribution channels such as Ustream, Soompi, Genie, and OASIS, KT's global content will be promoted to become a major source of profit.
"We will create an ecosystem to ensure shared growth for both big and small producers, offering chances for prominent small players to flourish," said KT Media Hub CEO Kim Ju-Seong in a statement. "We will spare no efforts to let them benefit from the funds in all processes from production to retail sales."