Signs a $26 million deal with Mexico's Stendhal to supply Kanarbⓡ to 13 Central and South American countries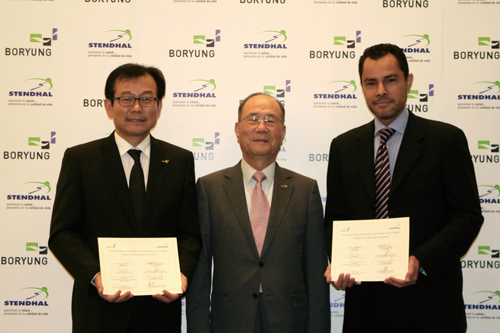 Boryung Pharma Chairman Kim Seung-ho; Boryung Pharma President Choi Tae-hong; and Stendhal
International President Carlos Arenas Wiedfeldt pose at a ceremony to put Kanarbon the Mexican market and
sign a licensing deal in Mexico on July 23.(photo: Boryung Pharma)
Kanarb, the nation's first new anti-hypertension drug produced by Boryung Pharma Co., is poised to make inroads into the Central and South American markets in a full-fledged manner.
Boryung Pharma signed a combined $26 million contract with Mexico's Stendhal to supply Kanarb Plus Tab, a mixture of KanarbTab, to 13 countries in Central and South America in Mexico on July 23. Both companies also inked a $30 million Kanarb Tab supply and licensing agreement in 2011.
Among those on hand at a ceremony to put Kanarbon the Mexican market and sign a licensing deal were Boryung Pharma Chairman Kim Seung-ho; Boryung Pharma President Choi Tae-hong; Stendhal International President Carlos Arenas Wiedfeldt; and Park In-suk, director general in charge of health policy at the Ministry of Health and Welfare (MW).
The latest deal consists of a $23 million supply of Kanarb Plus Tab and $3 million in royalties. Under the deal, Boryung Pharma will provide Stendhal with the exclusive right to supply Kanarb Plus Tab to 13 Central and South American countries. For seven years from 2014, $23 million worth of Kanarb Plus Tab will be exported. The latest deal brings to $56 million the total amount royalties and exports of Kanarb Boryung Pharma will receive from sales to the Central and South American region.
Boryung Pharma's selling of KanarbTab on the market is significant, Boryung Pharma officials said. Many Korean pharmaceutical companies have entered foreign markets with their own products so far, but there are few success stories involving successful launches and marketing campaigns.
Boryung Pharma plans to focus on a massive marketing blitz for the first selling of Kanarb Tab. If the clinical data of a phase four study of 14,000 people proving the drug's efficiency and safety is figured prominently, Boryung Pharma officials said, chances are high that Kanarb will be a success. Kanarb Tab is locally called "Arakor," an abbreviation of ARB+Korea, meaning ARB (angiotensin II receptor blockers) coming from Korea, while Kanarb Plus Tab is dubbed "Diarakor."
The hypertension medicine market in Central and South America is upbeat. The value of the Central and South American medical market, estimated at some $62.9 billion based on IMS data in 2011, is forecast to have an annual average growth rate of 10 percent to 13 percent. They said Kanarb's target markets are Mexico and Brazil which account for a combined 57 percent of the medical market of the region, with hypertension patients there on the rise.
Dir. Gen. Park of the MW said, "This feat will be a significant watershed for Korean pharmaceutical companies' entering the Central and South American Markets." He expressed the hope that this will serve as an opportunity for Korean companies to make inroads into Mexico in the years to come.
Boryung Pharma President Choi said, "Kanarb goes over the limits of marketability the existing homegrown medicines have experienced so far, and it is the best one in terms of efficacy and safety among a ARB-class anti-hypertension drugs." He continued, "The new drug's first overseas sale, coupled with organic collaboration with Stendhal, will be a new success model and we'll devote ourselves to enhancing the value of the medicine as a global brand."
Stendhal International President Wiedfeldt said more than 21 million Mexicans suffer from hypertension, and cardiovascular diseases are the number one cause of deaths in Colombia. He went on to say that Araco, proved to be the most effective and safest based on clinical surveys of Koreans, will not only bring satisfaction to doctors and patients, but will also become a powerful force in the market.
Kanarb, released in March 2011, chalked up 10 billion won in sales in 2011 and made a strong showing with a remarkable 20.5 billion won in sales last year, a 100 percent surge over the previous year. Kanarb posted 25.3 billion won in production to top the list of homegrown new medicines in terms of production.
Kanarb, an ARB-class drug, the most largely used type among all anti-hypertension drugs, was approved on Sept. 9, 2010, by the Korea Food and Drug Administration (KFDA) for its safety and its significant effect on decreasing blood pressure for those patients with hypertension. Kanarb not only embraces the merits of the existing ABR-class drugs, but provides solutions to angiotensin converting enzyme (ACE)-class drugs' side effects such as hacking cough and edemas, and it also employs a technology to overcome their lower efficacy.