Dong-A Pharmaceutical Co. held a ceremony to celebrate the 50th anniversary of its ever-popular drink, Bacchus, at the company's auditorium in Yongsan, Seoul, on Aug. 8, the company said.
Attending the event included Chairman Kang Shin-ho of Dong-A Socio Holdings, President Kang Jung-suk, Vice Chairman Kim Won-bae of Dong-A Estee, and President Shin Dong-wook of Dong-A Pharmaceutical Co. and leading executives of the pharmaceutical company and affiliate CEOs.
The ceremony took place to confirm the sale of the beverage as it was produced and launched a half century ago and to prepare for the next half century of the beverage's sales by showing a film on the history of Bacchus followed by a toast for the future of the drink's sales proposed by President Shin and the dedication of the calligraphy celebrating the long history of the drink executed by Chairman Kang.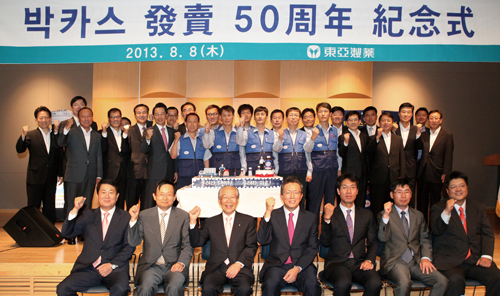 A scene from the 50th Anniversary of Bacchus produced and marked by Dong-A
Pharmaceutical Co. with Chairman Kang Shin-ho 3rd R.(Photo:Dong-A Pharma)
Chairman Kang, the founder of Dong-A Pharma and Dong-A Socio Holdings, said in his congratulatory speech that he would like to thank all of the officers and staff of Dong-A Pharma and the people who love Bacchus in every nook and corner of the country. He said that overseas sales of Bacchus have been rising, calling for collective support for its success abroad with a single mind to keep the legend of the drink going so that it will become a global beverage and not just a domestic favorite.
At the initial stage, Bacchus came in tablets when it was first developed in 1961 and then it was changed what it is today Bacchus D (drink) in 1963. In the early 1990s, it was renewed as Bacchus F (forte) before it was upgraded to Bacchus D (double) with a doubled taurine content to 2,000 mg. Its total sales up until last year came to 17.7 billion bottles, including 480 million bottles last year alone, valued at 170.9 billion won, showing it still is loved by people all around Korea.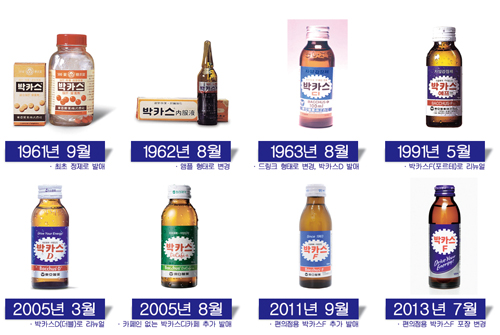 Changes in the shapes of bottles for Bacchus throughout the years.
If the bottles sold so far were lined up end to end, they would circle the earth more than 53 times.
What made Bacchus what it is today has been an outstanding marketing strategy, which has been good enough to change the paradigm of marketing in the industry.
Bacchus was just another pharmaceutical product before it was changed to a drink in August 1963. When it was developed as a tablet in 1961, its sales were minimal and it was changed to an ampoule form only to take a backseat to rival health products. The company decided to change it to a beverage in a decisive move that would decide its fate in the market, along with a massive marketing campaign based on the 3M strategy: mass production, mass communication, and mass sales, culminating in a mass marketing offensive.
The 3M strategy paid off after a year of intensive marketing with the sale of Bacchus topping its rival products in the following year. The company extensively advertised the products with then-popular actress Nam Mi-ri as a model to attract female customers to the drink, along with a series of ads in the popular U.S. TV series, "The Combat," starring Vic Morrow, run on a local TV station. The segregated creative strategy and a massive ad campaign soon had their expected results for sales of the drink. Sale averaged 350,000 bottles per month and climbed to 560,000 bottles per month the following year with annual sales totaling 6.7 million bottles a year following the huge sales campaign.
A truly revolutionary sales strategy and a massive ad campaign at the time helped the sales. Dong-A Pharmaceutical decided to begin retail sales by selling it directly to drugstores. Such a sales system bore fast results, with sales rising to 9.8 million bottles in 1965 and 30 million bottles in 1966 and 47 million bottles in 1967, boosting Dong-A Pharmaceutical to the head of the industry in Korea.