Korea Gas Safety Corp. to import advanced pipeline management system for safe use of gas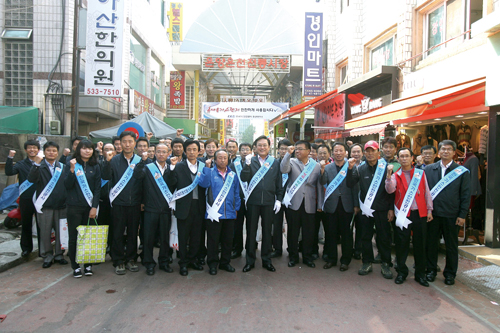 A group of officials of the Korea Gas Safety Corp. takes to the streets in Seoul
recently to stress the importance of safe use of gas and measures to prevent gas
accidents at home and plants across the nation recently led by President Jun Dae-chun.
Korea Gas Safety Corp. plans to focus on a number of key management areas necessary to achieve its KGS 2020 Management Target this year.
KGS's management will try to bring up to a high-level its legal and consignment businesses, strengthen its prognosis and certification business, boost its public relations, improve its education businesses, expand gas safety research activities, revitalize information provision, and strengthen management support to help achieve its target by 2020.
The legal consignment business under the Gas Law, such as inspection of gas facilities and products, should be carried out thoroughly with the introduction of technologies and systems from advanced nations and preventive measures should be improved to strengthen the exposed facilities for gas accidents.
In order to undertake the jobs well, the company plans to import an advanced pipe safety management system and operate location-based service centers as well as revamp the KGS Code to international standards to upgrade the overall safety management system at the company.
The company has also decided to spend 7 billion won to upgrade the quality of its equipment totaling around 4,000 units and modernize testing and testing equipment. The company will also build a "smart" inspection system to modernize it. The scheme to improve the LP gas facilities at homes of some 78,000 poor families this year is in its third year.
The company will expand the certification and diagnosis jobs and also strengthen the capacity, especially overseas operations.
This year, the company will check up on overseas construction projects involving plants, petrochemical plants, and oil refineries, such as those in Indonesia, testing on newly developed auto parts by domestic auto makers, and provide increased support to obtaining certificates in foreign countries for such equipment as gas boilers and other gas equipment.
KGS also plans to exports its technologies related to gas supply and maintenance including repair and gas safety and manpower training in Indonesia by dispatching technicians and trainers to the Southeast Asian country as part of the company's plan to export its gas-related technologies to emerging nations.
In 2011 KGS made the decision to create a base for its overseas operation with technologies for risk-based inspection and formally pushed the plan last year.
This year the company plans to focus on Indonesia, falling back on the experiences it gained in Vietnam last year. The activities will include those related to hardware as well as software through continuous support and communication. The company's plans include the opening of a gas safety education institute as a hardware base for the company's operation in Indonesia. The company's overseas strategy includes exports of its gas safety technologies and equipment to Central Asian nations like Uzbekistan, which is also in line with its plan to expand its overseas operations, which led to the opening of an office in Frankfurt, Germany last November. The Frankfurt branch, the first European one for KGS, will be instrumental in expanding the company's operations in Europe to beef up gas safety technology cooperation with advanced nations by inspecting gas products of manufacturers in those countries and learning about European countries' gas safety systems and other related information to boost the company's global capacity on gas safety inspection and technologies that are required to keep them up to date.
Thus, the company plans to boost its international marketing operations by getting the pre-qualification for bidding certificates, the development of gas safety technologies, the nurturing of experts on gas safety, and the expansion of its global gas safety operations to make itself a top global gas safety company in the near future.