POSCO Chmn. Chung says the discovery is crucial to synergy among POSCO affiliates in steel, construction, power plant operation, and natural resources exploration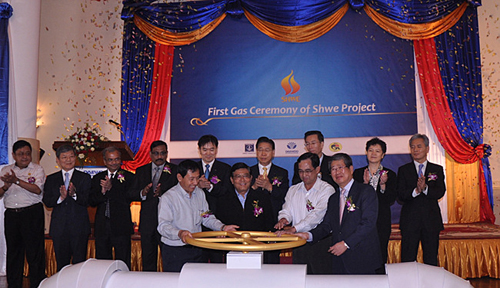 Officials of Daewoo International Corp., an affiliate of POSCO, and local Myanmar
dignitaries led by Myanmar Vice President Nyan Tun, Chairman
Chung Joon-yang of POSCO and Vice Chairman Lee Dong-hee of Daewoo International
clap their hands at First Gas Ceremony of Shwe Project in Myanmar in Yangon, July 28.(photos: Daewoo Int'l)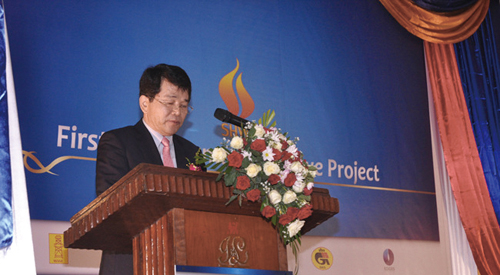 Vice Chairman Lee Dong-hee of Daewoo Int'l gives his speech at
First Gas Ceremony of Shwe Project in Yangon, Myanmar.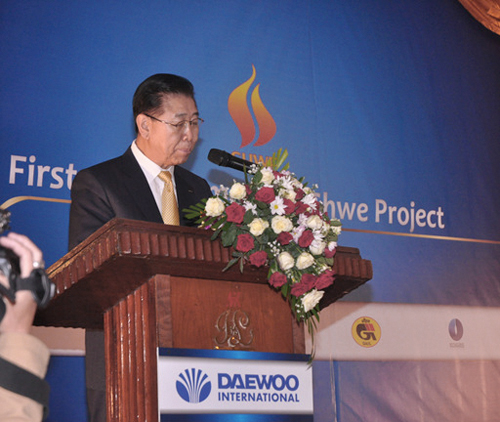 Chairman Chung Joon-yang of POSCO, delivers his speech at the
First Gas Ceremony of Shwe Project in Yangon, Myanmar, July 28.
POSCO affiliate Daewoo International Corp. held a ceremony in Yangon, Myanmar, to celebrate the commercial drilling of its offshore gas field in Myanmar with Chairman Chung Joon-yang in attendance on July 28.
"We need the capacity and know-how of Daewoo International to realize POSCO's future vision to form a huge, diverse business group extending from steel to natural resources exploration," Chairman Chun said at the ceremony.
"We expect the creation of synergy in the POSCO family in the area of natural resources exploration with Daewoo International," the chairman declared at the ceremony with some 150 people attending, ranging from both local and Korean government officials and the key executives of related firms led by Vice President Nyan Tun of Myanmar, Vice Minister Han Jin-hyun of the Ministry of Trade, Industry and Energy, and Vice Chairman Lee Dong-hee of Daewoo International, among others.
The POSCO affiliate has begun to produce 120 million square feet of natural gas daily from the gas field Myanmar to sell to China and will increase production to 500 million square feet from next year. The gas field contains an estimated 4.5 trillion square feet of natural gas in reserve, enough to meet the volume of gas needed in Korea for three years, the company said. Daewoo International projects its pre-tax earnings from the gas field will amount to from 300 billion won to 400 billion won per year.
POSCO is highly encouraged by its affiliate's huge success in Myanmar, which not only swiftly washed away the fear that POSCO's takeover of the oil exploration company may have been a mistake. Instead, the company boosted POSCO's vision to diversify its business lines from steelmaking, construction, and energy, among others. Recently, Daewoo International captured an order from Tanzania to build a passenger ship worth $30 million jointly with POSCO Plantech, which will also help exports of steel products.
Daewoo International's discovery of gas in Myanmar is projected to create synergy with POSCO's other affiliates including POSCO Plantech, a producer of gas platform modules, POSCO Construction for the construction of power plants, and POSCO Energy for operation of power plants and maintenance.
Chairman Chung said, "Today is the most exciting day for the POSCO Family of affiliates with the positive prospect that will be brought by Daewoo International's operation since its takeover by POSCO in 2010."
Vice Chairman Lee said the company will look for a second gas field in Myanmar as soon as possible, and thanked every officer and staff member of the company for their hard work in the discovery of the offshore gas field.
Daewoo International emerged as a company dedicated to international trading and investment when the international trading and construction sector of Daewoo Corp. was spun off into three companies: Daewoo International Corp., Daewoo Engineering & Construction Co., and Daewoo Corp. Since the completion of workout in December 2003, Daewoo International grew and eventually became a member of the POSCO family in October 2010.
Daewoo International, which plays a significant role as a driving force for trading and overseas investments of Korea, is deploying a variety of businesses in diverse areas including international trading, manufacturing, sales, and resource development with approximately 6,000 customers by collecting and utilizing the optimum information using their global business network.