Chmn. Chey's Gutsy Moves Pay Off
SK Group takes over Hynix Semiconductor for 3 tln won, invests 4 tln won in chip production equipment for handsome return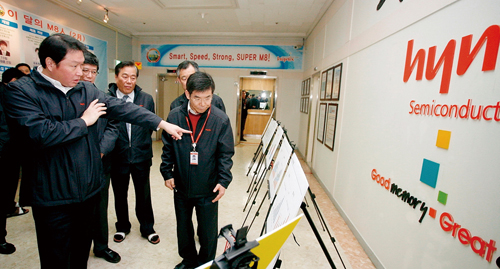 Chairman Chey Tae-won inspects a SK Hynix Semiconductor chip plant.(Photo:SK Hynix)
SK Hynix posted record Q2 sales of 3.932 trillion won and record operating profit of 1.113 trillion won, the largest quarterly profit in the company's history, the company said recently.
Quarterly sales expanded 49 percent YoY and 41 percent over the previous quarter, while operating profit expanded 251 percent over the previous quarter and a whopping 21,123 percent YoY.
The chipmaker, an affiliate of SK Group, said the price of memory chips advanced twice compared to the end of last year during the second quarter and sales also increased substantially.
The price of D-Ram chips that go into making computers rose to $1.55 per chip in June from $0.80 in December, last year while the price of flash memory chips that go into smart phones and cameras jumped from $3.84 a year ago to $5.40 in June. The shipment of D-Ram chips increased 20 percent in Q2 and nand flash memory chips shipments rose by 29 percent in the same period, the company said.
It was Chairman Chey's gutsy decision to take over Hynix, which no other company wanted because it is so deeply in debt with little chance given for its recovery as the international chip market suffered. With SK Telecom leading the way under the chairman's orders, SK Group took over the chipmaker for 3.375 trillion won in 2011 and the Hynix posted a loss of 106 billion won in Q4 of 2011 with debts totaling over 6 trillion won. Chairman Chey took enormous chances. He not only took over the chipmaker for over 3 trillion won, but he pushed for an investment of 3.85 trillion won in production facilities mainly for D-Ram chips for personal computers after the takeover. Samsung's D-Ram chips for personal computers only come to 10 percent of its entire D-Ram chip output, which shows why SK Hynix benefited from the sale of its D-Ram chips for PCs.
SK Hynix appears to have a bright future. President Kim Jun-ho of SK Hynix Corp. Center, said the company already had chip supply contracts with its major customers at a higher price than what they got in Q2, which will bring better results for the company, adding that he could have raised the chip price further due to a shortage of the products, but he didn't.
Hynix's second quarter profit margin amounted to 28.3 percent, the top figure in the industry in Korea, and much higher than Micron's 6 percent in the U.S. and Nanya's 11 percent in Taiwan. Samsung Electronics comes the closest to Hynix with a profit margin of around 20 percent.
One of the reasons for the chipmaker's high profit margin has been attributed to the sales of its chips, consisting mostly of D-Ram and flash memory chips, while Samsung's same chips accounted for only 25 percent of its total chip sales, with system chips making up most of its chip sales such as those that go into smart phones. The prices of memory chips jumped high while other chips, mostly system chips, remained the same, boosting SK Hynix's sales figures.
Another reason for the astounding performance by Hynix has been the lessening of competition with only four memory chipmakers remaining in the world: Samsung, Toshiba, Micron, and Hynix. Hynix plans to expand the production of 20 Nano class D-Ram chips to 50 percent of total output of D-Ram chips, while expanding the output of nand flash memory chips as well in the third quarter.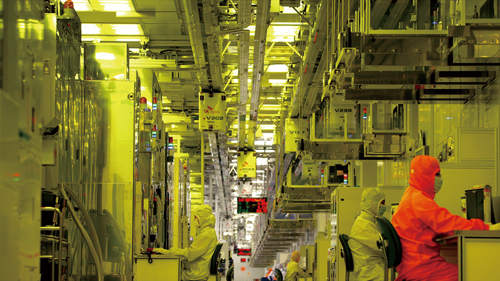 An inside view of SK Hynix Semiconductor, which was taken over by SK Group, last year,
and posted a record Q2 operating profit of 1.113 trillion won, up 251 percent YoY.(Photo: SK Group)