The two affiliates of Hana Financial Group make moves toward integration of their operations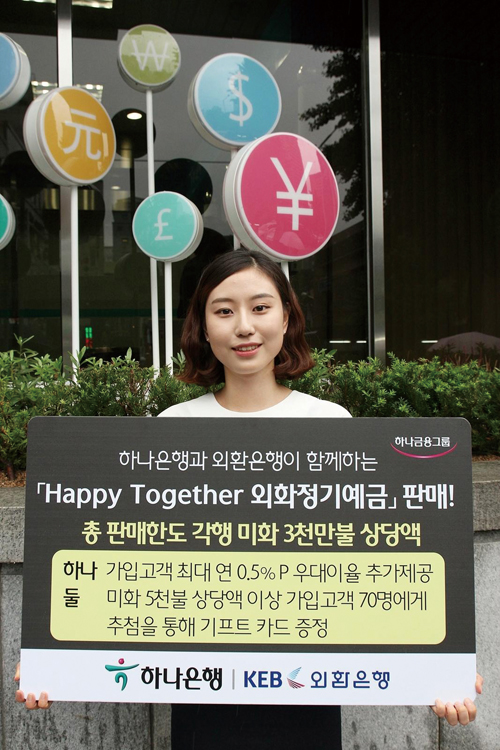 An ad for the new foreign currency deposit, "Happy Together Foreign Currency
Deposit" with the maximum deposit limit of $30 million being managed jointly
by Hana Bank and Korea Exchange Bank.(Photo: Hana Financial)
Korea Exchange Bank (KEB) and Hana Bank will introduce joint deposit products, the first such products since KEB joined the Hana Financial Group, which is seen as a move to advance the integration of the two financial institutions in earnest starting with credit card operations, financial sources said recently.
The two banks have agreed to launch the Happy Together Foreign Currency Deposit by the middle of July to be sold until the middle of September with a maximum deposit set at $30 million per account in U.S. dollar terms.
Officials of Hana Financial Group said the two banks have decided to jointly sell Special Sale Deposits in Korean won also for both individuals and businesses as part of the 'skinship' expansion strategy of the two banks.
In fact, the skinship strategy of the two banks has been moving forward little by little, with KEB selling Club SK Card, a major credit card product of Hana-SK Card, which has not led to Hana Bank's sale of KEB's '2X' card, but is still a significant move as the first deal for the probable joint marketing and a base for making business tie-ups with other financial institutions.
The two banks also have been jointly operating their foreign exchange transactions and have launched a joint task force to strengthen their credit card operations with KEB assigning four of its staff to the task force. The joint operations of the two banks in the area of credit card operations have advanced to the point where they honor each other's member firms or shops by paying cash for their sales slips.
Korea Exchange Bank announced on June 24 that the bank signed a strategic alliance with the Seoul Metropolitan Government and the Seoul Tourism Organization to establish a Myeong-dong tourism booth.
The goal of the strategic alliance is to build a model for successful public-private partnerships with KEB, the Seoul Metropolitan Government, and the Seoul Tourism Organization sharing the view that a comprehensive tourism center in Myeong-dong that serves diverse roles is needed because the area is a major tourist destination visited by 6.8 million people annually, of which 4.3 million are foreign tourists.
The tourism booth is expected to bring benefits to all three organizations involved. KEB will see an increase in foreign exchange transactions by developing tailored products and services, such as a prepaid Korean won card for foreigners. And the Seoul Metropolitan Government and Seoul Tourism Organization can attract a greater number of foreign tourists to the capital and promote Seoul as a leading destination in Asia through the greater conveniences provided by KEB products and services customized for foreigners.
KEB CEO Yun Yong-ro, who took part in the strategic alliance launch, said, "The time is ripe for Korea to place a greater focus on the tourism sector, which is a clean, new future-growth engine. To this end, I am pleased to see KEB engage in efforts by the Seoul Government to vitalize the industry."
Hana Bank China Co. Ltd., a subsidiary of Hana Bank in China, announced on May 15 that it had opened its 19th branch in China in Nanjing, the capital of Jiangsu Province.
The first sales office of Hana Bank China in Jiangsu Province, the Nanjing branch office, offers the same financial services as Chinese banks, such as debit cards, "wealth management products" (a kind of high-interest deposit account whose interest rates are not limited by China's financial regulator), corporate financing and trade financing.
With the opening of its office in Nanjing, Hana Bank China plans to localize its business for Korean businesses and people in Jiangsu Province as well as local businesses.