With 24 million-ton output capacity overall, steelmaker to create import substitute effect with key steel products, steel powder and special steel, boosting Korean industries' competitive power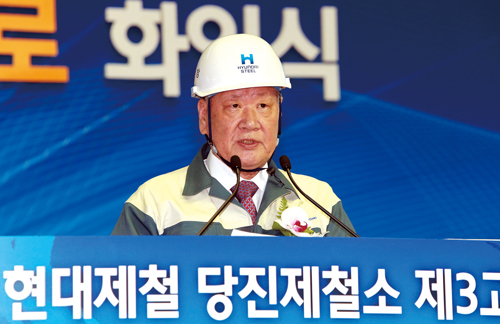 Chairman Chung Mong-koo gives his celebratory speech at a ceremony
for the dedication of the third blast furnace at the Hyundai Steel Complex
in Dangjin, South Chungcheong Province on Sept. 13.(photos: Hyundai Stee)
Sept. 13, 2013 is a memorable day for Hyundai Steel's Dangjin Steel Complex in Dangjin, South Chuncheong Province, as the third blast furnace went online, completing the gigantic task that kicked off on Oct. 27, 2006 to build an integrated steel mill dedicated to the production of steel products needed for automobiles and ships to boost Korea's steel industry to a globally competitive level and strengthening the related industries as declared by Chairman Chung Mong-koo at a ceremony to dedicate the new blast furnace.
Exactly 2,514 days have passed since the ceremony and investments of 9.9 trillion won to achieve what Chairman Chung vowed to do, and in its wake has created over 200,000 jobs. The chairman declared as he lit the third blast furnace that the challenge to make the steel complex even bigger and be a top one in the world will continue.
The brand new blast furnace is 5,250 sq. meters in area, 110 meters tall and, 17 meters across and will put out a total of 4 million tons of crude steel annually. Although the construction of the steel complex took seven years, the productivity from the construction process hit 45.881 trillion won. The steel products to be made with the crude steel from the new blast furnace include steel rods, H beams, and other steel for construction material, off course, and steel plates for autos and ships, creating a top steel product portfolio.
The new blast furnace brings Hyundai Steel's total steel output from blast furnaces alone to 12 million tons and total steel output to 24 million tons, including 12 million tons through electric furnaces in the complex. The dedication of the third blast furnace has elevated Hyundai Steel to rank close to the top 10 steelmakers in the world, considered quite a jump as it ranked only 31st in 2006. The steelmaker will not stop there and plans to forge ahead in the rankings by developing new steel products for use in a number of critical industries such as automobile and other next-generation products with new steel-making technologies that the steel maker will develop or secure in the next year.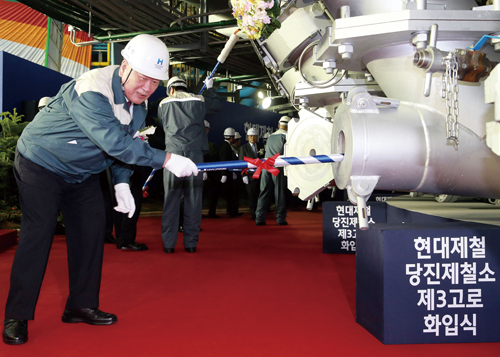 Chairman Chung lights the third blast furnace at Hyundai Steel in
Dangjin, South Chungcheong Province, during a ceremony on Sept. 13.
The steelmaker's complete steel production capacity is significant in that it now has the capacity to produce steel products needed by the automobile industry as dreamt by the chairman.
Hyundai Steel is projected to boost the auto parts production capacity of Hyundai Motor Group affiliates by turning out special steel powder targeted for production next year when its facilities are completed and special steel products for the production of engines and transformers when a special steel plant, whose construction will be kicked off next year, is completed. The special steel's import substitute effect will be great with some 2.31 million tons of special steel imported last year, some 30 percent of the country's total requirements.
The production of steel powder is also expected to have a great impact on the auto industry as it will replace the entire 25,000 tons of steel powder imported from such countries as Japan, Sweden, the United States and others and produce high-quality steel powder auto parts that will help reduce the weights of cars produced by Hyundai Motor and Kia Motors.
The Dangjin Steel Complex is environmentally-friendly with all of the delivery processes of iron ore, shipping, and storage covered using brand new environmentally-friendly installations and facilities to prevent pollution.
The high-quality steel products for autos will be supplied to both Hyundai Motor and Kia Motors, while dilapidated cars will be scrapped and provided to the steel complex to make steel products out of them by feeding them to the electric furnaces.