Insurer expands its operations worldwide to boost its global operations to 15 pct of earnings from overseas by 2020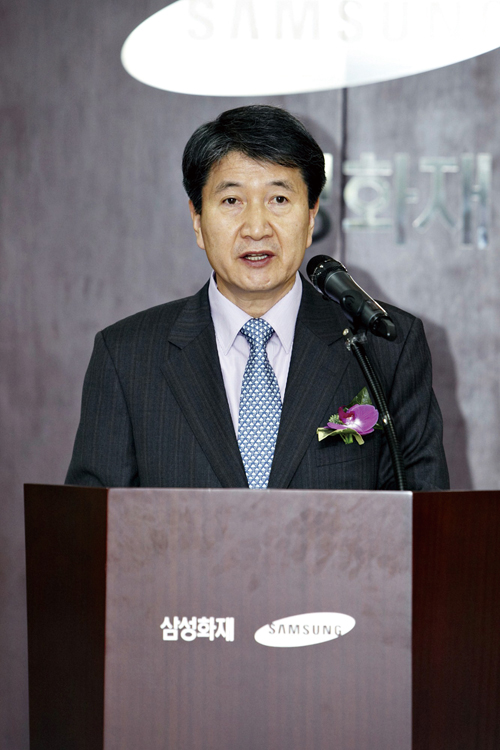 President Kim Chang-soo of Samsung
Fire and Marine Insurance Co.(photo: Samsung Fire)
Samsung Fire and Marine Insurance Co. has been at work not only expanding its domestic non-life insurance market share, but also exploring overseas markets to secure a future profit base and reach its goal of ranking among the global top 10 by 2020.
Currently, Samsung Fire has been mapping out mid to long-term strategies for finding new markets and determining major business areas and executing them accordingly.
The global insurance market has transparent regulations and diverse niche markets that are easy to segregate and therefore, better able to secure scale and profits from, while newly emerging markets have significance to the company in terms of rapid growth and potential future growth engines.
Samsung Fire plans to approach both advanced and emerging markets in a balanced manner and therefore, has been strengthening the capacity for its operations to be a global concern in the global non-life insurance industry.
In the insurance industry all over the world, consumer protection and health are stressed and Samsung Fire has been strengthening its financial soundness as a corporation and is prepared for any changes in the non-life insurance market and the regulations to solidify its base for sustainable growth.
The company started to reexamine its overseas strategy to heighten its sustainability and be able to cope with changes. When China opened its auto insurance market to foreign non-life insurance firms in 2012, Samsung Fire was able to kick off its auto insurance business because it was prepared for the opening. At the same time, the company checked its strategies overall and readjusted them when needed.
Samsung Fire has also gained very good results from its moves to expand its local operations in such countries and regions as Europe, the United States, and Singapore since last year. Currently, the company operates seven wholly-owned local subsidiaries, seven branches, and seven rep offices in 11 countries, and in 2012 the company achieved 600.1 billion won in sales from its overseas operation, up 41.9 percent YoY, and plans to further expand its overseas operations to account for more than 15 percent of its annual earnings by 2020.
Samsung Fire has also been trying to expand its operations in advanced non-life insurance markets to strengthen and maintain its future growth engines. The company, in its initial year of operation in the United States, obtained the license to do business all across the country and established a super brokering network, steadily preparing for its future growth.
The company also has completed early operational stability in Europe and Singapore based on a profit-centered strategy for the reinsurance sector. In the days ahead, the company intends to operate in large non-insurance markets in the United States, Europe, and China under diverse portfolios aimed at geographical risk sharing to ensure sustainable growth aimed at expanding profits.
Samsung Fire has also been making moves to make its operations in emerging markets a future growth engine with the company setting up operations in the Middle East, Southeast Asia, and Central and South America followed by Russia, extending its operations all over the world except Africa.
The company will continue to invest in its operations in emerging market countries under a strategy to build a future growth engine network, along with strengthening its partnership with global non-life insurers and building the market intelligence slowly but steadily.
In the emerging markets, the company plans to transfer its know-how on the operation of non-life insurance firms to local non-life insurers by providing excellent and professionalized insurance service as a global integrated non-life insurer in order to do its social services in full.