Taking over stakes in foreign firms or thru M&As to expand its shale gas exploration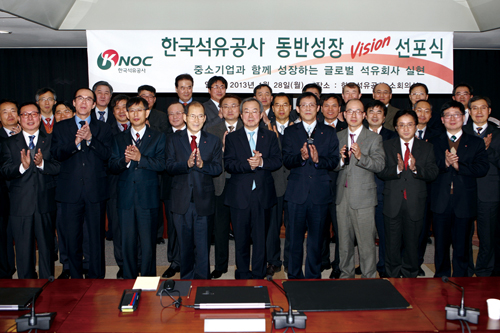 Korea National Oil Corp. (KNOC) President Suh Moon-kyu and CEOs of
KNOC's cooperative partners attend a ceremony to sign an
MOU on shared growth at KNOC headquarters on Jan. 28.
Korea National Oil Corp. (KNOC) is well on its way to expanding its operations in the key areas of its operation including the exploration of natural resources, taking over stakes in companies overseas, and through M&As as a strategic investor, thanks to its abundant resources and know-how for development.
The company has already been engaged in the development of shale gas in Eagle Ford, Texas, in cooperation with Anadarko, a well-known independent oil company in the United States, and is more than ready to expand its operation in the area with shale gas being talked about as the most viable next generation non-traditional energy source.
In April 2011, the company formed a joint venture with the U.S. oil company to explore for shale gas in the Maverick basin near Eagle Ford, Texas, taking over a 23.67 percent stake in the joint venture company.
The move is significant in that KNOC has secured a base to expand its technologies in the non-traditional energy exploration field by being the first Korean company to take over a stake in a non-traditional energy firm fully engaged in the business.
Right after KNOC's move, Marathon Oil bought Hillcorp Resources, the shale gas exploration firm in the Eagle Ford region, for $3.5 billion boosting the value of the region's shale gas fields.
The shale oil production in the region jumped to 70,000 barrels per day now from 25,000 barrels per day in early 2011 and KNOC estimates that the quantity could jump further to as much as 300,000 barrels per day in 2016.
In July 2006, KNOC took over 100 percent of Newmont to engage in oil sands operations in the Athabasca region, some 140 km southeast of Fort McMurray in Canada, with the aim to produce 30,000 barrels of oil per day from 2013 to 2040 from oil sands in the area. The move has been designed to catch up with both Chinese and Japanese oil firms in the global oil sands business, not to mention oil majors in advanced nations.
KNOC has set a basic strategy to improve on its exploration success rate and exploration technology development through an optimal decision based on accurate factors derived from practical data interpretation, which is promising a sustainable reserves replacement rate through exploration projects going forward.
Basin Analysis is one of KNOC's core E&P technologies. It is a fundamental study of regional geology and its intrinsic petroleum system in the core regions, which contribute to the improvement of the exploration success rate and reserves replacement rate as well as to the accomplishment of KNOC's vision. This fundamental study applies geological principles from all the disciplines to structural geology for trapping hydrocarbons, sedimentary depositional processes to insure reservoir presence, and geochemical and tectonics interpretation for the origin, maturity and migration pathway modeling of hydrocarbons. It covers not only the above mentioned fields of geology, but also those of seismic and well sequence stratigraphy with other auxiliary data, 2D/3D basin modeling work, and so on. Those are the primary essentials to building up successful exploration play fairways and to assessing geological risks and prospectivity, which is also a routine data interpretation process.
EPTI supports all the business development units in KNOC and its subsidiaries in geological data evaluation on projects that KNOC takes part in, with those primary essentials and principles. With regional geological understanding, focusing on 4-dimensional (space + time) petroleum system modeling is one of the key technologies to predict the generation, migration, and quality/quantity of accumulated hydro-carbons, incorporating temperature and pressure calculations through the entire evolutional history of the basin.
Basin analysis and petroleum systems modeling provides the only means to combine all essential elements such as source, reservoir, seal and overburden, and processes of which related to relative timing of trap formation, charge, critical moment, and preservation time, to delineate hydrocarbon accumulation and to reduce explorational and operational risks.