Shinhan Bank wins honor to be listed on the DISI World Index by Dow Jones for its intensive operations in Southeast Asia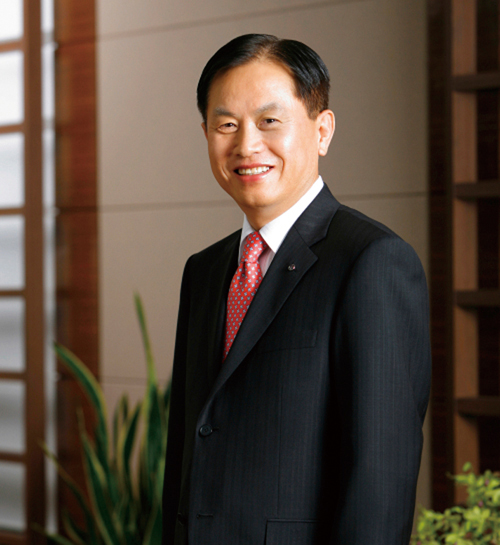 Chairman Han Dong-woo of Shinhan Financial Group. (photo: Shinhan Bank)
Shinhan Financial Group has become the first Korean financial group to be listed on Dow Jones' DISI World Index, joining 332 world-renowned other companies, or about 13.2 percent of the 2,523 top firms around the world including 23 financial firms led by Barclays and West Pac, the group said recently.
While most of the financial firms or groups have been engaged in strategies to prevent losses, Shinhan Bank posted a surprising record building its Asian financial belts linking Japan, Vietnam, China, and India in its overseas operations, which is currently limited to Asia.
The bank said on Sept. 13, it's been engaged in expanding its transactions with the indigenous communities where its units operate and deepen its operational roots. It's been engaged in developing financial products and services tailor-made for the local demands and is training local manpower to deepen its local operations under its segregated global management strategy.
Due to the intensive localization strategy, 6.2 percent of the bank's earnings in 2012 came from overseas, up from 2.9 percent in 2010, and overseas units are likely to increase their share of overall earnings in the future, the bank said.
The overseas units' hard work to win local customers has paid off with 70 percent of their assets comprised of local customers in 2012. Around 90 percent of new loans released last year in China went to local customers, totaling $274 million, and in Vietnam that number reached 92 percent, totaling $49 million.
The bank kicked off its credit card operation in Vietnam last year, a first for a Korean bank, securing 52,000 cardholders. In China the number of cardholders expanded fast to 46,000, the bank said.
In India, the bank introduced financial products tailor-made for local customers, which received favorable responses. The mortgage loan in Kazakhstan has also been getting very good responses from local customers, the bank said.
Thanks to the bank's various leading actions taken in Vietnam including its excellent performance results and the soundness of its financial health as well as its social services, the Shinhan Vietnam Bank was selected as the winner of the 2012 Excellent Labor Collective Award in Vietnam.
The slowdown in the global economy has steered the global investment funds to Asian countries with large populations and abundant natural resources. In Korea, too, despite the difficult conditions in the financial market due to low-interest rates and the sluggish economy, the call for overseas operations has been rising with the government unleashing policy loan funds in the name of the creative economy.
The creation of a financial Hallyu, or financial Korean Wave, will pave the way for Korean financial firms to make advances overseas without much trouble as the financial community has enough financial IT systems that helped to overcome financial crises, long-accumulated financial economic development, and other strong points that the Korean financial industry has.
Shinhan Bank, for one, is in favor of expanding overseas financial operations to make up for the loss of profit in the domestic financial market by finding new growth engines. The bank will look in a number of Asian countries including Japan, Vietnam, China, and India, focusing on its Asian financial network by setting up local subsidiaries instead of branches in order to vitalize its marketing efforts to secure indigenous customers and find niche markets for its tailor-made financial products suited to each locality.
The bank has been following its strategy aimed at strengthening its financial network in Asia by expanding the operations in each country in which it is already operating rather than expanding its operations in advanced nations, which have been in the economic doldrums and, therefore, profit returns are uncertain.
The bank chose to go all out in emerging market countries where Korean firms operate while continuing to monitor the situations in other emerging market nations to look for opportunities to launch its operations. The bank aims to secure 10 percent of its annual earnings from overseas by 2015. The bank bought a 40 percent stake in Bank Metro Express in Indonesia, a key nation in Southeast Asia, and set up a representative office in Yangon, Myanmar in April.