Hyundai Oilbank and Lotte Chemical signed an MOU for the establishment of a joint-venture petrochemical company for the production of mixed xylene and light naphtha with an investment of some 1 trillion won at Lotte Hotel in downtown Seoul on Sept. 17. Bl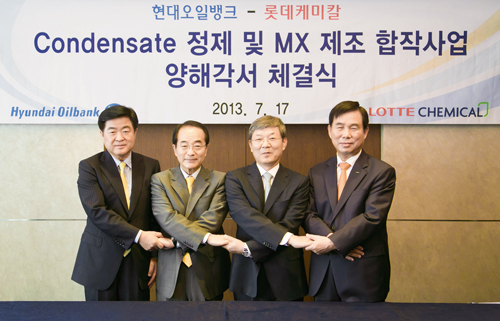 Top officials of Hyundai Oilbank and Lotte Chemical hold hands after siging an MOU
to set up a petrochemcial plant in joint venture on July 17 at Lotte Hotel in Seoul.
President Kwon Oh-kap of Hyundai Oilbank and President Hur Soo-young of
Lotte Chemical signed the instrument.
Hyundai Oilbank and Lotte Chemical signed an MOU for the establishment of a joint-venture petrochemical company for the production of mixed xylene and light naphtha with an investment of some 1 trillion won at Lotte Hotel in downtown Seoul on Sept. 17.
Blended xylene is an aromatic chemical product, a key raw material for the BTX (benzene, toluene, and xylene) production plant, which is used to produce chemical textiles, plastics, additives for gasoline — products needed in people's everyday lives.
The projected plant is slated to produce 110,000 barrels of condensates and 100 tons of light naphtha and blended xylene a year when it goes on stream in the second half of 2016, Hyundai Oilbank said recently.
The blended xylene from the new plant will be supplied to Hyundai Cosmo, an affiliate of Hyundai Oilbank, and Lotte Chemical, while all of the light naptha will be supplied to Lotte Chemical.
The two companies have relied on imports for mixed xylene and they agreed to set up a j.v. BTX plant as xylene producers began expanding their BTX plants lately to secure their own supplies of the petrochemical products.
The two partners will be able to save 2 trillion won from import-substituting their key petrochemical products as well as export 3 trillion won worth of products such as diesel and fuel for airplanes that are produced in the process of producing mixed xylene.
President Hur Soo-young of Lotte Chemical said at the signing of the MOU at the Lotte Hotel, "We expect the competition to heat up more as Middle East countries and China build more petrochemical plants. Our projected plant will be a good example of strategic cooperation among companies producing similar products to improve their competitive positions in the global market."
Hyundai Oilbank President Kwon Oh-kap also said, "The two neighbors in the Daesan Industrial Complex lowered their walls and joined hands for a new venture, which will strengthen their cooperation in many areas as they have many complementary endeavors, not just in raw materials, but also in utilities. We can always set up new joint ventures and advance overseas together."
Completed in 1997, Hyundai Oilbank's BTX Plant, which has an annual capacity of 470,000 tons of high-purity paraxylene (360,000 tons) and benzene (110,000 tons), now features an integrated process that excludes the production of toluene, whose value is comparatively low, achieving global competitiveness in terms of production costs and factory operational efficiency. While 80 percent to 90 percent of the paraxylene and benzene produced in the plant has been exported to China, Taiwan, and Southeast Asia, the company is currently focusing its attention on securing a stable supply of the products to meet domestic demand, and is exploring new export channels to expand the supply to overseas markets.
Dedicated to the improved quality and stabilized supply of petroleum products, Hyundai Oilbank has increased its refinery capacity to 390,000 barrels per day (bpd): 280,000 bpd from the #2 Refining Plant, which was expanded in May 1996, and 110,000 bpd from the #1 Crude Distillation Unit.
In 2005, the company also completed the installation of a Gas Oil Hydrotreating Unit for ULSD with a capacity of 60,000 bpd as part of its efforts to address the liberalization of oil prices and the emergence of the open market with enhanced quality competitiveness, making products that meet the environmental standards of advanced countries.
In that same year, Hyundai Oilbank completed the construction of a Mogas Hydrotreating Unit with a capacity of 20,000 bpd, thereby contributing to the stable production and supply of high-quality low-sulfur products for the domestic market. In addition, the company strengthened its environmental management policy by acquiring technologies equal to the world's highest standards, including an ultra-modern naphtha reforming process capable of continuously regenerating catalysts.
Hyundai Oilbank has grown from is foundation in 1964 as the first privately-owned oil company in Korea, known originally as Kukdong Oil Industrial company, into one of the leading oil refining and marketing companies in Asia. They now have approximately 16 percent of the domestic light oil market with a network of 2,200 gas and service stations across the nation. They also produce petrochemical products for sale on the domestic and international markets. To meet the varying and diverse needs of customers in the 21st century, Hyundai Oilbank makes every effort to provide "customer-oriented" services.