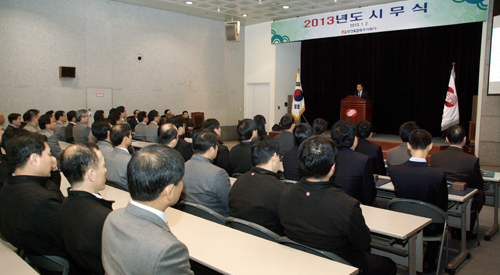 KEPCO KPS President Tae Sung-eun (at the rostrum) gives a speech
at a ceremony to kick off the 2013 business year
at the KEPCO KPS headquarters on Jan. 2.
KEPCO KPS President Tae Sung-eun said, "All staff will be asked to dramatically renew their mindset and be aware of pending crises in order to make the mid-term management strategy, MUV 2013, a success." He appealed for his staff to make 2013 the brightest and most successful year in the history of KEPCO KPS with guts and a challenging spirit. Tae made the remarks while delivering his speech at a ceremony to mark the start of the 2013 business year at KEPCO KPS headquarters on Jan. 2.
MUV 2013 is part of the Vision 2020, which KEPCO KPS declared in 2010, with the goal of becoming a global business leader in the green energy service industry.
President Tae enumerated major businesses on which KEPCO KPS will place priority during 2013 °™ fortifying a foothold for maintenance service markets; strengthening the growth momentum in new growth engine businesses; securing global technological competitiveness; and settling into a sustainable management regime.
KEPCO KPS accomplished a remarkable feat late last year by being one of the public enterprises recognized for chalking up superb management performances through quality management and innovative activities for the 14th consecutive year. The Korean Agency for Technology and Standards awarded KEPCO KPS a certificate of an excellent company with quality competiveness in recognition of its quality management activities at the Post Tower in downtown Seoul on Nov. 5.
In particular, KEPCO KPS's receiving the "excellent company with quality competiveness" honor for the 14th consecutive year is unprecedented in the history of Korea's quality management. Recognition of KEPCO KPS's service quality and quality management performances from the government attests to the company having a sufficient competitive edge to maneuver in the global market.
This achievement was owed to all of the KEPCO KPS staff's endless efforts to offer quality maintenance services, Tae said. He continued to say that KEPCO KPS would redouble its efforts to become a global company focusing on customers and markets, communicating and cooperating with interest groups, and being committed to its social responsibility.
KEPCO KPS CRUISE ABROAD
KEPCO KPS signed a contract on the operation and maintenance of the lignite-fired Amarkantak Thermal Power Station (ATPS) in the state of Gujarat, India, with Gujarat Mineral Development Corp. on Jan. 8.
The price tag of the project on the thermal power plant with a capacity of 250MW (125MWx2 units) is 91 billion won. The contract is for 15 years from Feb. 1, 2013 to Jan. 31, 2028.
KEPCO KPS was awarded the project by making the most of its expertise in the operation and maintenance of power facilities in India and its Indian branch's network, outbidding Tata Power and three other competitors.
The company made inroads into the Indian O&M market in 1998 when it landed an order for the operation and maintenance of a diesel-power plant operated by GMR Power Corp. KEPCO KPS now has six operations, including the ones in Vemagiri, Jalsuguda, and Chandra. The ATPS project will serve as an opportunity for KEPCO KPS to fortify its foothold in the Indian power market by showing off its quality maintenance services, a KEPCO KPS official said.