State-run oil company strikes black gold at Hewler Mining District around Erbil, Kurdish Autonomous Region, Iraq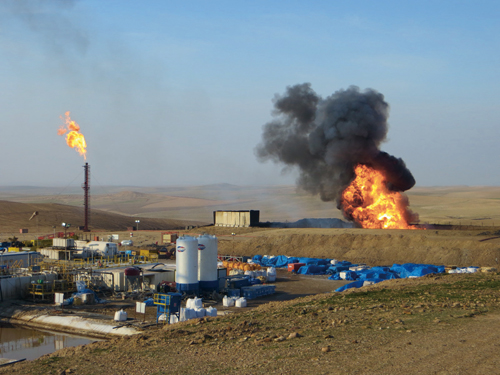 A view of the Demir Dagh-2 site of the Hewler Mining Bloc in the Kurdish autonomous region in Iraq,
where KNOC discovered oil in July and pumping up 10,000
bbls of crude oil daily. (inset) Korea National Oil Corp. President Suh Moon-kyu.
Korea National Oil Corp. (KNOC) discovered oil at its Demir Dagh-2 site of the Hewler Mining Block in the Kurdish autonomous region in Iraq during the first exploration in July, pumping up 10,000 barrels of crude oil daily from the three lower-depth levels of the mining block, the state-owned oil company said recently.
The oil company plans to widen the drilling area to produce more crude oil now that oil was found in the lower levels of the drilling site.
KNOC officials said pumping up 10,000 barrels daily from the new oil field being test-drilled is significant because it indicates much bigger oil deposits. The company will find out what the correct quantity of oil deposits at the site are through more test drilling at the site.
The partners engaged in the test drilling of the Hewler District, which covers the Kurdish Autonomous Government's capital Erbil with total area of 1,532 square kilometers, include the Kurdish government with a 20 percent stake, Orix Oil Company of Switzerland with 65 percent, and KNOC with 15 percent. KNOC is engaged in oil drilling in three oil blocks in Iraq, the two others being Bajan and Sangausaus.
The Kurdish region has 48 mining districts and global majors including Exxon-Mobil, Total of France, and Chevron have been engaged in oil drilling in those mining districts since October 2011.
KNOC and STX Energy have plans to import liquid natural gas (LNG) to Korea. Both companies will be able to import 500,000 barrels of LNG and 800,000 barrels of crude oil from Canada on a regular basis as soon their unloading and storage facilities in Korea are completed.
The officials continued that KNOC has decided to cooperate with STX Energy in importing crude oil from Canada as the private firm has decided that crude oil imports from Canada to Korea can be profitable and demand for crude oil in Korea has been expanding. They expect imports of crude oil from Canada will be possible in two years.
KNOC plans to import oil and gas produced from its own oil and gas wells abroad, which amount to 240,000 barrels per day. The state-run oil company also plans to engage in shale gas exploration in joint operation with Anadarko of the United States. The company has already been exploring shale gas from a location in Eagle Ford, Texas.
KNOC also plans to kick off test drilling for shale gas from sedimentary rocks around Korea, as shale gas is being looked upon as the next generation energy in the world with the United States leading the way.
KNOC acquired a 23.7 percent interest in the Eagle Ford shale gas formation located in Maverick Basin in southern Texas from Anadarko Petroleum Corp. for approximately $1.55 billion under the name KNOC Eagle Ford Corp., and keeps pulling ahead to secure a stable supply of unconventional resources.
North America is the leading region when it comes to unconventional petroleum development thanks to a combination of factors such as abundant reserves, skilled E&P human resources, highly-developed infrastructure, and drilling technologies. To this end, it is the key region for KNOC's pursuit to secure unconventional oil resources.
KNOC has formed a strategic partnership with Anadarko, a company with advanced technologies in unconventional petroleum development. Through the partnership, KNOC is expecting to acquire advanced technologies and operational know-how and open windows of business opportunities in unconventional resources development.