Ex-KEPCO Vice Pres. Cho Takes Office as 6th KOWEPO CEO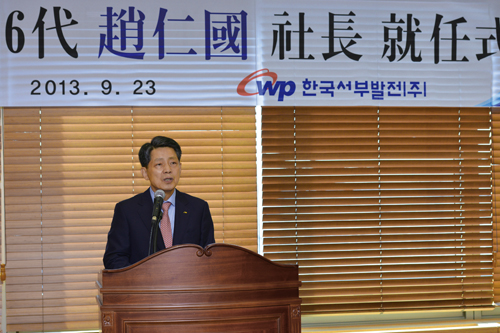 Cho In-kook, the new president of Korea Western Power Co. (KOWEPO) delivers his
inaugural speech as he takes office as the sixth president of KOWEPO. (photo: KOWEPO)
Cho In-kook, former vice president of Korea Electric Power Corp. (KEPCO), took the helm at Korea Western Power Co. (KOWEPO) at its headquarters in Samseong-dong, Seoul, on Sept. 23.
A graduate of Hanyang University Economics Department, Cho was elected as the 6th president and CEO of KOWEPO at the power company's extraordinary shareholders' meeting on Sept. 12. He began his career as a KEPCO employee in 1979 and held such positions there as the head of the Planning Division and the Overall Business Division and vice president in charge of domestic affairs.
In his inaugural speech delivered on Sept. 23, Cho said, "Now is the time to restore lost public trust and to rise to a global company filled with those who do not shy away from a challenge and those with a strong sense of creativity."
The new KOWEPO president said he will attach a top priority to ensuring a stable and economical supply of electricity in accordance with its mission; push for the completion of the ongoing power unit construction projects without a hitch; and the low-carbon, green-growth project to make good on greenhouse gas emission reductions and a renewable portfolio standard (RPS) agreement; and make preparations for optimal procurement of fuels such as the introduction of shale gas and direct importation of liquefied natural gas.
"KOWEPO will attach priority on the development and commercialization of the top five core technologies, including a clean coal technology and new and renewable energy by expanding R&D outlays for sustainable management while aggressively exploring overseas markets with a focus on the implementation of riskless and stable projects," Cho said.
KOWEPO takes up approximately 13 percent of the nation's total electricity generating capacity, mostly comprised of thermal and combined cycle. The power company has four power plant complexes nationwide — Taean Thermal Power Complex (8x500MW, bituminous-coal-fired); Pyeongtaek Thermal and Combined Cycle Power Complex (4X350MW Bunker C-Oil-fired and 4X80MW GT and 1X160MW ST, LNG-fired); Seoinchon Combined Cycle Power Complex (8X150MW GT and 8X75MW ST, LNG-fired); and Gunsan Combined Cycle Power Complex (2X258.1MW GT and 1X263.2MW ST, LNG-fired).
KOWEPO has set three goals in the energy, environment, and expertise categories in accordance with KOWEPO's Vision 2020 of becoming a "World's Best 3E Creator" — raising its facility capability to 22,000MW, reducing greenhouse gas emissions by 16 percent, posting $11 billion in sales through securing top-rate technology, and achieving a more than 8 percent return on invested capital.
KOWEPO become the first Korean company to establish a joint venture in Russia, Eurasia Energy Holdings. The country is forecast to see an increase in electricity demand through its hosting of the Winter Olympic Games in 2014. The company has built a foothold for making a jumpstart in the Russian electricity and coal markets by participating in a 200,000 kW combined cycle power plant project and coal projects in the far east region.
It also set a foothold in the global renewable energy market by signing a 500MW-class photovoltaic power plant project in Boulder City, Nevada, United States, in February 2012.
KOWEPO Vision 2020 — World's Best 3E Creator
The vision of KOWEPO, World's Best 3E Creator, refers to the company's goal of creating the world's best value in three sectors: Energy, Eco-Future and Expertise. The vision well illustrates the commitment of the company to strive to prevent environmental pollution and expand eco programs, considering the high relevance of the environment in its business, and to pursue sustainability by securing expertise, which is the key to sustainable growth.
However, after the Company defined its vision and the strategic system, the uncertainties in the external and internal management environment grew, and the Company went through massive internal changes. Raw material costs, including fuel costs, which account for 80 percent of the corporate costs, are constantly increasing, and there is a rising demand for stable power supply in the Korean market amid the continued occurrence of power interruptions. In addition, there is an urgent need to aggressively operate new and renewable energy businesses and overseas businesses. To respond to such needs, the company redefined its mid-to-long-term strategic system in July 2011.