Introduces POMMS, its own O&M system; operates the world's largest floating type photovoltaic system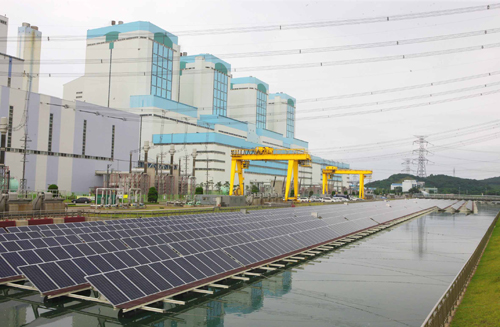 Korea East-West Power (EWP) operates a 1MW-class photovoltaic power
system on the water inlet channel of the Dangjin Coal Fired Power Complex.
Korea East-West Power Co., Ltd (EWP)) has shared with relative companies the technology and knowhow to construct a 30MW-class, biomass (wood chip-fired) power plant, an example of which was recently constructed in Donghae, Gangwon-do.
EWP held a technology-sharing session among working-level officials from POSCO E&C, KEPCO E&C, and related companies at POSCO E&C's headquarters in Incheon on Sept. 5 and 6.
The participants took up such themes as how to revamp the design and construction of the circulating fluidized bed combustor (CFBC) power plant using biomass solid refuse fuel, not fossil fuels.
The workshop was designed for EWP and other participants of the project to share the technological experiences in the biomass engineering segment, they have accumulated during the implementation of the project and build a foundation for collaboration in order to export their plant technologies abroad, EWP officials said.
A Track Record in Biomass Power Plant Construction
EWP put into commercial operation the CFBC power plant with a capacity of 30MW, the nation's largest biomass power plant, this past July after 20 months of construction. The project was launched on Dec. 1, 2011.
The biomass power plant produces 223,380MWh of electricity annually, equivalent to supplying power to some 73,000 households. The power plant has an effect of reducing about 100,900 tons of CO2 emissions.
The biomass power plant is also equipped with an advanced deSOx and deNOx system to minimize SOx and NOx emissions.
POSCO E&C landed an incineration engineering, procurement and construction (EPC) project in Poland in November 2012 through the contract record of the construction of the nation's largest biomass power unit.
World's Largest Floating Type Photovo-ltaic System
EWP constructed a 1MW-class photovoltaic power system on the water inlet channel of the Dangjin Coal Fired Power Complex on July 16. The photovoltaic system is the world's largest floating type one after a 500kW-class unit at the Hapcheon Dam in Gyeongsangnam-do, Korea and photovoltaic systems in Far Niente, Calif.
The floating type photovoltaic system generates 1,300MWh of electricity per year, equivalent to supplying power to some 400 four-member families. It has an effect of reducing some 600 tons of greenhouse gas emissions.
The completion of the project came 48 days after EWP adopted a new engineering method using fiber-reinforced plastics.
POMMS, EWP's first own O&M System
EWP has introduced the Plant Operation and Maintenance Management System (POMMS) developed with its own technology.
Features of the POMMS include web-based OEM information at any worksite and improved work efficiency through the simplification and standardization of the O&M processes.
EWP also carries out world-class levels of operation and maintenance of power plants with its accumulated knowledge and competence.
EWP's power plants were awarded for being the safest operating and longest running operators for four consecutive years from 2007 to 2010 by the North American Electric Utility Cost Group.