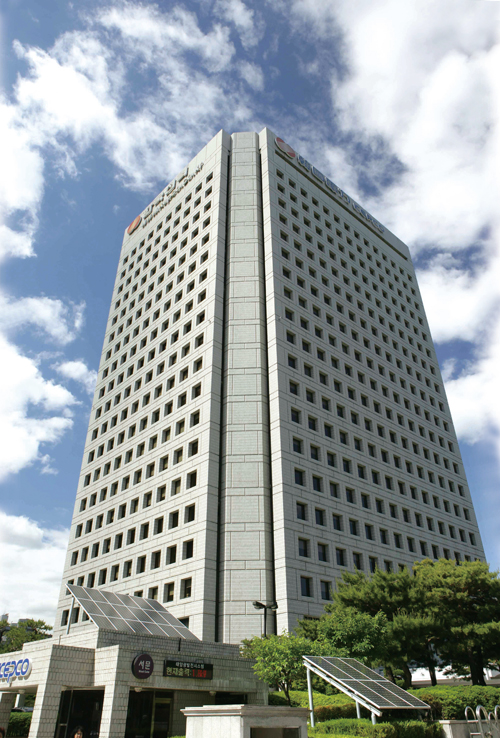 Korea Electric Power Corp. (KEPCO), marking 115 years since its inception, is synonymous with the history of the Korean electricity industry as the reliable supplier of top-quality electricity. KEPCO is now continuing its legacy of the past to build a brighter future with "Green & Smart R&D" and the will to stretch itself beyond Korea to global markets.
Since its foundation as Hansung Electric Power Co. in 1898, KEPCO has driven Korea's economic growth and served as an engine to Korea's industries as the reliable supplier of electricity. KEPCO has become a global energy company armed with top-rated manpower and a high-efficiency energy provider through strenuous R&D and technological prowess.
KEPCO set "Global Top Green & Smart Energy Pioneer" as its new vision to propel its transformation into a global energy company driving green growth. KEPCO is working to secure a top-class competitive edge through the development of green and smart technologies by enhancing the quality of life, protecting the environment, and seeking opportunities in overseas markets.
KEPCO, classified as a market-oriented public corporation under the Act on the Management of Public Institutions, has business portfolios including the development of electric power resources, electric power generation, transmission, transformation, and distribution, as well as related marketing, research, technological development, overseas business, investment, corporate social responsibility, and use of its properties.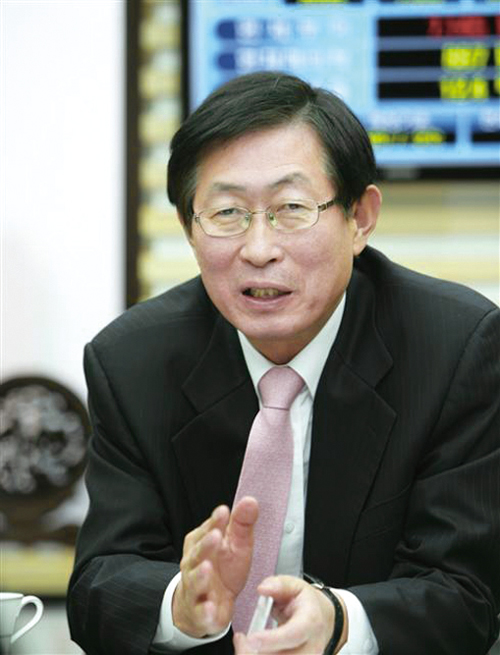 KEPCO President Cho Hwan-eik
KEPCO Group's Overseas Foray
KEPCO strives to realize its vision as the Global Top Green & Smart Energy Pioneer to rise into the top energy company in the world by overcoming its limitations in the saturated domestic market and creating a new growth engine in the global market.
By making the most of expertise and experiences the company has accumulated in the course of the implementation of electric projects in Korea, KEPCO strives to continue to take aggressive forays into overseas businesses including nuclear power, thermal power, new and renewable energy, resource development, smart grid, and other new areas and new contents to create future growth engines, thereby increasing profitability and global brand value on a sustainable basis.
KEPCO owns 100 percent of six nuclear and thermal generation companies. Those generation companies and other affiliates related to design (KEPCO E&C), maintenance (KEPCO KPS), and nuclear fuel supply (KEPCO NF) form the KEPCO group. KEPCO envisions a win-win competition based on independent R&D of each group company to support their joint development along with cooperation on specific issues such as overseas business or government-led projects that require synergy in the electric power industry. KEPCO Group companies also work together on economic procurement of power generation fuel, R&D, and response to climate change to ensure a stable supply of electricity and enhanced capabilities of the entire KEPCO Group.
In the Korean electric power industry, KEPCO's six power generation subsidiaries —Korea Hydro & Nuclear Power Co. (KHNP) and five thermal power companies; Korea Midland Power Co., Korea East-West Power Co., Korea Western Power Co., Korea South-East Power Co., and Korea Southern Power Co. — as well as independent power producers, and community energy systems are producing electric power, and KEPCO transports the electricity it purchases from the Korea Power Exchange through the transmission and distribution network, and sells it to general public.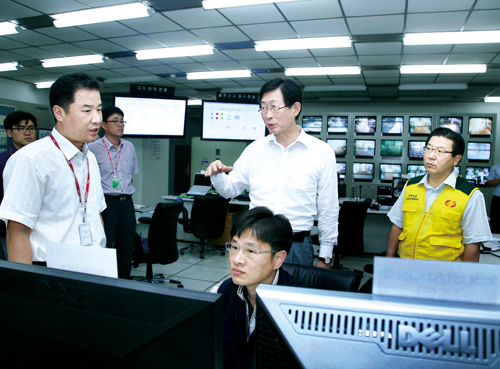 KEPCO President Cho Hwan-eik makes an inspection tour to
one of companies consuming large amounts of electricity recently.
Offering Korea's Top-Quality Nuclear Power to the World
A Korean consortium led by KEPCO was awarded an $18.6 billion contract to build the first nuclear power complex in Barakah, the United Arab Emirates, on Dec. 27, 2009. The project calls for the construction of four nuclear power plants using the APR1400, developed with Korea's own technology, between 2017 and 2020.
Korea is a nuclear power stronghold with a capacity of 20,716MW, which is the fifth largest in the world. Korea operates 23 nuclear power units as of 2013 with five more under construction. Korea plans to build another 10 nuclear power plants by 2030. Plants under construction guarantee world-class safety capable of withstanding a 7.0 earthquake on the Richter scale.
KEPCO's world-class operational capability is demonstrated by its record of having only 0.4 interruptions per unit per year and 90.7 percent in throughput, as of 2012, as well as its world-class competitive edge in nuclear power plant construction skills. KEPCO and its group companies armed with rich operational know-how and technological strength have made the overseas nuclear power plant business as the key business agenda to creating profits in the years ahead.
Boasting world-class stability and a high capacity factor, KEPCO is employing a "Choose and Focus" marketing strategy on countries that are currently seeking to adopt nuclear energy such as Vietnam, Saudi Arabia, and South Africa.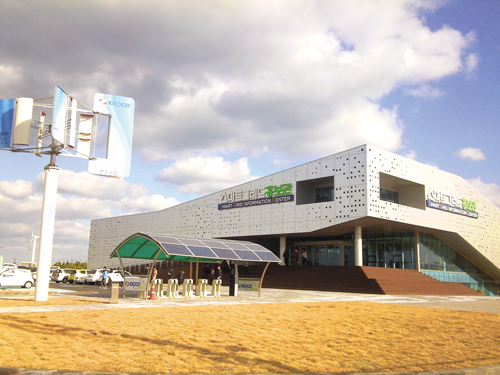 A view of KEPCO's operation of the Jeju Smart Grid Test Site.
Thermal Power Business
KEPCO's overseas business started off with its performance in a restoration & operation project for the Malaya power plant in the Philippines in 1995 and construction & operation project for Ilijan gas complex thermal power plant in 1997. Since then, KEPCO has successfully built power plants in Cebu and Illijan in the Philippines, which served as the platform to expand its business from the northern part to the central part of the Philippines. Since then, KEPCO has gradually expanded its business to China, the UAE, Saudi Arabia, and Mexico.
In the Middle East, KEPCO won the bid to build and operate a gas combined-cycle power plant in Al-Katrana, Jordan (373MW), a heavy oil thermal power plant in Rabigh, Saudi Arabia (1,204MW), an S3 gas combined-cycle power plant in Shuweihat, UAE (1,600MW), and an IPP3 diesel power generation plant in Jordan (573MW).
In particular, KEPCO's successful bid for a gas combined-cycle power plant in Norte, Mexico (433MW) marks a great feat, as it is KEPCO's first-ever foothold in Latin America, which has traditionally been dominated by Japanese and Spanish power companies. In 2013, KEPCO further solidified its status in the global market by winning the international bid to build and operate Vietnam's largest coal thermal power plant (1,200MW) in Nghi Son.
Offshore Wind Energy Testing Complex
KEPCO's entry into the new and renewable energy business is driven by the imperative to penetrate into overseas markets and to reduce greenhouse gas emissions.
In September 2005, KEPCO started a wind power business for the first time by establishing a joint venture with China Datang Corporation in Gansu Province, China, a region known for abundant wind.
As part of its eco-friendly technology development efforts, KEPCO is developing technology for new and renewable energy sources, which is a key to finding a fundamental solution to climate change. A variety of research is being done in the areas of offshore wind energy, solar energy, and bio energy to secure core technologies.
In particular, KEPCO is superintending national research projects to make Korea a "Top-3 Offshore Wind Energy Player by 2020." KEPCO is developing technology necessary for the designing of the complex, its operation, and the linking of offshore wind energy systems to the grid through such projects as the 2.5GW Offshore Wind Energy Complex in the Southwestern Sea.
Resources Exploration
KEPCO is eager to rise as the global leader in resource exploration by broadening its territory to CNG, shale gas, and the coal terminal business. To this end, it will run its own mines, changing its business strategy from small share investment into aggressive actions to secure management rights.
KEPCO's global territorial coverage is also expanding to Australia, Indonesia, and North America for bituminous coal, and Canada, Africa, and Australia for uranium. KEPCO will develop an optimal business portfolio for each investment destination and three phases of mine development (exploration, development, and production) to eventually secure resources on a stable basis. This will hopefully enable KEPCO to keep its risks to a minimum, overcome regional limitations in resource development by launching a resource trading business, and maximize the value of developed resources.
Diversified Overseas Transmission and Distribution Projects
Having amassed world-class technical competency in a relatively short amount of time, KEPCO has successfully completed consultation projects in the Philippines, Myanmar, Indonesia, Libya, Egypt, Ukraine, and Paraguay, and is currently handling 15 consultation projects in West Africa, Cambodia, Bangladesh, Pakistan, Saudi Arabia, and Uzbekistan.
Development of Eco-Friendly Technology to Respond to Climate Change Conventions
With global warming receiving attention as an international issue, KEPCO has established and is pursuing countermeasures in accordance with the climate change conventions in the energy industry. KEPCO plans to take the lead in the SF6 Emission Reduction CDM operations overseas, including in Southeast Asia.
KEPCO is focusing on carbon capture and storage (CCS) technology to develop an innovative carbon absorbent. KEPCO is also in the process of developing and testing IGCC, an eco-friendly thermal generation technology, which combines coal gasification and compound gas turbine generation technology. Moreover, KEPCO is pursuing carbon emission reduction technology by test-operating an electric car rental business and by launching the Carbon-Free Island project on Gapado Island of Jeju.
Successful Operation of the Jeju Smart Grid Test Site
The Smart Grid is a next-generation power grid that maximizes energy consumption efficiency by adopting IT to the conventional grid. KEPCO seeks to establish the Smart Grid throughout the entire country by 2030.
KEPCO has also been operating a Smart Grid testing complex on Jeju Island since 2009. At this testing site, five sectors were tested to improve the power system efficiency and develop output stabilization technology for renewable energy. KEPCO also managed to successfully test commercialized electric car charging stations and their real-time payment systems, as well as achieve efficient energy consumption through AMI and develop additional services.