Asian energy ministers share the need for the establishment of new oil and gas trade markets during the 5th Asian Ministearial Energy Roundtable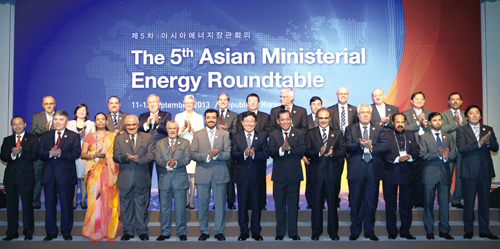 Asian energy ministers and other participants of the 5th Asian Ministerial
Energy Roundtable pose for the camera for a group photo.(photo: MOTIE)
Energy ministers from Asia and the Middle East discussed the need for the establishment of new oil and gas trade markets during the 5th Asian Ministerial Energy Roundtable in Seoul.
Energy ministers and vice ministers from 21 Asian countries as well as chief representatives of three international organizations, including OPEC, the International Energy Agency (IEA), and the International Energy Forum, participated in the 5th Asian Ministerial Energy Roundtable that took place from Sept.11 to Sept. 13.
Participants of the forum included Korean Minister Yoon San-jick, of the Ministry of Trade, Industry and Energy (MOTIE); Qatari Minister of Energy & Industry Mohammed Bin Saleh Al-sada; Australian Deputy Secretary Martin Hoffman; He Xu Yongsheng, vice administrator of China's National Energy Administration; Japanese State Minister of Economy, Trade and Industry Isshu Sugawara; Kuwaiti Minister of Oil Mustafa Jassim Mohamed Al-Shamali; Omani Minister of Oil and Gas Mohammed Al-Rumhy; Saudi Arabian Minister of Petroleum and Mineral Resources Ali I. Al-Naimi; UAE Minister of Energy Suhail Mohamed Al Mazrouei; OPEC Sec.-Gen. Abdalla Salem El-Badri; IEF Sec.-Gen. Aldo Flores-Quiroga; and IEA Executive Director Maria van der Hoeven.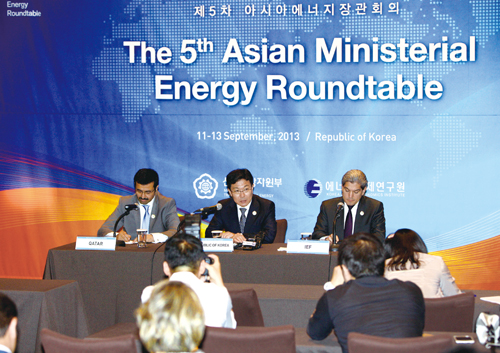 A statement, issued after the ministerial meeting on Sept. 12, said, "In order to maintain robust economic growth in the Asian region, participants acknowledged the benefits of sustained and enhanced cooperation on energy matters."
"In order to meet the expected increase in oil and gas trade volumes in the region, participants recognized the importance of seeking avenues for sustaining and improving the efficiency and functioning of these markets," the statement said. "In the interest of achieving sustainable growth and addressing challenges related to climate change, participants recognized the importance of joint efforts to study and assess alternatives related to clean energy sources and energy efficiency technologies."
Korean MOTIE Minister Yoon said the participating countries shared a consensus on the Korean government's policy initiative of developing Korea into an oil hub of Northeast Asia.
The Northeast Asian oil hub project is one of the Park Geun-hye government's national policy agendas. The project calls for making Korea not only a leading petrochemical industrial center, but also a trade hub on top of the United States, the European Union, and Singapore.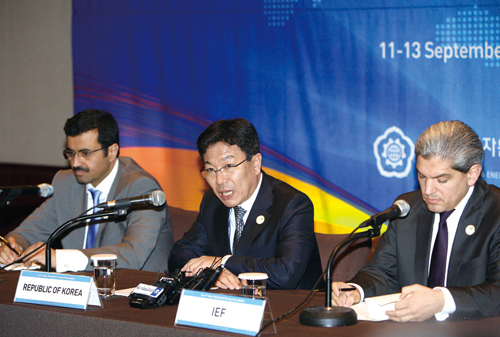 This past June, Korea completed a massive oil tank terminal construction project in Yeosu, Jeollanam-do. The Oilhub Korea Yeosu Corp., led by Korea National Oil Corp., has invested about 517 billion won over the past four years, and an additional 508.5 billion won will be invested to complete an oil storage facility with a capacity of 18.5 million barrels in Ulsan, MOTIE officials said.
Yoon said he stressed the need for discussing issues such as demand management, policy integrity and diversification of energy resources during the meeting. He continued that this meeting served as a good opportunity to share views from the Asian region ahead of the upcoming 22nd World Energy Congress, slated for Oct. 13-17 in Daegu.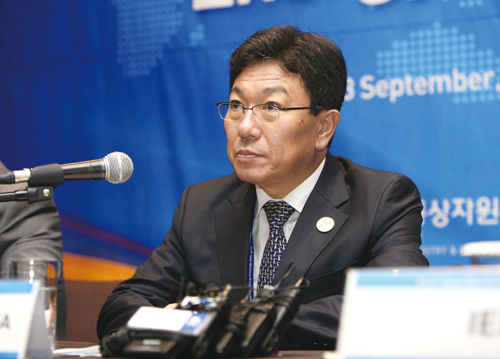 IEF Secretary General Flores-Quiroga told the meeting that because it comes to the flexibility of the energy market and energy security, the needs of the oil consuming- and producing countries should be met, citing the importance of establishing long-term relationships between both sides.