President Kim calls for a changing KOWEPO starting with each employees becoming an 'active self'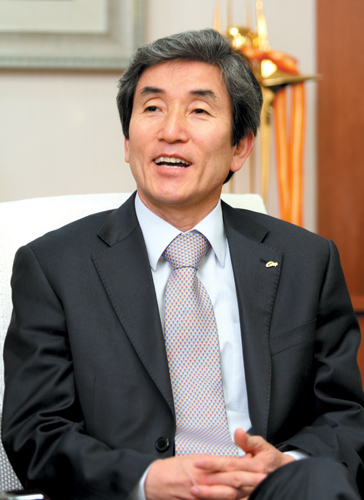 Korea Western Power
President Kim Moon-duk
Korea Western Power Co.'s new corporate culture, dubbed "Young & Dynamic KOWEPO," has been selected as a best practice by the government.
KOWEPO received the highest points in seven categories -- freshness, effectiveness, continuity, proliferation, degree of difficulty, participation, and strategic suitability -- in a public contest of best management practices among public enterprises, conducted by the Ministry of Strategy and Finance and Korea Institute of Public Finance during the period between last Oct. 17 and Dec. 17. The power company managed to pass three stages of examination by a screening committee comprised of professors and other experts -- a preliminary, a plenary, and a final screening stage.
True to his management tenets -- making an exciting work place and a communicative corporate culture -- KOWEPO President & CEO Kim Moon-duk has set and implemented 30 tasks to establish a new corporate culture under the catchphrase "Young & Dynamic 3S" since last May.
In the meantime, KOWEPO earned the highest grade, AAA, with 98.04 out of the possible 100 points in the 2012 sustainable management survey KoBEX SM by the Ministry of Knowledge Economy and the Institute for Industry Policy Studies (IPS).
In his New Year's message, President Kim first called for what is dubbed a changing KOWEPO starting with each employee becoming an "active self."
"John F. Kennedy said in his inaugural speech as the 35th president of the United States, 'Ask not what your country can do for you.' I want to make this quote into Ask not what a young and dynamic development of KOWEPO can do for you.' I wish you yourselves will reinvent for the development of KOWEPO."
Second, Kim urged his executives and staff to make it a "grown-up" KOWEPO starting with the learning of oneself. "Decision-making capabilities, work expertise, and communication tactics are needed to become gifted personnel. It takes a long time and a tough process to go through a proactive implementation process and nurture one's capabilities through the continuous process of learning. These capabilities cannot be attained over a long period of time unless individuals have a firm confidence down the road and a strong passion for them."
Third, he appealed for his staff to make it a reliable KOWEPO starting with "prudent selves."
Kim said his company is poised for a golden era of KOWEPO, adding that the company now carries out mega-projects with a combined capability of 5,000MW at home and several others abroad, chalking up the highest growth rate in its history and among Korean power companies.
KOWEPO has set three goals in the energy, environment, and expertise categories in accordance with KOWEPO's Vision 2020 of becoming a "World 3 E's Creator" -- raising its facility capability to 22,000MW, reducing greenhouse gas emissions by 16 percent, posting $11 billion in sales through securing top-rate technology, and achieving a more than 8 percent return on invested capital.
KOWEPO President Kim declared his management tenets "Focus & Align" to accomplish the vision and enumerated four action strategies ? a focus on profitability, the nurturing of a strong company, maximizing future values, and the establishment of a communicative corporate culture.
As part of efforts to continuously create future breadwinners and maximize profitability, KOWEPO is expanding its business environs abroad, ranging from electricity generation projects to the securing of coals from India, Southeast Asian countries, Russia, and the Americas.
In particular, KOWEPO has recently signed a shareholder's agreement on the construction and operation of a gas-fired combined cycle power plant in Myanmar with BKB, Hyundai E&C, Hana Daetoo Securities Co., and Hexa International. The project is drawing the attention as a model of overseas project collaboration among Korean large- and small-sized companies as KOWEPO is in charge of construction management, operation, and maintenance of the project; BKB, a Korean SME, oversees overall matters related to business licenses and permits; and Hyundai E&C is charged with the EPC area.
KOWEPO become the first Korean company to establish Eurasia Energy Holdings, a joint venture in Russia, which is forecast to rise in electricity demand by hosting the Winter Olympic Games in 2014. The company has built a foothold for making a jumpstart in the Russian electricity and coal markets by participating in a 200,000 kW combined cycle power plant project and coal projects in the Far Eastern region. It set a foot in the global renewable market by signing a 500MW-class photovoltaic power plant project in Boulder City, Nev. in February 2012.