KATS seeks to introduce 'standardization for public happiness' to assist the underprivileged and enhance the quality of people's lives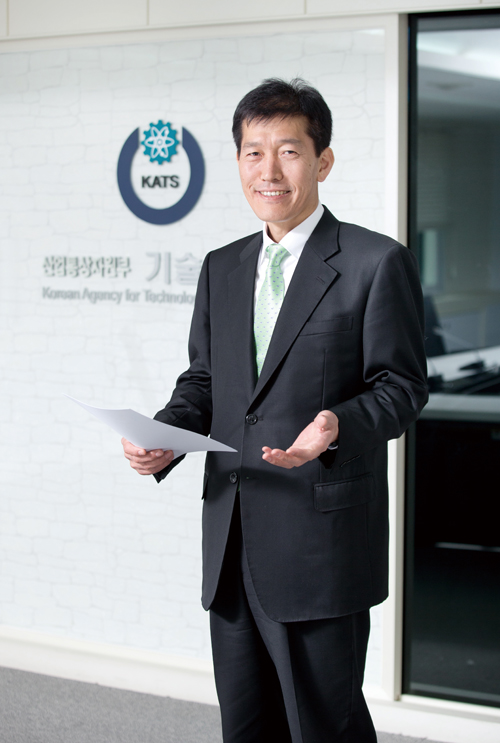 Administrator Siheon Seong of the Korea
Agency for Technology and Standards (KATS)
"We're stepping up our efforts to reinforce organizational capacity so that Korea can develop into a global powerhouse of standards. To that end, we are spearheading Korea's international standardization and strengthening Korea's right to speak by having more Koreans inducted as executives of international organizations," said Administrator Siheon Seong of the Korea Agency for Technology and Standards (KATS).
Administrator Seong said KATS is striving to introduce 'standardization for public happiness' which is designed to assist the underprivileged and enhance the quality of people's lives in accordance with the emphasis on standards related to the manufacturing industry. The followings are excerpts from an interview with KATS Administrator Seong in which he spoke of standards policies.
Question: Standards policies are becoming significant in a market economy in which a vantage point in standards influences the value of technology and products. Will you tell us about the importance of standards?
Answer: Standards serve not only as an essential factor in determining national competitiveness which drives industries and economies, but also as national infrastructure that ensure the public comfort and safety as more and more people are aware of standards globally. In accordance with the World Trade Organization (WTO)'s agreement on technical barriers to trade (TBT), requiring member countries to introduce technology regulations or revise them to conform to international standards, countries are staging a fierce competition to make their own standards into international standards on the global stage.
In particular, as the expansion of free trade agreements is tearing down tariff barriers, countries tend to resort to wider technical barriers to trade by capitalizing on technology barriers in the environment, safety, and health fields. In this regard, countries are attaching policy priority to standardization to brace for a 'Standards War.'
Studies from Germany, France, and Australia showed that standards contribute to the average annual growth of GDP, 0.8 percent to 0.9 percent. A report from the Organization for Economic Cooperation and Development (OECD) indicated that standards have an impact on about 80 percent of global trade volumes. Technical barriers to trade such as testing and certifications based on standards are said to be an equivalent to tariffs ranging from 6 percent to 30 percent, depending on the business sectors, thus imposing a heavy burden on exporting companies.
Aside from the conventional functions of standards including improvement of the productivity and products efficiency, standards are emerging as a source of technological innovations and new growth engines for companies as a means of ensuring consumers' safety.
Q: Will you explain steps to improve national standards management systems?
A: In an effort to streamline national standards management systems, the government plans to implement standards policies in which it operates a minimum of national standards, instead, the private sector will be allowed to make the most of their excellent standardization resources. To this end, KATS is going to revamp the Korean Industrial Standards (P), in order to nurture the Co-operating Organization for Standards Development (COSD) and other standards institutions, operate a national standards coordinator system, and to improve KS certification systems.
KATS is seeking to introduce 'standardization for public happiness' designed to assist the underprivileged and enhance the quality of people's lives along with the development of liberal arts, services, and convergence technology, starting from our long-held vision of standards related to the manufacturing industry. We're also ramping up efforts to spread KS through interministerial collaboration since KATS is in charge of Korean standards in all fields, including construction, environment, and IT, while seeking to shift our standards management paradigm to be comparable with the standards management systems of advanced countries so that technology standards, operated by ministries other than KATS but overlapping and separating with KS, are required to conform to KS.
We're focusing on reinforcing our organizational capacity so that Korea can grow into a global powerhouse of standards. To that end, we are spearheading Korea's international standardization and strengthening Korea's right to say by having more Koreans inducted as executives of international organizations.
Q: Will you elaborate on the operational plan of national coordinators serving as civilian experts in seven fields, including the smart grid?
A: It is highly likely that without consideration of standardization, the research and development (R&D) of technologies could lead to nothing. To implement efficient national R&D projects, it is essential to establish a comprehensive plan linking standards and R&D activities to implement efficient national R&D projects. In particular, interoperability is imperative for future growth engine industries involving interdisciplinary and convergence features. Connectivity with standardization is required from the initial stages of R&D.
Accordingly, KATS is strengthening national R&D policy collaboration by designating civilian standards experts as national standards coordinators in soliciting interministerial cooperation and ironing out different views among the interested parties in different business sectors. KATS's support for standardization of government-funded tasks and test-bed projects and consulting services on Korean companies' use of international standards will likely expedite the expansion of infrastructure for realizing the creative economy and nurturing future growth engines through up-front standards-oriented R&D activities.
Currently, seven industrial segments have the national standards coordinator system in place. They are the smart grid, convergence semiconductor, next-generation electronics parts and components, cloud computing, smart medical information, smart cars, and new and smart logistics. The system will be expanded to cover more than ten future growth-engine sectors.
Q: Will you talk about the current status of developing domestic technologies into international standards and the mid- and long-term strategies to do so?
A: Under the WTO TBT agreement, standards have become the norm of global trade and have changed into key tools for corporate management. Korea has proposed 508 its own technologies as international standards from the mid-2000s through the end of 2012. Out of the total, 203 technologies have been selected as international standards, elevating Korea to the top 10 countries globally. In particular, between 2010 and 2012, Korea ranked between first and third in terms of proposals for international standardization made to the International Electrotechnical Commission (IEC) in electric/electronics, IT and semiconductors.
For instance, Korea's hand vascular pattern recognition technology, developed and commercialized by Techsphere, has become an international standard. The hand vascular pattern recognition system, exported to Japan, the United States, Canada, China, and Germany, is now recognized as one of Korea's representative state-of-the-art products, giving Korea a distinct competitive edge over its rivals companies including Hitachi and Fujitsu in the North American market.
Likewise, firm support for international standardization of the selected technologies is KATS's key task. In a bid to expand the endorsement of domestic technologies for international standardization, connectivity between R&D and international standardization will be widened to cover all ministries, and support systems for standardization in each R&D stage such as standards trends surveys for R&D planning, consideration of standards adoption plans, and standards program directors' participation in the whole R&D process will be increased.
Korea needs to adopt a choice & focus approach to ensure the efficient utilization of limited standards manpower and resources, and the importance and urgency of the select sectors have to be examined for stage-by-stage and systematic translation into action. In this regard, industrial fields with higher value-added potential such as IT, biotechnology, and nanotechnology need to be selected, and intensive supports should be offered for the nation's economy. And that will lead to Korea's joining ranks of major standards powers, including the United States, the UK, Germany, France, China, and Japan.
To this end, KATS is implementing the national standards technology power improvement project and the project to support SME experts' international standardization activities.
Q: What steps are being taken to support the standardization of 'soft infrastructure'?
A: As part of its efforts to fortify international standardization infrastructure, first, KATS is carrying out the International Standards Infrastructure Cooperation Program, an international cooperation project to support Korean companies' exports by transferring Korea's own standards and technology regulation systems to emerging countries. The international invitational education project, which began in 2010, has invited 280 government officials from 55 countries participating as of the end of 2012, and nowadays educational services tailored to meet each country's needs are offered of late. For example, diverse projects are offered to countries around the world, including the provision of support for the establishment and revision of standards in Africa and the building of an industrial product safety management system in Peru.
KATS has also been offering support for Korean experts, who are serving as chairs and leaders of international standards organizations. We assist Korean experts' participation in international standards conferences as well as the strengthening of standardization collaboration with major countries, a project designed to facilitate the selection of domestic technologies as international standards and make inroads for Korea into global markets as well as reflect Korea's views in the course of establishing and amending international standards.
KATS has established and is implementing a strategy to expand Korea's advance into the Governor's Group, the highest decision-making group of each international standardization organization such as ISO and IEC so as to enhance the nation's status in international standardization standing and its say on the international standards organizational levels. We plan to keep Korean experts in the ISO/IEC as chairmen and as members of the ISO/TMB (Technical Management Board) and other policy-making positions while seeking to nurture experts who will play an important role in technical committees and subcommittees in the future.