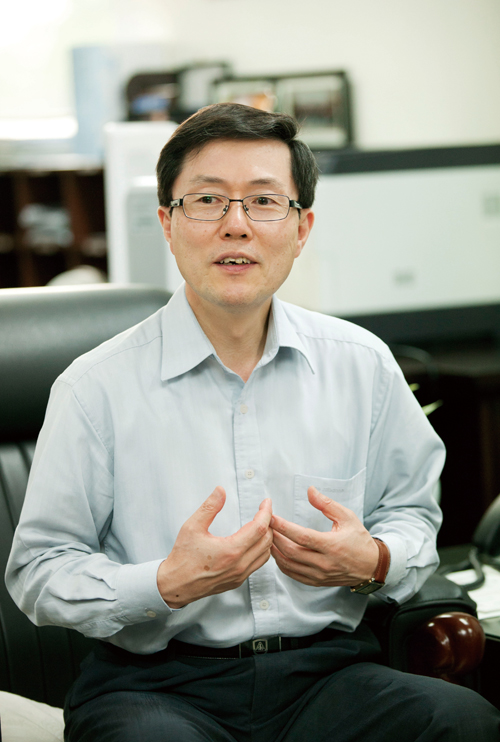 2nd Vice Minister Yoon Jong-lok of the Ministry of
Science, ICT & Future Planning (MSIP) (photo: MSIP
The Park Geun-hye government attaches top policy priority to building the creative economy and creating jobs.
"The Ministry of Science, ICT & Future Planning (MSIP) is devoting itself to playing a leading role in the creation of creative assets based on science & technology and ICT, and proactively supporting the pursuit of inter-ministry collaboration throughout the entire process of bringing the seeds of imagination to fruition," said MSIP 2nd Vice Minister Yoon Jong-lok. The following are excerpts of an interview between NewsWorld and the vice minister in which he spoke of policies regarding the creative economy.
Question: Will you tell our readers about the concept of the creative economy?
Answer: In a word, the creative economy is a set of management strategies for a state with a scarcity of resources in which start-up businesses are launched with creative ideas and new jobs are created through convergence.
First, the creative economy is designed to create a world in which people can make money by imagination and creative ideas. New products or services that have never been thought of before will be produced based on imagination and ideas, resulting in creating new demand and markets.
Second, the creative economy is to make the most of our strengths, science & technology, and ICT. It aims at nurturing new industries and creating added values by grafting creative ideas to science & technology and ICT and strengthening competitiveness through their convergence with the existing key industries such as automobiles and shipbuilding.
Third, the creative economy strives to create more good jobs, not replace existing jobs, by expediting the establishment of start-up businesses based on ideas and new technology and by exploring new industries and new markets through convergence between technology and technology and between industry and industry.
Fourth, the creative economy shifts from hardware and software to so-called "brainware." It is a society in which gifted people full of creativity and imagination incessantly launch start-up businesses, and even if they fail, they are given the chance to make a comeback.
Fifth, the creative economy is a development strategy focusing on human beings, not on the state. It is designed to change the development paradigm from state to people in order to break out of a vicious economic cycle and an economic structure in which the state is better off, but the people are not.
The creative economy is not a question that brings a definite answer, but the answers depend on many people realizing the creative economy.
Q: Will you elaborate on your ministry's roles to revitalize the creative economy and follow-up action plans?
A: As social issues get more complicated, collaboration and communication is more significant since many government ministries have to find solutions. Inter-ministry cooperation for realizing the creative economy is a representative example.
The MSIP is devoting itself to playing a role of leading the creation of creative assets based on science & technology and ICT and proactively supporting the pursuit of inter-ministry collaboration through the whole process of making the seeds of imagination come to fruition as well as fully serving as a platform to promote inter-ministry cooperation regarding issues any one ministry cannot deal with.
This past June 4, the MSIP and related government ministries jointly announced action plans to realize the creative economy — three goals under the vision of realizing a new era of people's happiness and hope through the creative economy, six strategies, and 24 tasks. The inter-ministry action plan, under a big picture perspective subtitled "Ways of Developing the Ecosystem of the Creative Economy," call for measures to support ventures and SMEs, cultivate creative personnel, and assist with global market entries.
Our ministry has been coming up with detailed follow-up plans for the realization of the creative economy. Such plans as the "Plan to Promote the Content Industry" and "Strategies to Realize the Creative Economy Based on Knowledge Assets" have been already announced. We will come up with "Ways of Building the Open Innovation Ecosystem of State-funded Research Institutes" and "the Plan to Nurture Creative Gifted Manpower to Lead the Creative Economy" in the days ahead.
Q: What should we learn from Israel from the perspective of the incumbent government's national agenda of the creative economy focused on job creation?
A: Israel ranks first in the world in terms of the number of high-tech start-up firms per capita and venture capital investments versus GDP. Israel, a state with a scarcity of resources, has produced many success stories by vitalizing start-up businesses. Its venture capital investments per capita are 2.5 times more than those of the United States and 30 times more than those of the whole of the European countries.
A case in focus to take a cue from in Israel is Yozma. Originating from a government program, Yozma has moved into the landscape of private equity investments, departing from government dependence, to keep on growing. The success of the venture fund is owed to the fact that Yozma has inspired start-up entrepreneurship by investing in ideas without collateral and has spread such success stories as PayPal to the world through global Jewish networks.
Behind this background lies Israelis' "Chutzpah spirit," meaning "insolence" and "audacity" in which such things as debating and questioning regardless of age, rank, and sex and horizontal relationships figure prominently.
Q: Will you specify your ministry's plan to build the landscape of venture capital in which "constructive" failures are allowed?
A: The MSIP is striving to ramp up support for the whole cycle of the start-up business ecosystem ranging from creating start-up businesses, growth, liquidation, and restart, so that the venture capital landscape focusing on people's imaginations and creativity and enhancing their autonomy and resuscitation can be created.
"Unlimited imagination rooms" will be set up at science museums and libraries across the nation, among others, as part of efforts to create an environment for challenging start-up businesses so that people's imaginations and creativity can be realized and they can translate that into R&D and start-up businesses.
Angel matching funds, youth start-up funds, and other financial support for the early stages of start-up businesses will be expanded, while one-stop support services for the whole process for translating excellent ideas into reality ranging from start-up business design and plans to action. The ministry plans to raise angel matching funds from 140 billion won in 2013 to 300 billion won in 2017.
The ministry plans to expand credit guarantees to start-up and innovative venture capital firms extended by Korea Credit Guarantee Fund and Korea Technology Finance Corp. and raise the portion of state-financed research institutes' support to SMEs, capitalizing on the former's research outcomes and manpower, from 7 percent in 2012 to 15 percent in 2017. Tax benefits related to M&A activities and M&A funds will be offered to facilitate money retrieval. The government, policy-based financial institutions, venture firms, and banks plan to jointly raise 100 billion won in M&A funds.
A global start-up business support center will be established and operated to provide specialized consulting services ranging from legal affairs to accounting and patent assistance so as to help venture companies overcome the limits on growth in the narrow domestic market and gear themselves toward global markets starting from the early start-up stages.
Q: Will you tell us about the establishment of a global start-up business support center?
A: Inter-ministry efforts to vitalize venture and start-up businesses are under way in earnest. Venture companies find it difficult to maintain growth momentum due to the narrow domestic market and conglomerates' domination.
There should be a dramatic policy paradigm to "born global firms," departing from strategies of going global through exports after initially making inroads in the domestic market.
To this end, a private sector-initiated global start-up business center will be fostered as an organization specializing in offering comprehensive services such as interpretation/translation, legal affairs, accounting, and tax to prospective born global firms. In the long-term perspective, the center will have the format of a privately-invested enterprise. Initially, such a center will be established at the Korea Electronics Association, however. It will seek to forge a grand partnership with such organizations as the law firm Kim & Jang, Samil PricewaterhouseCoopers to provide practical support to born global companies.
Q: Will you introduce the major events celebrating the Month of Information Culture?
A: A variety of events and campaigns marking the 26th anniversary of the Month of Information Culture took place in June to alleviate the downside effects of the internet such as the information divide, cyberspace violence, and internet addiction and to spread a sound and creative information environment.
Under the catchphrase "A Beautiful Internet World and Our Happy Future," the MSIP and the Korea Communications Commission (KCC) jointly sponsored a ceremony to mark the 26th anniversary of the Month of Information Culture and events marking the "Week for Creating a Beautiful Internet World" (Ainse Week), which took place separately in previous years, to have synergetic effects. The MSIP and KCC jointly conducted a nationwide campaign to make schools free of cyberspace violence through mobile messengers to prevent such cyberspace violence as cyberspace collective bullying.