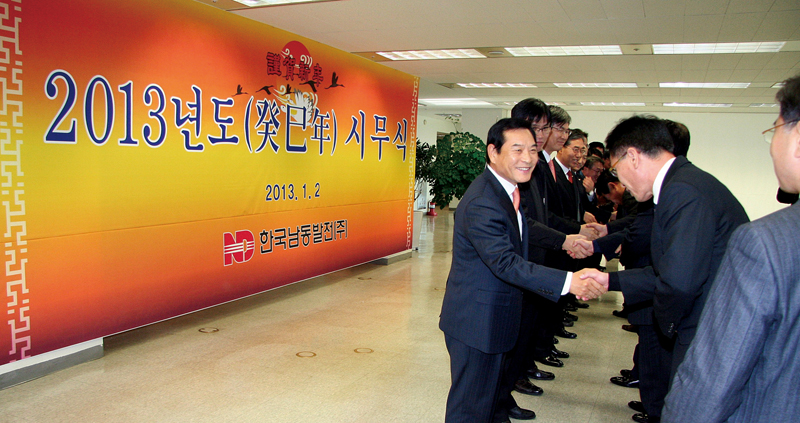 Korea South-East Power President Jang Do-soo exchanges New Year's greetings with his executives and staff members at a ceremony to kick off the 2013 business year at KOSEP headquarters on Jan. 2.
Korea South-East Power Co. (KOSEP) has teamed up with Sambu Construction Co., Lotte E&C, and STX E&C and acquired a locally incorporated power company for a project to construct and operate a hydroelectric power plant in Pakistan.
KOSEP said on Jan. 5 that a consortium it led finally acquired a 100 percent stake in Mira Power Ltd., a locally incorporated hydroelectric power development company for the $900 million Gulpur hydroelectric power project. The Korean consortium's purchase of Mira Power came three months after an agreement was initialed on the deal last Oct. 1.
The deal calls for the implementation of a Build-Own-Operate-Transfer (BOOT) project in which the Korean consortium will build a 100MW-class hydroelectric power plant on the Jhelum River, downstream 167 km southeast of the capital of Islamabad, and operate it for 30 years before transferring it.
The Korean consortium plans to conclude all contracts related to the project with the Private Power and Infrastructure Board (PPIB), the regulatory authority of Pakistan, by the end of next year.
Construction will likely begin in January 2014 with the goal of dedicating the project in 2017.
KOSEP will be in charge of the operation of the projected hydroelectric power plant, project management, test-operation, and owner's engineering, while Sambu, Lotte, and STX will be charged with the engineering, procurement, and construction (EPC) aspects of the project on a turn-key basis.
For KOSEP, the project is expected to serve as one of its new growth engines, as the Korean power company is forecast to collect an estimated 50 billion won for selling electricity to the Pakistani government annually for 30 years and, thus, recoup its investments, KOSEP officials said.
'GLOBAL POWER LEADER'
KOSEP President & CEO Jang Do-soo said in his New Year's message, "We at KOSEP have to translate a difficult environment into opportunities, as Winston Churchill said, 'Kites rise highest against the wind, not with it,' and as such, unfurl a new era with the goal of becoming a global power leader."
He called for his executives and staff to achieve their intended goals with KOSEP's inherent challenging spirit and strong-willed practicability.
First, Jang said, KOSEP will have to settle its intrapreneurship program in order to secure cost competitiveness. KOSEP became the first Korean power company to implement intrapreneurship in which each team, department, and site office are assigned goals and given autonomy in their budgets and personnel transfers. The intrapreneurship reaped tangible results last year ─ strategizing profit-oriented management and eradicating waste, said President Jang.
Second, he said, KOSEP will have to take a challenging spirit and an adventurous attitude with the goal of realizing its vision of becoming a "global KOSEP." The president said KOSEP has been devoting itself to expanding overseas businesses and new projects, and the projects KOSEP has been undertaking like the dedication of a photovoltaic power plant complex in Bulgaria and a wind power plant complex in Novus, Oklahoma in the United States ─ have begun to yield fruit one by one.
Third, he said, KOSEP must do its utmost to carry out its mission of stabilizing the operation of power facilities.
Fourth, Jang said, KOSEP will implement the ongoing and future power construction projects seamlessly and without a hitch.
Fifth, he called for building sustainable growth by making the most of creative management.
Sixth, he said, KOSEP will have to accomplish social responsibility and build a respected corporation by building a "Great Workplace (GWP)" culture.