Power authorities plan to maintain nationwide power conservation campaigns and demand management steps until mid-September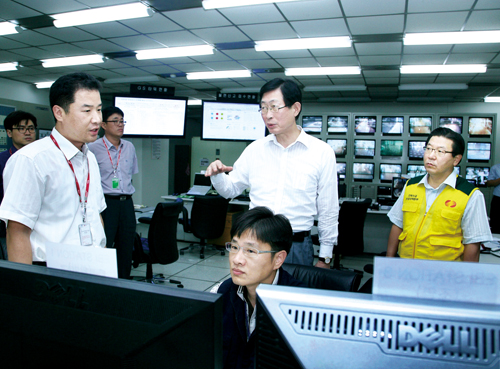 KEPCO President Cho Hwan-eik presides over an emergency meeting designed to cope with an
electricity shortage crisis while touring the situation room of GS Tower in Seoul on Aug. 12. (photo: KEPCO).
Daytime temperatures have begun to show signs of decline since late August, but the nation must remain on an emergency footing to brace for an electricity shortage crisis.
Korea Electric Power Corp. (KEPCO), the Korea Power Exchange (KPX), and related authorities have been devoting their energies to securing as much power reserves as possible by rescheduling planned preventive maintenance of power units on top of nationwide efforts to conserve electricity.
Fortunately, the Hanbit Nuclear Power Unit 6, a 1 million kW nuclear reactor, resumed its operations at 3:00 a.m. on Aug. 24, three days after it was suspended due to trouble related to the malfunction of a coolant pump. The stoppage had heightened the threat of a possible power shortage crisis anew.
Korea Hydro & Nuclear Power Co. (KHNP) went into a recess for planned preventive maintenance of the Hanbit Nuclear Power Unit 1 on Aug. 28, two days later than originally scheduled. During the recess, nuclear power units undergo overall checks-up on the legally required categories on top of refueling.
Some thermal power plants have also stopped for planned preventive maintenance.
Seoincheon Combined Cycle Unit 7, a 221,000 kW unit of Korea Western Power Co., went into a recess for planned preventive maintenance starting Aug. 26. Earlier, Dangjin Thermal Power Unit 3 stopped to repair a troubled turbine on Aug. 11. Fourteen power generation units, including the Hanul Nuclear Power Unit, a 950,00 kW facility, are scheduled to go into a recess for planned preventive maintenance during September.
The national electricity supply situation may be exacerbated during September when industrial plants and businesses return to normal operations as the government's steps to adopt an energy conservation mode during the summer season are to be lifted.
In the meantime, late night high temperatures are to last into September. Weather authorities predict temperatures to increase an average of three degrees Centigrade into mid-September over previous years.
Power authorities plan to maintain nationwide power conservation campaigns and demand management steps until mid-September.
KPX has issued diverse-level power shortage warnings a total of 32 times this summer as of Aug. 22, higher than the 28 times over the same period of last year. Even into September, the issuing of warnings against dwindling power reserves cannot be ruled out. During 2011, each level 1, level 2, and level 3 warning was issued even during September 2011, when more power plants went into recesses for planned preventive maintenance.
In a related development, a delegation from the National Assembly Trade, Industry and Energy Committee, headed by Chairman Kang Chang-il, conducted an inspection tour of KPX's Central Power Control Center on Aug. 20 to look into the power supply-demand situation for summer. Vice Minister of Trade, Industry Energy Han Jin-hyun also participated in the inspection tour.
KPX Chairman Nam Ho-ki briefed the delegation about the causes of the current power shortage crisis and the rising power demand. He reported the general public and business circles' joining forces in nationwide energy conservation drives to overcome the power shortage crisis and pledged to continue to do so in the days to come.
Power Cos. desperate efforts to tide over the crisis
KEPCO is translating into action a code of public conduct on saving energy by turning off half of all the lights and keeping indoor temperatures above 28 degrees Centigrade during peak power hours, while its site businesses have "designated watchmen" in charge of ensuring energy conservation so as to cut down on unessential consumption.
KEPCO has come up with creative ideas for conserving electricity, including a power conservation points system for residential consumers and a critical peak pricing (CPP) system for industrial clients, with its staff members taking the initiative in translating into action energy-saving campaigns.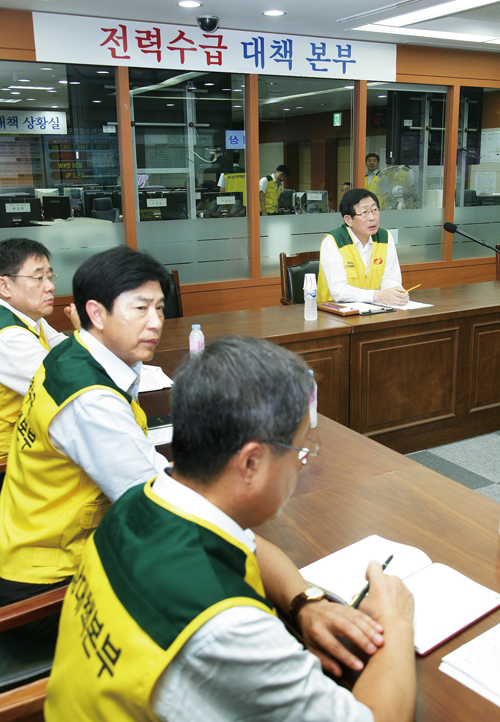 KEPCO President Cho Hwan-eik himself has been making the rounds of manufacturing plants to solicit their participation in demand management systems.