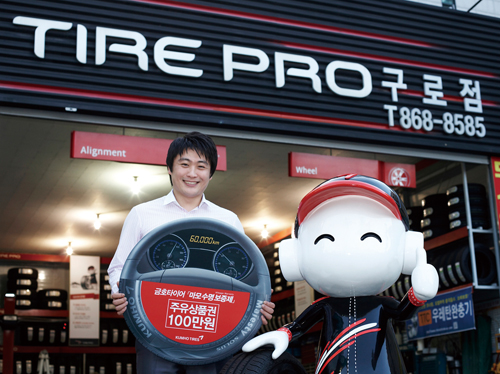 Kumho Tire conducted an online event to help customers register as
potential beneficiaries of a mileage warranty. (photo: Kumho Tire)
Kumho Tire has announced the winners of the third lottery event on Aug. 17 to promote a mileage warranty the company has introduced in the interests of consumers for the first time in Korea in April.
Kumho Tire conducted an online event to help customers register as would-be beneficiaries of a mileage warranty from April, when the mileage system made its debut, until June. The company selected 10 lottery winners each month from June through August, entitling them to 1 million won worth of petroleum coupons.
Under the warranty, which went into effect on April 1, if drivers wear their tires down to the wear limit of 1.6mm of remaining tread depth, they are compensated for the difference between the warranted mileage and the mileage actually achieved. The move is considered the tire manufacturer's display of pride in its product technology and quality.
In particular, given worsening road conditions across the nation, Korean motorists will likely benefit from the warranty. The system is designed to enhance drivers' satisfaction by guaranteeing the tread life, which has been shortened by friction caused by repetitive braking and sudden stoppage, Kumho Tire said.
The 60,000km warranty applies to Kumho Tire's Majesty Solus, City Venture Premium, City Venture APT, Solus XC, Solus Xpert, ecowing S, and Super Mile. Drivers who purchase at least two tires are given a mileage warranty of up to 60,000km. Motorists buying such tires as the Sense, Sense SUV, and replacements for new vehicles, including KH16, KH25, KL16, KL21, and 798 Pattern are given a warranty of up to 50,000km. Tires for all imported cars are applicable for a 40,000km warranty.
Kumho Tire Executive Director Shin Yong-shik said earlier, "The mileage warranty for tread wear is a quality warranty for enhancing customer satisfaction based on product reliability, and it has been introduced in consideration of the recent economic conditions and clients' consumption trends." The warranty will not only expect consumers to recognize the importance of tire management through such steps as checking tire air pressure and rotating tires on a regular basis, but will also save costs, he added.
The warranty applies to all Kumho Tire dealerships across the nation, and in order to benefit from the warranty, consumers are required to undergo regular checks, including rotation every 10,000km as well as to register their warranty at Kumho Tire's website and update their management records on a regular basis.
'Factory Energy Management System'
Kumho Tire's Pyeongtaek plant is one of a few worksites equipped with the Factory Energy Management System (FEMS) designed to curb electricity consumption. The outcomes of a recent survey showed that thanks to the introduction of FEMS, the plant has saved 241 tons of petroleum per year.
FEMS made its debut under a government pilot program in 2011 as part of its efforts to cut down on electricity consumption. But the reality is that only a few factories, including Hyundai Samho Shipyard and DSME Shipyard, have FEMS in place.
A survey on the "power diet effect" FEMS has brought, conducted by LG Economic Research Institute, indicated that if 20 worksites like LG Display's Paju plant that consume 1 million kW of electricity have the FEMS, they would conserve up to the production of electricity of a nuclear power unit with a capacity of 1 million kW.
On the other hand, it would take 7.81 million households, or some 43 percent of the nation's total households, turning off at least four 32-watt florescent lamps to save electricity amounts equivalent to the power generated by a nuclear power unit.