Hanjin-KAL to Be Holding Co. for Hanjin Group Affiliates
Six affiliates will be listed on stock market as the group turns to holding co. system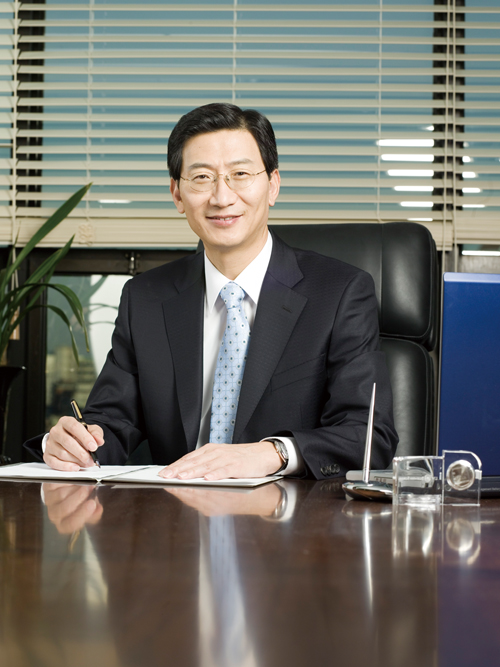 President Suk Tai-Soo of Hanjin-Kal Holdings, the newly created mother company for Hanjin Group.(Photo: Hanjin Group)
Hanjin Group will be turned around and centered on Hanjin-KAL Holding Co., with six of its affiliates including Korean Air, Hanjin-KAL Holding, Korea Airport, Hanjin Shipping Holdings, and Hanjin Shipping listed on the Korea Exchange, the group said recently.
The new setup is hoped to clear up the control structure of the group and the circulation investments among the affiliates.
What are expected to be cleared up are Hanjin-KAL's stake in Korean Air and how it is going to be secured; the move of Hanjin Shipping, which has been working on separating its affiliates on its own; the future of Jeongsok Enterprise, a very profitable non-listed company; circulation investments between Hanjin Corp., and Hanjin-KAL and a solution to the very complex relationship, among others.
The Hanjin-KAL holding company will start with 468.9 billion won in capital and debts of 287.8 billion won with a debt ratio of 61 percent and will be in charge of the management of its affiliates and investments in new business lines of the group and Korean Air will focus solely on air flight operations.
Hanjin-KAL will make its earnings from dividends from its affiliates, brand user fees, profits from the lease of its properties, management consultancy to its affiliates, and educational services under the leadership of Hanjin Transportation Co. President Suk Tai-soo, who is considered to be a leading expert on logistics affairs.
Under CEO Suk will be a staff of six, a director, an outside director, and an auditor.
The holding company should hold at least a 20 percent stake in its listed affiliates and will have to purchase 13 percent more of Korean Air's shares, since it only holds 6.9 percent now. Speculators presume that Hanjin-KAL would try to reduce the share price of Korean Air so that it can buy the additional stakes cheaper, which Korean Air denied emphatically.
Jeongsok Enterprise's future moves are also the focus of public attention now as it is a link in the circulation investments among the group's major affiliates such as Hanjin-KAL and has yet to be listed on the stock market.
Industry sources expect the group might decide to merge Hanjin-KAL with Jeongsok Enterprise or Jeongsok Enterprise with Hanjin Corp. to satisfy the legal requirement that a holding company should hold at least a 20 percent stake in its listed affiliates. They speculate the group will choose the second option, as the owners usually want to hold sway over the group by investing as little of their money as possible.
Chairman Cho Yang-ho holds a 6.97 percent stake in Hanjin Corp. while his stake in Jeongsok Enterprise is 17.98 percent, but over 50 percent if family members' holdings are combined together. Some speculate that Jeongsok Enterprise would likely be the core company for the group for this reason.
Another focus of the speculation is how the affiliates of Hanjin Shipping would be rearranged since Hanjin-KAL would have to either sell off its stakes in the shipping company or hold a greater than 20 percent stake. Speculations are that the stakes in Hanjin Shipping held by its affiliates would be given to Hanjin-KAL so it can meet the regulation and have a say in the management of the shipping firm, which it has been pushing for since the death of the late chairman. Officials of the group said there are still no solutions to the problems yet regarding the circulation investments between Hanjin-KAL, Jeongsok Enterprise, and Hanjin Corp. as well as measures to take care of the affiliates of the shipping firm.